---


EMAIL INTERVIEW - Anto Budiardjo & Ken Sinclair
Anto Budiardjo, President of Clasma, Inc.,
Clasma is the marketing and conference company organizing BuilConn 2004 in Dallas,
April 13-16, 2004 (www.builconn.com).
Please send comments and questions to antob@clasma.com.
---












BuilConn 2004 - Update
Sinclair: How are plans coming along with BuilConn?
Budiardjo: BuilConn is coming together very well, Ken. Speakers are preparing, exhibitors are getting organized, attendees are registering, and here at Clasma we're all busy making it happen. So, we're excited about the event; it should be good.
Sinclair: How is attendance going?
Budiardjo: Compared to last year at this time, we have about twice the number of registered attendees and exhibitors. We're confident that we'll achieve our expectations of doubling the event this year. This is in addition to the people and exhibitors coming to the M2M event.
Sinclair: How is the M2M event coming along?
Budiardjo: Again very well; it's a very new market space so part of the objective is to bring people together for the very first time, much like BuilConn brought buildings people together last year. The conference sessions are also developing nicely; the quality of speakers is very high and they represent all corners of M2M technology.
Sinclair: Tell me the difference between this year's BuilConn and last year's event?
Budiardjo: A great question, Ken. First, I think everyone has now accepted that open systems is the way to go whereas last year it was still a question. Now it's a given. This year the question on people's minds is how the buildings industry will play with IT, which seems to be the big debate right now on many levels. Convergence is now taking place, and the industry is trying to figure out what that means.
Sinclair: Give me an example.
Budiardjo: The relationship between the open systems initiatives in buildings and IT is up in the air right now. Here I'm talking about LONWORKS®, BACnet, oBIX and how they all mesh together in the world of IT. I hope to have some clarity by BuilConn time. Certainly all of the key players in that whole debate will be at BuilConn; whether it all gets resolved by then or not only time will tell.
Sinclair: How are the vendors taking all of this?
Budiardjo: They are watching very closely. The fact that IT technologies such as XML and Web Services will be part of tomorrow's systems is also a given; how and when system vendors make it happen will be interesting to see. I'm seeing a number of vendors being very proactive in this area while others are working behind the scenes. It is surprising though that some companies have their heads in the sand and seem to be pretending that this will not happen.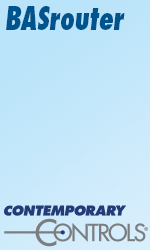 Sinclair: How about the distribution channel: integrators, contractors, etc.?
Budiardjo: Again there are those who understand what this all means. They are lapping it up, and from all I can see these companies are doing very well in their business, doing well gaining lucrative and solid business, adding more value and differentiating themselves significantly from their competition. Others, meanwhile, are saying that all of this is not for them; they are focusing on their areas of strengths such as being a TCC Temperature Controls Contractor, focusing on installing the non-technology-centric products, or focusing on being a security installer.
Sinclair: And new players?
Budiardjo: As I think I would have mentioned before, this is a fantastic time for technology companies to introduce IT-based products and solutions into this market. We're seeing this at BuilConn either as exhibitors or as speakers, and we're talking about small and large companies alike. We're seeing companies like Cisco, Microsoft, Bosch, GE and Oracle getting involved and a whole host of new and "small" names you would not have heard of like NetBotz, Dust, ActivMedia, AirDesk and many others.
Sinclair: The convergence of buildings and IT is happening, at last!
Budiardjo: Yes, it is. In fact, that's a great term that some people are using - Building IT. It's a great description of what this thing is all about.
Sinclair: What else is new this year?
Budiardjo: There will be a lot of discussion on the Enterprise; this is a critical issue for the industry to understand. One way or another the building will become part of the bigger Enterprise view of organizations. Does this mean the end of the building automation industry? Not at all. The point is that organizations that own and manage buildings all have some form of enterprise management system that they use to manage all of their other resources, so why not buildings - one of the largest costs for many organizations as well as something that can have a significant effect to organization's effectiveness. This is why it's critical that the industry knows what Enterprise is all about and how to work with it.
Sinclair: And the XML Pavilion?
Budiardjo: Again, it's important for people in this industry to understand how XML actually works in a number of scenarios. The XML Symposium made people understand that it's important for the HVAC industry; at the XML Pavilion people will see what all the fuss is about.
Sinclair: You seem to have a strong list of speakers.
Budiardjo: Yes, Ken, the number of content contributors-meaning speakers, panelists, moderators, board members and keynote speakers-is around 90 people. If you include the M2M Conference the number is around 120-130.
Sinclair: That's a lot of people, a lot of experts all in the area of intelligent devices!
Budiardjo: Indeed it is. That's why if you plan to work in the area of integrated and intelligent buildings, in the area of the convergence of Building and IT, there is only one place to be in the middle of April - BuilConn in Dallas.
Sinclair: And I hear of some fun things going on?
Budiardjo: Yes, the term interoperable blues will have another (better) meaning after people experience BuilConn this year!
Sinclair: And what about Buildy?
Budiardjo: We have been very encouraged with the number and quality of nominations. The BuilConn Boards have reduced the playing field to four finalists in each category, and it will now be up to BuilConn attendees to decide the winners. In many cases it will be a hard choice as the finalists are all worthy of the award.
Sinclair: Thanks for the update; I'm looking forward to it.
Budiardjo: Great, see you in Dallas.
---


[Click Banner To Learn More]
[Home Page] [The Automator] [About] [Subscribe ] [Contact Us]