---

EMAIL INTERVIEW - Anno Scholten & Ken Sinclair
Anno Scholten, Vice President Engineering, eStructures, Inc.
Anno Scholten is the Executive Founder and Vice President of eStructures, Inc. with a primary responsibility for LON-based product development. Prior to eStructures, Scholten was VP of Engineering for CSI Control Systems International (now TAC), a tier four building automation system provider. At CSI, he ran the engineering department with a multi-million dollar budget and operations all over the world. He is experienced at management in both the start-up phase and large company environments and has more than 20 years experience in the building automation systems market. He has been involved with Echelon's LON technology for more than 10 of those 20 years and he holds a joint patent for a Variable Air Volume environmental management system that incorporates both fuzzy logic and LON technology.
---













Sinclair: What is the XML Pavilion?
Scholten: The XML Pavilion will feature technology demonstrations showing the extensive potential of XML and Web Services in a cross-section of the buildings industry including security, HVAC, gateway, enterprise and IT solution providers of technology.

Overall, the participants in the Pavilion will provide BuilConn attendees with the first opportunity to get a "sense of the possible" in regards to XML/Web Services and how this technology will impact the buildings industry as a whole. Live demonstrations will show how the technology is used within manufacturers' products as a communication protocol and as an enabling integration technology. Several of the demonstrations will be networked while others will show a standalone application. It is important to note that not all of the products used in the demo at the pavilion are available for sale; the point is for the industry to realize the enormous application potential when XML is used in building systems.
Sinclair: Who are the main Players?
Scholten: Right now we have ten significant industry companies participating in the Pavilion. Participants include: AutomatedLogic, Belimo, Computrols, eStructures, Gridlogix, Impact Facility Solutions, Light Media, Trane, Tridium and WebGen. The key point to remember here, Ken, is that the people these companies are sending to participate in the Pavilion are what I describe as the "thought leaders and gurus" of this technology and its application.
Sinclair: What will you show us?
Scholten: The participants have identified five scenarios or "use cases" of XML/WS in building system technologies. These include:
Microsoft Office Integration - This demonstrates how some of the newer generation Microsoft® Office products such as Excel 2003 (Professional Edition with XML support), FrontPage or InfoPath can 'consume' web services from different building systems and display their data.
RealTime Pricing - This demonstrates how data from third-party systems such as a RealTime Pricing data stream from an energy provider can be sent to a building system using XML/WS.
Enterprise Solution - More and more corporate enterprise systems are using XML/WS to provide intra-system data exchange. This scenario will demonstrate how building system data can be uploaded into these XML/WS enabled enterprise systems.
System Integration - This will demonstrate how data can be exchanged between different building systems using XML/WS at the system level.
Physical/Data Security - Convergence of the IT security infrastructure with physical security of the facility is rapidly becoming a corporate standard. This demonstration will show how this can be delivered using XML/WS as the core technology for this convergence.

Each of the participants in the Pavilion will be demonstrating one or more of these scenarios. They will also have the opportunity to provide a short presentation on their technology in the small auditorium attached to the XML Pavilion.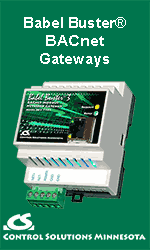 Sinclair: Why is the XML Pavilion being held at BuilConn?
Scholten: I think there are several reasons that the XML Pavilion came about. Probably the most significant was that there were many people who attended the XML Symposium that was conducted by Clasma and CABA at the AHR show in February who wanted to see more real life examples of the technology. The XML Symposium was very well attended and generated a significant awareness of the technology and its possibilities in the industry.

Also, it became clear to us that there was significant activity in both the development and actual deployment of the technology by several companies in the industry. Further, BuilConn's theme of the forum for Networked Building Systems provided an ideal gathering of people directly involved or keen to learn about this technology.
Sinclair: How can the rest of the industry participate?
Scholten: This is a very good question, Ken. First, I would encourage you to attend BuilConn to learn directly from the thought leaders and industry gurus who will be participating in the Pavilion. These companies have been involved with the technology for sometime now and will have the key people available to discuss any and all aspects of the how they see the future of its application.

Secondly, I believe there are several more companies that have XML/WS as part of their R&D program. I would encourage these people to come forward and become involved in several of the industry discussions-such as oBIX-on standardization activities of this technology in our industry.
---


[Click Banner To Learn More]
[Home Page] [The Automator] [About] [Subscribe ] [Contact Us]