---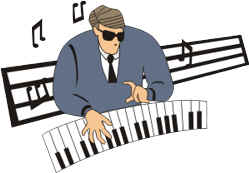 EMAIL INTERVIEW - Leighton Wolffe & Ken Sinclair
Leighton Wolffe, Director, Energy Partner Program, WebGen Systems
Leighton Wolffe is the Director, Energy Partner Program for WebGen Systems, a Cambridge MA based company providing Enterprise Building Management System Technologies. Leighton has been active in the facilities and building systems industry for the past 20 years working with companies that provide interoperability and open system products. Leighton devotes a large portion of his spare time to organizing fund raising events and performing with fellow musicians for corporate charities and institutional programs such as the Victory Program, Leukemia Foundation, Have a Heart, and Families of 9/11.
---












The "Interoperable Blues Band"
Sinclair: I heard that you are organizing some fun for BuilConn?
Wolffe: Yes, Ken, We've put together the "Interoperable Blues Band" to play at one of the evenings at BuilConn.
Sinclair: The name is very intriguing, what's the idea?
Wolffe: In the spirit of BuilConn, the IBB is all about players in the industry playing together, in this case literally. The concept is that in our industry, companies, products and applications need to work together to create a true "Plug and Play" facility environment with open systems. So we've just moved this theme into the entertainment arena to show that we can truly work, and play together.
Sinclair: Who is in the lineup?
Wolffe: You might be surprised by the people in our industry who have been in bands! To date, we have John Petze (Tridium) and Tracy Markie (Engenuity) on drums and percussion, Robert Beverly (Engineered Systems) and Jay Pitcher (Althoff) on keyboards, Ron Bernstein (Echelon) and myself (WebGen Systems) on Guitars, Dave Branson (CSG Compliance Services Group, Inc) on Bass, Keith Gipson (Impact Facility Solutions) vocals, several yet to be announced players, and one very special guest artist on guitar and vocals. (Hint - Famous British Blues Musician). The idea for the evening is that we'll have a back-line band and invite guest players into the lineup for one or two numbers. So, it almost doesn't matter who is in the lineup, the music keeps going. Again, "Plug and Play".

Sinclair: Can anyone join in?
Wolffe: Anyone who is interested can certainly join in. In fact we are going to encourage audience participation. So anyone who is in Dallas for BuilConn is welcome to join us for a tune or two with any suitable instrument they are comfortable with. I have been sending out CD's with songs on them that we are individually rehearsing along with, so it might be a good idea to contact me for more information on the evening and to get the CD.
Sinclair: What kind of music are we talking about?
Wolffe: R&B and Blues standards. We have a play list of tunes that most everyone is sure to be familiar with. When you consider the caliber and energy level of the players we have lined up, prepare to be impressed!
Sinclair: Will there be presentations on open systems during the jam session?
Wolffe: No business will be conducted here, we are going to just create music, have fun, and entertain our friends, colleagues, and ourselves.

Sinclair: When exactly is the band playing?
Wolffe: Wednesday night following the BuilConn Expo and reception in a room close by the Expo hall, it will be signposted and announced.
Sinclair: Will there be songs about LonWorks or BACnet?
Wolffe: That sounds like a good idea, maybe you'd like to write the lyrics Ken.
Sinclair: Don't know about that, I write columns not songs, but you never know.
Wolffe: In any event, it will be a lot of fun and I look forward to seeing you there.
---

[Click Banner To Learn More]
[Home Page] [The Automator] [About] [Subscribe ] [Contact Us]