---
Alarms happen. That's a fact. The big question is what do you do when they happen? In most cases, users get alarm notification via SMS, phone (Voice messages) or pager.












Today's alarm notification software provides alarm information, but in most cases they don't provide information regarding the alarm's root cause.
For example, when an air-condition alarm is being sent to users, they would like to know what is the value of other parameters related to the alarm.
For example:
Returning hot water temperature

Set-point value

Current temperature value

And more…
U.C.ME provides a solution for this problem. At the moment alarm situation occurs, U.C.ME performs a real-time snapshot of up to 20 values. These values are being sent to the user together with the alarm. The result is that users can not only get alarm messages, but see and understand the alarm's root cause!
The technology used for this functionality is WAP-Push. Instead of sending a short alarm text via SMS, U.C.ME sends an alarm-indication to the user. The user uses a URL link in his cellular phone to view the detailed alarm snapshot (See picture below). The snapshot may contain analog and digital values as well as synoptic maps, pictures and video snapshots.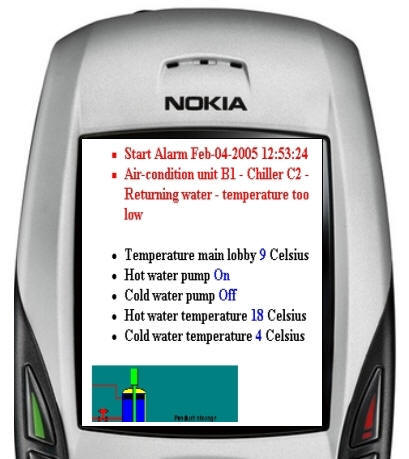 Web-based alarm Analysis
Alarm snapshots are also available to users via the Internet or Intranet. Alarms snapshots may be retrieved at any time to analyze alarms, their root cause and their implications.
Using RSS readers to view alarms and snapshots
RSS is an easy way for users to keep updated automatically on websites they like. Instead of having to go to websites to see if they've written a new article or feature, users can use RSS (which stands for Really Simple Syndication) to get them to tell you every time they have something new.
An RSS reader automatically updates itself with the latest items from the sites you tell it to watch, so it's always fresh. You don't have to hop from site to site, or constantly click "refresh," to know what's been published by the sites you frequent most.
Control-see Software Solutions is using this latest technology to bring alarm information and alarm snapshots to users. U.C.ME maintains a website with alarm information. This website may be accessed via any RSS reader or Internet Explorer using the Internet or Intranet.
RSS reader showing alarms and their snapshots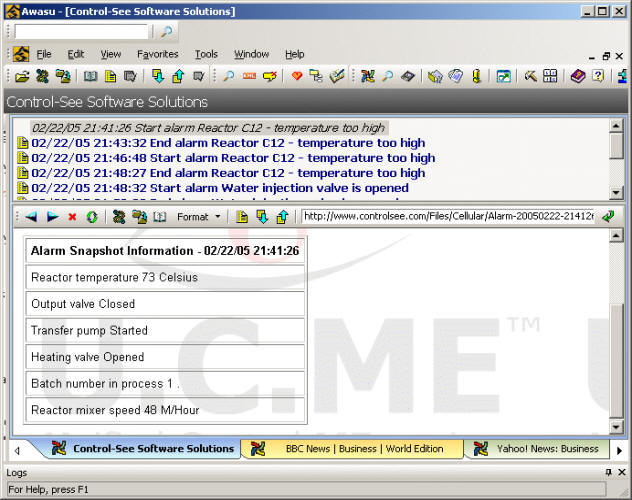 With U.C.ME Alarm Snapshot, it is much easier and much faster to understand the root cause of alarms. With U.C.ME Alarm Snapshot, response to alarm situations will be much faster. As a result time and money can be saved and service levels may be improved.
U.C.ME Alarm Snapshot adds value to Automation & SCADA applications bringing functionality previously unavailable in today's Automation & SCADA software.
U.C.ME is OPC and DDE client software. It may communicate with any SCADA that supports OPC or DDE. Alarms may be sent via phone (voice call), SMS (bidirectional), WAP-Push, E-mail, Fax and multimedia.
For more information visit our web site at: www.controlsee.com .
---

[Click Banner To Learn More]
[Home Page] [The Automator] [About] [Subscribe ] [Contact Us]