---
| | |
| --- | --- |
| Get your technology picks and shovels in order because there is gold in your existing clients' buildings that you must mine before your competitors do. | Ken Sinclair, AutomatedBuildings.com |
We have all been talking about the lucrative future market in data mining that is now possible as a result of all the hard work that has been going on in open systems and enterprise convergence. This market is now and our industry is well positioned to capitalize on it.












This information extracted from our March AutomatedBuildings.com press release is a harbinger of the excitement that is coming to our industry in the new business of real time data mining.
BUFFALO GROVE, Ill. − Siemens Building Technologies, Inc., and Cimetrics, Inc., have formed a strategic alliance to provide customers with the industry's most comprehensive facility data analysis and optimization service, featuring "next generation" building performance analysis technology.

With the service, customers receive a broad-based view of their facility's performance. Using a multi-step, continuous commissioning process, facility performance data on electrical and mechanical systems (such as HVAC, boilers, chillers, etc.), are extracted, analyzed, and benchmarked—providing prioritized management recommendations and detailed action plans for reducing operating costs and energy consumption.

"This alliance creates a complete technology package for the building owner by combining Cimetrics' cutting-edge data analysis with customer-focused service and action from Siemens," said Jim Lee, president and CEO of Cimetrics. "The integration of building management systems with information technology systems gives building managers enhanced control and intelligence to effectively manage their buildings."
These companies and many others in our industry have now positioned themselves to capitalize on available opportunities with now possible technology.
It is no surprise that our favourite AutomatedBuildings.com article from our February issue was Beyond Commissioning: The Role of Automation Will technology advance to the state where building systems and equipment are automatically commissioned on an on-going basis as conditions demand? Michael R. Brambley and Srinivas Katipamula, Pacific Northwest National Laboratory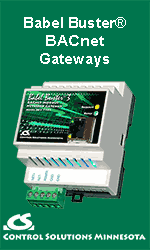 From which I have extracted the following insight
Commissioning provides important benefits to both new and existing buildings, but there may be a better way to achieve these benefits. In the long-term future (say 20 or 30 years from now), most (but not all) of the objectives of commissioning could be provided using automated processes, reducing many of the barriers that exist today for commissioning and impacting a much larger portion of the building stock. Furthermore, doing so could increase consistency in the commissioning process, improve the reliability of building systems, and make the process of assessing performance, which is a critical part of retro-commissioning, a truly continuous process.
How might this be done? First, identify processes that produce the desired outcomes that could be done automatically. Then develop building equipment, systems, control systems, and tools that implement these processes automatically. Gaps between the automated processes could be filled by manual procedures, ensuring that the activities that absolutely require human intervention and tie the automated processes together are executed efficiently and cost effectively.
Other observations from authors on our web site:
Weilin Wang, Michael Nova, John Edler of Kiyon, Inc state. As the Building Automation Industry continues to look for increasing value, technology continues to provide alternatives. Today's BAS systems have supplied us with an abundance of data. The end user wants ways to analyze the data and turn it into information. By embedding higher-level applications into building automation networks, the process of data mining can be greatly enhanced.
Glen Allmendinger, President of Harbor Research, Inc: Unlike existing players in building control systems, who are predominantly focused on HVAC and limited systems integration, a new generation of suppliers are providing a complete, standards-based solution for networked commercial facilities, including networking, application services and consulting. The concept of the Pervasive Internet combines the physical infrastructure for networking and monitoring building systems with consulting services, applications and related value add to help companies make better decisions based on predictive data analysis and data mining. The implication behind truly pervasive intelligence and networking is the completeness of the solution: networking products, consulting services and applications.
BuilConn XML Pavillion Demonstrating 'Sense of the Possible' As a technology fully embraced by the IT industry and widely implemented at the enterprise level, XML and Web Services hold much promise in the realm of whole building integration. Without taking the place of existing open protocols, XML and Web Services will enable information exchange between what were once competing standards and provide enhanced capabilities in regards to enterprise connectivity and data mining.
So get your technology picks and shovels in order because there is gold in your existing clients' buildings that you must mine before your competitors do.
---


[Click Banner To Learn More]
[Home Page] [The Automator] [About] [Subscribe ] [Contact Us]