---
| | |
| --- | --- |
| BuilConn - M2M Dallas 2005 in Review | Ken Sinclair |
The third annual BuilConn Americas and M2M Expo was presented with an army of industry experts and a platoon of BuilConn staff, including many drafted industry players like me. The projected increase in attendance from 2004 was ambushed by the Easter Bunny, plus the need for more quality family time surrounding spring break. The quality of the presented material continued to move the bar up, increasing the diversity of presentations while expanding the number of tracks. The number of tracks was almost overwhelming.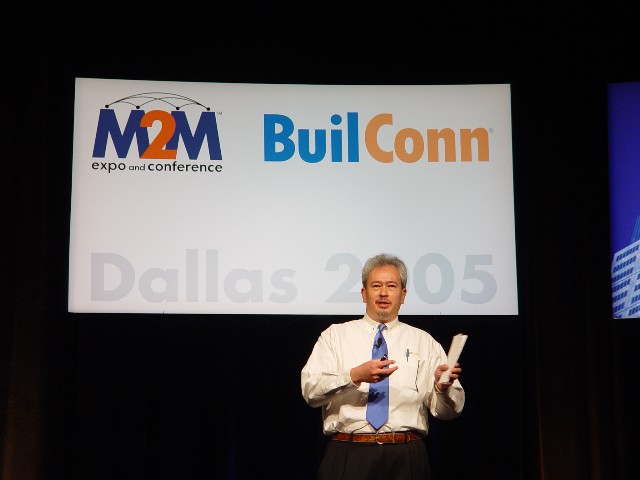 The keynote speakers' insights and presentations were not to be missed. Powerful messages from powerful people. The general sessions shone with Anto's showmanship and neat effects making the 2005 BuilConn/M2M Expo the usual mind altering experience. The M2M folks have become family and add a new dimension to the event. Anto's concept of the combination og M2M with BuilConn is a winning one. I believe that we have much to teach each other on our journey to the Enterprise. Talking about the enterprise, it was everywhere and became the focus of most presentations.
My favourite keynotes were;
A blast from the past Rick LeBlanc, Senior Vice President, Siemens Building Technologies. (Rick and I and a few other old guys invented DDC over 25 years ago). I particularly liked his call to get us all to make the necessary transitions and transformations as an industry raised in the boiler room to a industry that can lead out of the boardroom. Amen Rick :)
Rob Pratt, GridWise Champion Pacific Northwest National Laboratory blew us away with a real time control equation that will be a big part of our industry's future. A new world of controllers watching your local electrical grid by measuring the 60 cycle droop and taking action to solve flow problems.
When I thought about the latent talent and the represented connected national controlled electrical load by those in the room, I was glad that he came to show us the way to enhance the exciting posture of our industry. Wow it is a whole new world.
And of course Mickey McManus, President & C.O.O. MAYA Design, Inc. whose whimsical look at automation, just because we can, is a great example of M2M information meshing with old school automation. You must admit the this presenter has balls and knows how to use them :)
oBIX evolves rapidly while friendly constructive oBickering constantly improves direction, reason, and changes attitudes.
I attended the oBix meeting and was pleased to help vote Paul Ehrlich to vice chairman to help Toby keep the movement moving. Friendly constructive oBickering has greatly increased the the value of this organization that is leading us towards a smooth connection to the enterprise. I was amazed at the width of the subject matter ie security interface standards with HR, and how do we handle video standards? Some of this important stuff is not even on the radar screen of protocol zealots who completely misunderstand the true intent of oBIX.
The oBIX meeting was also attended by IBM's Steve Graham, Sr. Technical Staff Member, On Demand Architecture, who provided great insight into the evolving enterprise, and made it clear that clean connections will require ongoing oBickering to insure the correct connections to this moving target called the enterprise.
oBIX provides a needed voice for our industry and now that it is housed under OASIS www.oasis-open.org its effect has been greatly amplified. OASIS President and CEO, Patrick Gannon, travelled the world to come to BuiConn Dallas to insure us of the support of OASIS. They provide leadership to advance the consortium's mission of driving the development, convergence, and adoption of e-Business standards worldwide. We know it is official because he has joined the IBB Interoperability Blues Band!
First ever XML demo based on evolving oBIX standards happened at BuilConn and presented an opportunity to see oBIX in action with live demonstrations of connectivity between different systems using XML and Web services technology based on oBIX standards. The demo was done by
Tim Huneycutt, VP Engineering, Gridlogix Inc.
Anno Scholten, CTO, Plexus Technology Inc
Dave Richards, Software Architect, Trane Global Controls Systems
Aaron Hansen, Senior Software Engineer, Tridium Inc.
Rob Zivney, VP Marketing, Hirsch Electronics Corporation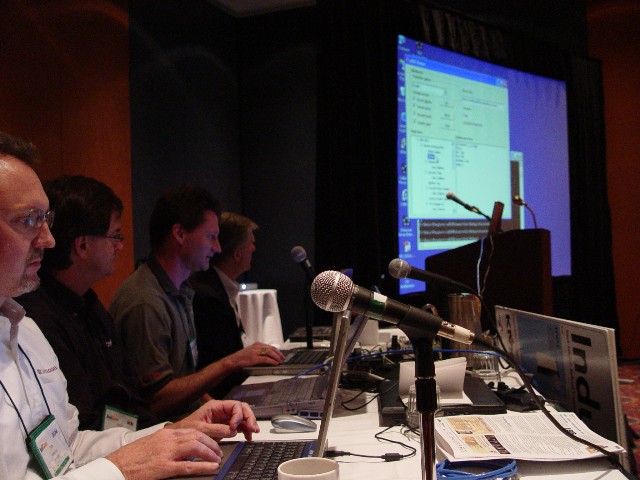 Each of the presenters demonstrated a different collection of nationally gathered web ready live data which was formatted in XML based on oBIX's evolving standards. Each used a different software tool to build their demo live and on line and presented the resultant combined information in a standard browser, made ready for programming and calculation interaction on any server. This was an impressive demonstration. Most of the real problems were based on the presenters trying to remember where data was and what it was called which increased the necessity for name data conventions.
Even if oBIX provides nothing more than English subtitles to work within XML gooblygook, it will be a tremendous success.
Open Systems @ BuilConn on Wednesday - I was moderator for these sessions.
Open Systems Initiatives - An Update 10:30-11:30 am
A number of critical open systems initiatives have propelled the building systems industry's vision of integrated and intelligent buildings for many years. Key to the subject are the perspectives from LonWorks, BACnet, oBIX as well as the use of open systems standards commonly used in the IT and Internet areas.
This session created a great discussion from the floor but I was particularly impressed with the total agreement at the table and even more impressed with each panelist's closing remarks. This was an extremely informative session and showed the maturing of these strong industry standards.
IT-Based Open Systems 4:00-5:30 pm
Without a doubt, the role of Information Technology-based open systems will have a dramatic impact on the future of facilities. The pervasive Internet has become the most dramatic game-changer in any discipline involving connected and networked devices.

This session was a roundtable discussion of experts from key perspectives exploring the interaction of IT-based open systems in the future of creating intelligent buildings of tomorrow.
Rob Zivney, VP Marketing, Hirsch Electronics Corporation Talked about the exciting potential from a security system perspective.
Toby Considine, Chair oBIX (Open Building Information Xchange) Talked about the importance of focusing on evolving IT standards.
Patrick Gannon, President & CEO, OASIS Told us how our industry can fit into the IT industry if we follow OASIS.
Opportunities for Networking and being a part of the radical changes in the industry abound at BuilConn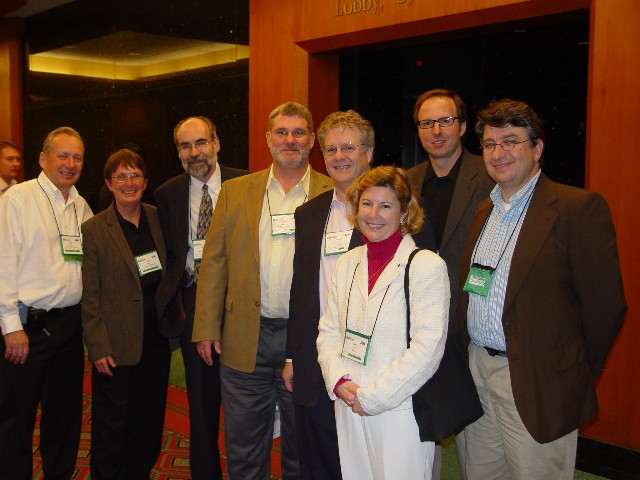 The above picture left to right shows me, my wife Jane, Jack McGowan our contributing editor, Rik Drummond CEO and Chief Scientist of the Drummond Group in Ft. Worth, TX and also Chairman, GridWise Architecture Council, President and CEO of OASIS, Patrick Gannon, Dee Schur, Manager of Industry Outreach OASIS, Leighton Wolffe, and Toby Considine, Chair oBIX (Open Building Information Xchange).
This is a good example of the kind of folks you meet in the hallways and on the way to sessions. We are an industry of change and many of the movers and shakers were at BuilConn planning your future. Plan to be at BuilConn 2006 which will likely be located in a new venue; my vote is the west coast, San Diego or San Francisco.
Fun@BuilConn
Leighton Wolffe, the master of people integration, pulled off another IBB with the help of many industry players. John Petze assumed his position at the drums, Robert and Randy at the keyboards, and others joined the percussion section. It was great to see the CEO of OASIS, Patrick Gannon get with the beat and join in our industry band, becoming a valuable piece of the inoperability band and our industry. Fun was had by all!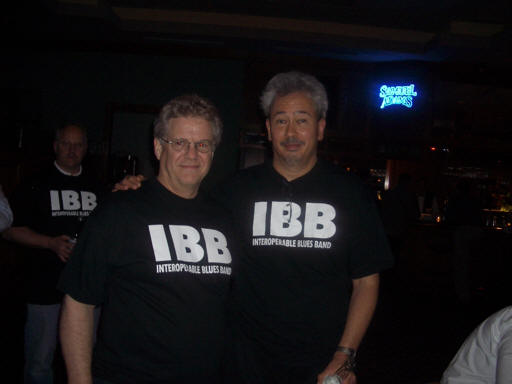 ---


[Click Banner To Learn More]
[Home Page] [The Automator] [About] [Subscribe ] [Contact Us]