---
EMAIL INTERVIEW – Nate Kehr and Ken Sinclair
Nathan Kehr is KMC Controls' marketing manager overseeing brand management, integrated marketing communications, and sales support. He is a LEED® Green Associate and an advocate for IoT connectivity and sustainable design practices. Nathan holds bachelor's degrees in business and education from Indiana University and earned an MBA in marketing and professional sales management at Ball State University.
---
What is CommanderTM

KMC developed the solution in conjunction with Intel® and Dell to provide an open, secure, and scalable product for analyzing and visualizing building data, and for providing remote troubleshooting and control of those systems.

Sinclair: KMC Controls recently launched a new product called Commander. What is KMC Commander™?
Kehr: KMC Commander is the first Internet of Things (IoT) platform designed specifically to meet the needs of the building automation/energy management market. KMC developed the solution in conjunction with Intel® and Dell to provide an open, secure, and scalable product for analyzing and visualizing building data, and for providing remote troubleshooting and control of those systems. Commander consists of two components. Commander BX™ is the physical component, which is a supervisory device with multiple connectivity options, an Intel® Atom™ processor, and engineering by Dell OEM under Dell's IoT business unit using the Dell Edge Gateway 5000 as the foundation. KMC Commander is the software stack which is Linux-based (Ubuntu Snappy) and incorporates Haystack tagging and an enhanced visualization framework from our partner J2 Innovations. Together, they form an end-to-end solution for aggregating, normalizing, analyzing, visualizing, and controlling building information from the very edge of the network to the cloud and to any mobile device.
Sinclair: What types of buildings or systems work with Commander?

Kehr: Commander is optimized for small and medium buildings, but is naturally scalable for use in larger installations. For example, you could place one Commander BX in each building on a campus, or in each tenant space of a multi-story, mixed-use commercial building.
The system can be used as an enhancement to an existing building automation system – such as a typical KMC architecture, or a Tridium JACE – to provide additional security, cloud services, and visualization features. Commander can also be used as a standalone platform in a building that does not have a building automation system in place.

Initially, Commander ships with BACnet® and Modbus® built-in to address the widest segments of the market. The goal is to provide an easy-to-install, cost effective solution to get vital performance data to the people who need it most – when and where they need it.
Sinclair: What is driving the need for IoT connectivity?
Kehr: The fundamentals of system integration, energy dashboards, and building efficiency KPIs are all very familiar to anyone in the building automation arena. It's been possible to achieve high levels of efficiency and sustainability for decades, but it has historically been laborious and expensive.
More recently, the big data movement has driven demand for very large amounts of data on building and system performance – to the degree that many owners, managers, and facilities professionals now feel they have more information than they know what to do with.
IoT promises a solution to both of these problems. When every type of building system is essentially a plug-and-play component of a smart centralized platform like Commander, extracting relevant data and communicating it to key stakeholders becomes much simpler. Detecting anomalies and identifying patterns leads to gains from system optimization, energy offsets, and preventative maintenance.
The real value of IoT connectivity is that it will bridge the gaps that exist between systems and system types, making all of that data available for more precise and timely analysis, which will in turn drive better decision-making and result in faster ROI.
Commander builds in user profiles and customizable dashboards that allow for higher-level reporting and analysis at the executive level, in-depth reporting and control for technicians, and simple energy reporting and virtual UI for occupants or tenants. This means that each user gets real-time information and a level of control that is relevant and appropriate to them.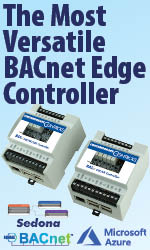 Sinclair: What is planned for Commander in the future?
Kehr: Commander is a platform that, once in a building, offers unlimited possibilities. The initial focus is on optimizing and controlling building systems in the interest of saving energy, but the platform appeals to the information technology side of the building as well. This convergence of IT and operations technology (OT) – the physical processes inside a building – is a huge area of opportunity for integrators. Once these systems are connected we can automate work order management, tenant sub-metering and billing, asset tracking, and other disparate processes.
APIs are included at the box level and in the cloud, so that third party developers can create applications to run in the Commander ecosystem for a multitude of more advanced tasks and analyses.

---

[Click Banner To Learn More]
[Home Page] [The Automator] [About] [Subscribe ] [Contact Us]