---

Control Trends interview & demo with

Troy Harvey, CEO, PassiveLogic

When you design an integrated system from the ground up, you get the chance to reinvent the fundamental principles and build value at every stage of the building life-cycle. At PassiveLogic, we take this opportunity seriously.


We aren't settling for anything less than a revolution in the way we design, build, operate, manage, and maintain our buildings.


Ken Sinclair

Founder, Owner, Publisher AutomatedBuildings.com
This interview with Troy captures some amazing new thought take the time to watch I am very impressed with this rapid evolution Ken Sinclair
Watch this interview from James Dice Nexus newsletter where Nicolas and James talk about Passive


2. Nicolas' take on Passive Logic and his three stages model:

I'm really in favor of their products. I mean, I invited him here to talk to Zynka BIM and SWEGON production for instance assembly and and some other, like local regional players here in Gothenburg in Sweden, so he was here and he helped me move a couch as well.

So like he was on from nine to one and it was just talking about you all everything that they're doing. And like I could just, I mean, from time to time during that day, I was just looking at the other so like players and attendees there was some actually competitors. And they were just staring right like deer in the headlight, because it was some of this is almost too hard to believe, for those for existing players because it's so far off to how it's being done in the industry.

So for me, it's just like taking what the world the best things the world has to offer, put them in, you know, in a package using a drag and drop user interface, so absolutely marvelous user interaction, and making it a fantastic piece of technology for installers.

But it don't think it's disruption, more like extreme evolution.

extreme evolution
Troy Harvey, CEO, PassiveLogic interview March 22, 2020

Episode 355 ControlTalk NOW features Facilio's Co-founder and CEO, Prabhu Ramachandran and PassiveLogic's CEO, Troy Harvey

"To change what happens in a building, you have to start with the installers, the systems integrators, the HVAC technicians and solve their problems, and if you solve their problems, you solve everybody's problems."

ControlTrends, hosted by industry experts Ken Smyers and Eric Stromquist, invited PassiveLogic's CEO Troy Harvey to interview on their show on September 28.
ControlTrends Interviews PassiveLogic: The Disruptive "Atom Bomb Of The Industry" Mitch Kasyon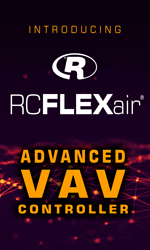 In the below article Troy explains Why AI (alone) Won't Save Us - While artificial intelligence (AI) will play a large role in the next wave of automation systems, it cannot save us on its own.


Transforming Automation User Experience with Deep Digital Twins Deep Digital Twins enable a new type of automation platform, built on the fundamentals of physics, with the guarantees that come with it. - Troy Harvey, CEO, PassiveLogic

The UX of Everybody: Shifting The Value Chain - The UX revolution opportunity extends well beyond the users who have a direct touch on the building. The building value chain has a wide array of external 'users' who benefit from Deep Digital Twins, starting with the architect, designer, and engineer who all want design guarantees that the building will preserve their intent. The contractor would like a worksite that digitally check-points the technician's wiring, ensuring proper point mapping. The commissioners get built-in commissioning tools to validate the system. Managers and maintenance teams automatically receive detailed notifications, insights, and analytics of underlying operation without integration effort. And utilities receive a true demand-response system and auto-validated buildings for demand-side management programs.

The article was written by Troy before this one is a necessary read to better understand.

Establishing a Smart Building Industry Standard - We spend the first hour of a meeting establishing what we mean by smart, how smart is smart, navigating disbelief, educating about new technology, and finally arriving at common ground.

What are autonomous buildings? Just like autonomous vehicles are the pinnacle in the automated vehicle standard taxonomy, fully autonomous buildings are the end-point of the "smart building" revolution. Like autonomous vehicles, these next-generation buildings "navigate" in real-time. Only instead of navigating a single car in a 2D spatial map, autonomous buildings navigate a whole "fleet" of sub-systems simultaneously in a multi-dimensional temporal map.
"To change what happens in a building, you have to start with the installers, the systems integrators, the HVAC technicians and solve their problems, and if you solve their problems, you solve everybody's problems." Troy Harvey, CEO, PassiveLogic
---


[Click Banner To Learn More]
[Home Page] [The Automator] [About] [Subscribe ] [Contact Us]