Brian Jones,
Marketing Consultant
---
Integration of non-IT assets into an enterprise management system allows your business to reduce costs and increase reliability

This technology allows a corporation to view a building as an asset that is monitored and managed by their chosen network management systems or enterprise management platform.
Overview of Issue
Imagine a new generation of building automation systems that will increase profits and pay for themselves. Now, imagine leveraging your existing systems and infrastructure and accomplishing the same thing.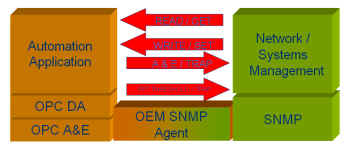 Integrating non-IT systems (such as security, building automation systems, factory automation, process control, etc.) with back-office business systems and enterprise management frameworks within an enterprise, improves the overall efficiency of the organization by making near real time information available for use in the decision making process. This provides a significant advantage to companies who are striving to stay competitive.

Integrating IT infrastructure (hubs, routers, switches, UPS systems, etc.) with non-IT services such as building automation, factory automation, and process control systems increases efficiency, improves quality and decreases costs in areas which have not been part of integrated enterprise business processes. This article examines the process that adds the value of new efficiencies to current business processes and practices.












Remote Monitoring, Control, and Administration
Network and systems management platforms have been available in the IT world for many years. The more sophisticated offerings automatically perform fault correlation and root cause analysis alerting the operator to early warning signs and allowing them to take proactive measures prior to a system alarm or failure. There are many mature players and options from which to choose. A few innovators are evolving who understand that the IT world is only a subset of what needs to be monitored and controlled and that in order to obtain maximum operational efficiencies the entire business process needs to be monitored. As the industry around process controls and automation systems continues to develop it has changed the approach to one that offers several ways to view data and use it more effectively. Customer needs have pushed the industry to offer ways to connect the services within an enterprise in a way that adds value to the enterprise and beyond. As data is collected and patterns emerge, the system is able to follow predictive processes and initiate proactive adjustments involving the operator only when automated systems can not make the necessary changes.
One benefit to the company is to avoid many of the costs associated with scheduled preventative maintenance programs. These programs are almost always time driven, not need driven. Chances are that replacements are being done too soon or too late to be both effective and cost efficient.
Avoid dispatching personnel to sites prematurely

Remote root cause analysis

Repair before major damage is done

Remote control building infrastructure systems to optimize utilization

Monitor HVAC, Security, Power, Lighting, Fire and Life Safety
Benefit to Business
Traditionally isolated and stove piped systems now have the opportunity to become part of the core business practices. Worst case, better visibility and oversight leads to better utilization of resources and more aggressive cost management. In the best case these systems become an active part of a manufacturing or business process resulting in higher product yields, higher quality, and better tools to manage outcomes. The integration process will improve MTBF ratings by identifying minor problems before they impact service. Through the integration of the BAS and the network management system a preventative action scheduled will be developed and followed to schedule maintenance when it is needed based on the system data and not an arbitrary, one size fits all, time driven schedule. By expanding the system the enterprise now has the ability to examine tenant billing, lifecycle cost management, facility benchmarking, create best practice protocols, install continuous improvement programs, monitor all or parts of operation for quality assurance, and make critical decisions for support services.
The integration will improve MTTR by improving the remote diagnostics to facilitate accurate dispatch of personnel, test equipment, replacement parts or other system requirements.
Controlling costs will be more practical as near real time data drives use of energy, lighting, and personnel resources. This will allow the building to be operated with the consideration of the interrelationships and interdependence of all installed systems.
Integration to existing infrastructure management systems with the OPC SNMP Enterprise Agent leverages existing infrastructure investments and maximizes the amount and type of data that is available.
Sample Integrated Enterprise Management System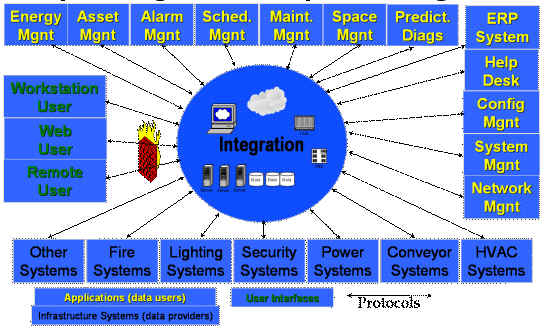 The above diagram illustrates how an enterprise wide integration scheme might look for a typical customer. The bottom row consists of representative building automation systems, traditionally these systems have been ignored by the IT world, left to facilities managers. With total enterprise integration, these systems are no longer isolated allowing for preemptive management to be implemented. Also, with power systems full connected, a more efficient energy management strategy can be implemented. The above concepts concerning BAS technologies also can be applied to Process Control and factory automation systems to much the same effect.
Integration in Action
The SNMP OPC agent and server technologies have already been field tested by Siemens Building Technologies, Bombardier Transportation, Duke Energy, Johnson Controls, Inc. Controls Group, and other companies world wide. These companies have used the solution to obtain real time data from process controls and building automations systems, integrating those systems directly into their own, or their customers, enterprise network. The technology of building automation has evolved to allow lights out operations, seamless climate control and advanced security systems. Today we are able to connect these systems with a company's general IT infrastructure, thus allowing for real time data to flow between the IT world and the BAS world with seamless ease.
---
About the Author
Brian Jones is currently a marketing consultant for The S4 Group, Inc where he coauthors the company newsletter, maintains the company's contact library, and conducts extensive research on the BAS, process control, and industrial automation industries. Currently an Architecture student at the University of Wisconsin-Milwaukee, he feels that a building's systems, HVAC, security, IT, etc, must be considered during the preliminary planning phase of development in order to ensure a successful and efficient project.
About the S4 Group, Inc.
In January, 2002 The S4 Group, Inc. was formed with a charter to address the complex challenges associated with integrating legacy Building Automation Systems (BAS), Industrial Ethernet, Process Control, Factory Automation and Industrial Automation Systems into large enterprise customer IT network, management, and security environments, and to each other. The S4 Group, Inc. delivers Software Services and System Solutions to Enterprise-class customers by providing the software tools and integrated systems to maximize their efficiency, productivity, and profitability.
---


[Click Banner To Learn More]
[Home Page] [The Automator] [About] [Subscribe ] [Contact Us]