Clifford McGarvey
BAS Estimator, Inc.

As a business person you too need to reduce your risk to an acceptable level, and to do that you too need to accurately estimate your job costs.
---
How many of your estimates consistently finish within the acceptable 2% to 5%, of estimate, range? The fact is, if you can't make accurate estimates you're wasting your time learning all of the other skills that are required to run a successful Building Automation Controls business.












In the period of 1970 to 1980 the major control companies attempted to create a better system of estimating. A short time later they began to diversify into other businesses. I wondered if they finally saw the risks in the controls business, and when I asked one of the Vice Presidents "why the diversification?" he said profits were more predictable in a manufacturing plant. The bean counters (accountants) knew that every widget would create a predetermined profit, because they could accurately determine their manufacturing costs. As a business person you too need to reduce your risk to an acceptable level, and to do that you too need to accurately estimate your job costs.
Over the past 48 years I have worked for two major controls manufacturing companies. In each company it was part of my responsibility to help their Branch Offices or Affiliated Contractors to improve their profit. As I traveled to each office I observed a problem they all had, and that was the lack of an estimating procedure that was accurate, consistent and easy to use.
Often labor costs were moved from the unsuccessful jobs to the successful ones, so all jobs looked profitable; and when the averaged profit levels appeared consistent, it also appeared (to corporate headquarters) that we had "good estimators" with a good estimating technique.
The truth was "we were often using estimating that was based on Guess-timating". I have personally used several of the Guess-Estimating techniques shown below. Some of the methods I mention here are ridiculous, but they have been used. How many of these "estimating" methods have you used?
The weight of the plans times an empirical number of dollars per pound. This is unbelievable but I once knew an estimator who put a price on a job this way.

Count the number of control points and multiply that number times $1200 to determine the sell price. After a year, the price per point went down as the competition lowered their price per point, and we lowered ours.

Another method was "make a deal with the competition"; a couple Vice Presidents went to jail for that one.

I once knew about a "Secret Bid Bank". The one I knew about determined whose turn it was to get a job, and every other company bid higher.

Estimate the cost of the BAS System to be 10% of the Architect's budget price for the HVAC system. Then the Architect rebids the job, the price goes down, and we were all fooled.

Let the HVAC Contractor tell you the competition's price, and dive under it. I like to call this one "Liars Poker"

Some estimators set a price for each type of device to be controlled (a fan coil unit was $350) and add up the total costs for each type of device. The costs for overhead, travel, sub-contracts, profits etc were usually ignored.

Some estimators use a spreadsheet, Excel or some other (which imitates the cost per device method shown above). This method is too simplistic, especially for the complexities of today's BAS Systems. I once bought a spreadsheet program from one of my suppliers for $800.00 and threw it in the wastebasket the same day I tried it. The valve list, damper list etc. was in some remote parts of the page (that was off screen) and they could only be accessed by some complex machinations that would confuse an astronaut. The cap sheet was a simple addition of unidentifiable numbers that produced unknowable results. If a spreadsheet could have done the job I would have gladly used one, but it was like trying to see the world through a microscope.

There have been efforts to use drawing programs that automatically generate a bill of materials, and labor costs; I haven't seen such a system yet that works as intended, and those systems lack the other features that I feel are necessary to a good estimating program, such as producing a cap sheet, easy changes for the next job estimate, archiving, etc.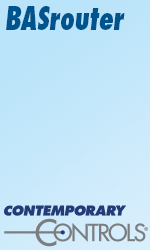 When I opened my business I contacted the major companies who sell estimating software. I learned they do not sell estimating systems for Building Automation Systems. Their answer was "we allow you to customize our electrical estimating program to do that", apparently they did not have the answer to my needs. So how did I solve the problem - I didn't, at least not to my satisfaction. I continued to use one or more of the methods mentioned above; and I started writing my own program, by taking parts and pieces from my different experiences and gatherings of information. For six years I wrote my program, rewrote the program, altered it, added to it, massaged it, and I tested it. The experience and knowledge I had learned from my 48 years in the business finally came together into one nice neat package.
Well I've told you all of the bad and sometimes amusing things I know about estimating Building Automation Systems; now let me tell you where you might find an answer. After searching the Internet, I found there are only two companies, that I am aware of, that sell Building Automation Estimating software; one is the company called SOCC, in Canada; the other can be found at www.BASEstimator.com. Both of these companies offer "free trial programs", so you can try before you buy.
If you would like to have a "free" trial copy of my program you can send me an E-Mail with your shipping address and phone number. E-mail your request to estimator@copperfast.com.
---
Cliff McGarvey
Worked 24 years for Johnson Controls Inc.; as an installer, field superintendent, service sales manager, national service manager. Started his own business in 1977, and his son continues the business today. Worked for Circon Systems, Inc. as a Regional Accounts Representative.
---


[Click Banner To Learn More]
[Home Page] [The Automator] [About] [Subscribe ] [Contact Us]