---
What the $3-$30-$300 Shift Means for the Lighting Industry

There have been studies that have been done that support increases in productivity with energy efficiency improvements especially in the area of lighting controls.





Charles Knuffke,
Systems VP and Evangelist,
Wattstopper/Legrand



Many have heard about the "$3-$30-$300" rule (though in some markets it's called the "$8-$80-$800" rule), which relates to the magnitude of certain expenses required to conduct business in a commercial space. Though the numbers may vary we can slice the cost of doing business into three segments. Picture an inverted triangle: the first layer from the bottom, the "$3" is the total cost of energy per square foot to run the business; the second layer or "$30" is the cost of the commercial space per square foot; and the third layer at the top is "$300" and is the cost per employee. This rule has often been applied when talking about energy or sustainability programs and improvements like lighting, and how it affects these three areas (most importantly regarding cost savings and productivity increases).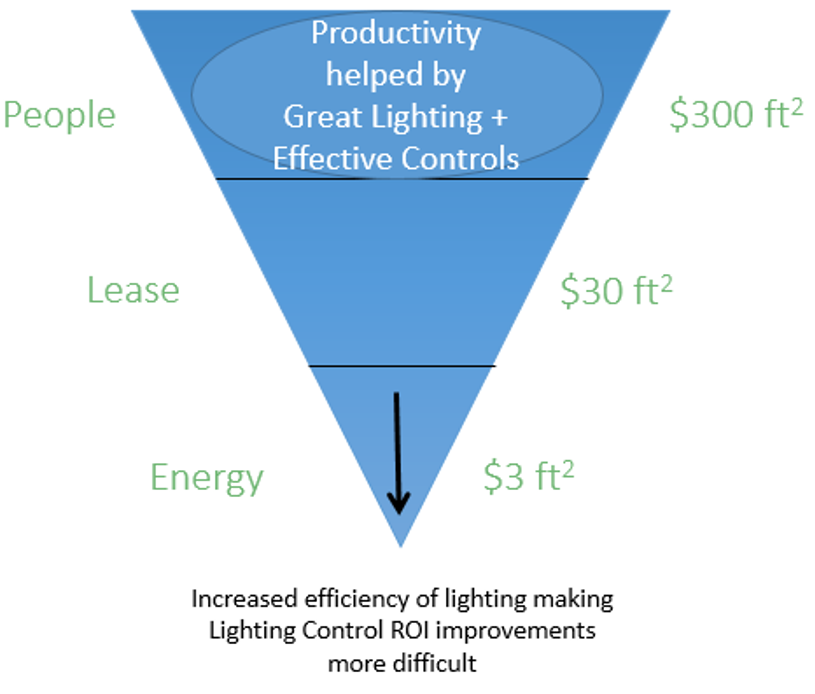 [Comparison of cost magnitudes in a commercial space]

Most of us in this industry focus hereon the energy savings side. Huge progresses have been made: energy codes have become mandatory and technologies are like LEDs and occupancy sensors have helped businesses and organizations significantly cut down on energy use. Additionally, with an intelligent lighting control system the energy savings are quantifiable. You can accurately measure the payback savings on sensors and equipment, and now easily monitor (and manage) energy usage and other layers. For example, you can gauge behavior based on occupancy and make adjustments to lighting schedules for maximum energy efficiency while providing security, safety and comfort.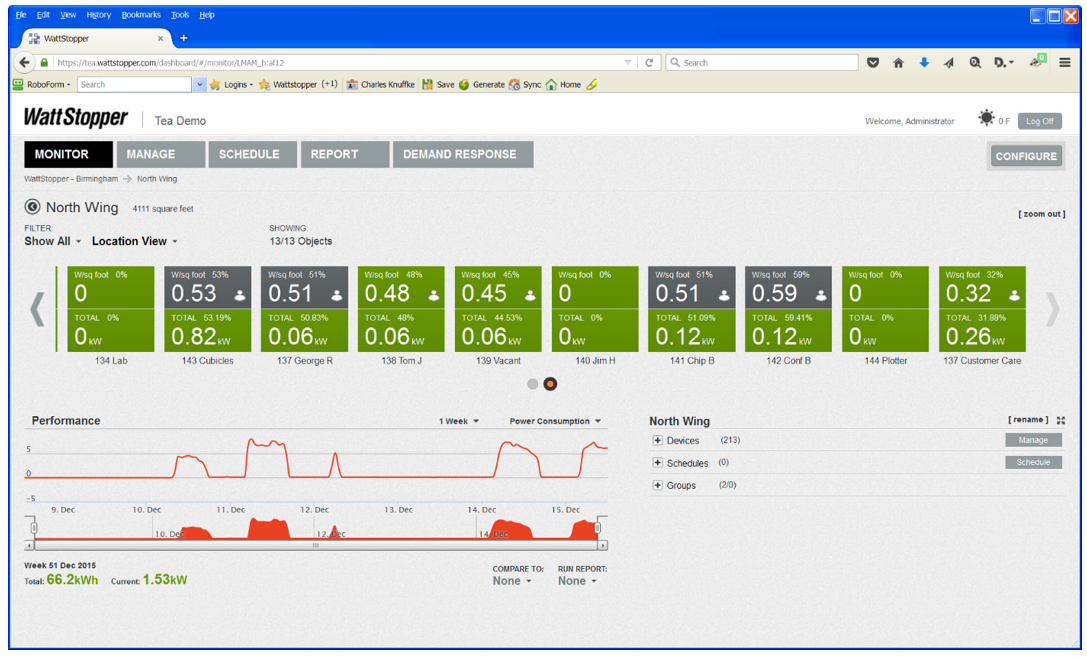 [The Wattstopper Segment Manager 2.1 user interface displays valuable information for each space and a visual history of the site's operation including current usage information such as total kilowatts, watts per square foot, occupancy state, and alerts.]

While a five percent improvement in energy efficiency equals a savings of $.15 per square foot, the same percentage of improvement in productivity equals savings of $15 per square foot. So, the biggest value and opportunity has always been in the "$300" layer of people and productivity. Though energy savings cannot be directly correlated to increased productivity, in the lighting controls industry we've been able to balance energy-efficient lighting and the customer and end-user experience (e.g. comfort, safety, productivity, etc.). And there have been studies that have been done that support increases in productivity with energy efficiency improvements especially in the area of lighting controls.

There is a new opportunity in the top people and productivity segment and that is human centric lighting – a topic that has received a lot of attention in our industry in the last few years. There are many fields that are interested in color tunable or tunable white solutions – commercial, education, healthcare, hospitality, retail and the list goes on – to help improve productivity, well-being, comfort, and more.

For us, the hope is that we can take the lighting controls that are mandated, which affect cost of energy per square foot ($3), and value in the productivity segment ($300). While human centric lighting is still in the early stages, I believe that there will be telling research about the productivity benefits in the near future. We are seeing more studies, trials and solutions and technologies coming into the market. We need to understand the productivity and cost benefits further and be able to accurately quantify those benefits.

We also want to make the point that in order to achieve the maximum benefits, a space has to have great lighting. You can't achieve great lighting by adding controls to a space with adequate lighting.
In addition to human centric lighting, there are still future opportunities to create a good foundation for good lighting and control that help in this new transformative era for our industry.

About the Author
Charles Knuffke Systems VP/Evangelist, Wattstopper, Legrand
For the past 30+ years, Charles Knuffke has worked with engineers, contractors, distributors and owners to design, specify, and start up Lighting Control Systems for almost every kind of Commercial and Industrial project. After being in sales for most of his career, Charles is Systems Vice President and Evangelist for the Wattstopper product line overseeing all product activity relating to the company's Digital Lighting Management System, and managing three marketing directors and product line managers. Charles has also attended uncounted California Energy Commission meetings during the development of the various California Title 24 energy codes to provide real world commentary to the policy makers and act as an ombudsman for his customers.



---


[Click Banner To Learn More]
[Home Page] [The Automator] [About] [Subscribe ] [Contact Us]