---
Leveraging IP-Based Networks for Building Automation





and Disproving Common Myths







Mel Menke,
Senior Product Manager,
Johnson Controls

Building automation systems (BAS) have served as the heart of facility management operations for decades. Historically, IP-based building automation solutions have not been widely implemented. When they are, the implementation is limited to the supervisory and/or server software level. Recently, IP adoption rates have begun to increase at the equipment controller or "monitor and control" level. IP networks have the potential to optimize BAS, making them more reliable, resilient and cost-effective. However, common misconceptions have created barriers to acceptance for building operators and facility managers.

Fortunately, many of these misconceptions have proven to be false or misleading. Taking a closer look at some common myths and providing a realistic perspective into the technology behind IP-based BAS solutions can help building owners make more informed decisions.

IP-Based Systems and Topology

Addressing concerns with IP-based systems starts by comparing network topology options for building management networks. The three most common building topologies include daisy chain, star topology, and ring topology. Here's a snapshot of their configurations and performance:

Daisy chain. This type of setup links networks linearly. Therefore, if one of the links fails, all subsequent links down the chain fail as well. This configuration does reduce the amount of wiring and port requirements. However, it makes the network more vulnerable and less resilient.

Star topology. The star-shaped configuration connects all endpoints through a single hub. This provides stronger resiliency but is costlier to set up due to the higher amount of ports and network switches that are required.

Ring topology. This network is set up in a circular pattern to ensure the last device is connected to the first. Since every device is connected to two devices, it provides additional resiliency. Ring configuration uses less wiring to lower labor requirements and installation costs.
Media Redundancy Protocol with Ring Topology

Many ring topology implementations leverage Rapid Spanning Tree Protocol, which is an open standard developed in 2001 for IT networks. Media Redundancy Protocol (MRP) – an open standard developed in 2010 for industrial networks – enables networks to overcome failures and supports more devices per ring rapidly.

MRP ring-enabled solutions can deliver system and network performance reliability through superior resiliency, scalability and security. Minimal implementation and maintenance costs with a simplified and streamlined network solution help reduce operational expenses.

Leading MRP ring-enabled solution providers also deliver user-friendly tools to help teams accomplish more with less support. Understanding how IP networks support and optimize building automation system performance is the first step in addressing some of the myths around this emerging technology.

Myth – Risk of Downtime from Network Failure
Reality – MRP Ring Topology Delivers Added Resiliency

A break in network communication can potentially result in equipment failures. This means if there's a single fault in the chain, it can trigger additional, larger problems. Building operators want to have confidence that a single fault in the chain won't cause larger issues.

Using a ring topology configuration ensures all operations won't be impacted when a single link in the chain goes down. Other types of topology cannot guarantee this. In addition, IP controller solutions that offer MRP deliver shorter recovery and failover times. Real-time alerting through a cloud-based network allows personnel to react instantly to issues.

Myth – Security Risks with IP Connectivity
Reality – Complete Network View Reduces Vulnerability

Many building owners fear IP-connected devices pose an increased risk of cyber-attacks – particularly when the system is not implemented or managed properly. However, many of today's IP-based networks offer a high level of security with innovative tools to prevent intruder access.

The best approach to cybersecurity is to align existing IT requirements around networking best practices. Having the ability to monitor the entire network, comprehensively gives facility managers a holistic view of IT infrastructure and IP-enabled devices in real-time.

Myth – Disruptions During Implementation
Reality – IP Network Setup Completed in Phases

Building automation requires complex implementations that impact many areas of a facility, which may cause concern for some when considering migrating to an IP-based system. In addition, adding new infrastructure can sometimes be costly and frustrating.

However, implementation of IP networking and integration with building systems can be completed in phases with minimal impact or risk to operations. This also allows networks to be easily expandable post-deployment as needs arise.

Myth – Increased Capital Expenditures
Reality – Ring Topology Lowers Installation Costs

When an IP-based solution is poorly implemented, it can add significant cost with additional wiring and cabling – especially when the wrong topology is used. If a BAS system is built on a network topology that is not optimized for the building, it can inflate costs with additional hardware needs.

These concerns can be resolved by using a ring topology, which is inherently more affordable than star topology without compromising network resiliency. Ring topology that's enhanced with MRP supports far more controllers per ring switch, which greatly reduces hardware and cabling costs.

Additionally, leading BAS providers offer automated configuration tools and procedures to provide a fast and standardized implementation that can be performed by BAS technicians to help control installation costs and minimize overhead. This streamlined implementation can be completed in hours instead of days, unlike some traditional network configurations.

Myth – Lack of IT Expertise for Support
Reality – Minimal IT Support or Knowledge Required

Many building operators feel they lack the necessary IT resources to implement and support an IP-enabled BAS. Due to the number of connections, they believe building automation systems require more IP addresses than their staff and infrastructure can support.

However, leading providers' IP solutions can significantly reduce the complexity and time to configure. In addition, MRP-enabled ring topology requires fewer ports and cabling than star-topology implementations, thereby creating less demand on IT.

Benefits of IP-Based BAS Network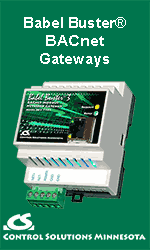 Increased system resiliency and security. A well-implemented IP-based BAS solution provides unparalleled system resiliency, ensuring peak building operations are maintained. Because IP-based solutions are highly encrypted, they help protect operations and data while safeguarding against malicious activity.

Reduced capital and operational costs. MRP-enabled ring topology delivers a streamlined, yet robust system to alleviate stakeholder cost concerns. Since there is less overhead for physical equipment, it allows companies to allocate resources over a longer period of time and scale for growth. This configuration also needs less IT overhead and management – further reducing costs.

Enhanced Productivity. Using IP technologies allows building owners to quickly and easily solve problems through real-time information about building performance. Combined with visualization, this information can help proactively prevent issues and quickly solve problems.

Greater Connectivity. Simplified Network.

The right technology combined with the right topology delivers the most resilient, reliable and cost-effective solution for building operations. IP-based BAS with MRP-enabled ring topology gives building owners, designers and operators the power to cost-effectively detect and solve problems faster to increase occupant satisfaction while ensuring a reliable, secure network for smart buildings of the future.

For more information on IP controller solutions for building automation, visit https://www.johnsoncontrols.com/buildings/specialty-pages/metasys-release.

---

About the Author
Mel Menke, Senior Controls Product Manager, Johnson Controls
Mel Menke joined Johnson Controls as a Senior Product Manager in 2015 and has over 30 years' experience in the communications technology industry. In his current product management role, Mel is responsible for all styles of communications networking whether wired or wireless. Mel has an associate of electronics technology degree from Indian Hills Community College, a bachelor's degree in business administration from Iowa Wesleyan University, and an MBA from Roosevelt University.


---


[Click Banner To Learn More]
[Home Page] [The Automator] [About] [Subscribe ] [Contact Us]