---
The Backbone to Smart Building Solutions



LoRa

devices and wireless radio frequency technology (LoRaŽ Technology) confronts this challenge through a long-range, low-power wireless radio frequency platform.




Byron BeMiller,
Vertical Lead for Smart Buildings
Semtech
In the connected era, an increasing number of IoT solutions will make our homes, public areas and workplaces, smarter. Building managers will have access to real-time, cloud-based analytics, reporting and services, allowing for informed decision making. With the increasing market demands for cost-saving occupancy comfort solutions, connected technologies are well-positioned to meet the needs of the automated building industry.

From fire detection to temperature control and energy management, these applications are a part of a growing market. In fact, Allied Market Research forecasts that by 2024, the global intelligent building market will be valued at over $42 billion. Additionally, a recent Research and Markets report estimates that over 483 million IoT-based building solutions will be installed by 2022. To support this growth, IoT-based building solutions require reliable technology that will enable full use of its connective capabilities in a complex environment.

For real-time analytics, data transmission will require secure networks with a wide reach and low power consumption. LoRa devices and wireless radio frequency technology (LoRaŽ Technology) confronts this challenge through a long-range, low-power wireless radio frequency platform. The versatility of LoRa Technology enables it to function in dense urban environments, providing connectivity to even below ground concrete facilities, making it an ideal IoT solution for the automated building industry.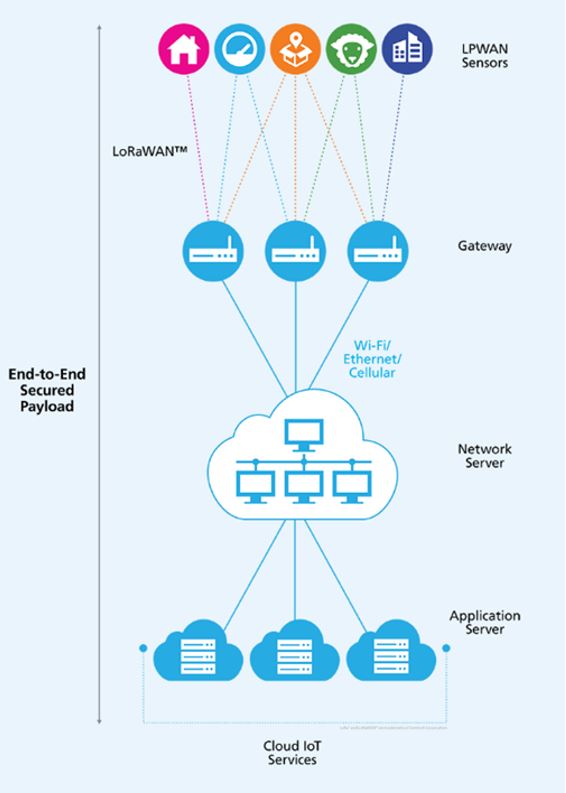 Figure 1: LoRaŽ Network Breakdown
A LoRa-based IoT solution begins with a LoRa-enabled embedded sensor. This could take the form of smoke and leak detectors, to room occupancy sensors. The embedded sensor is connected to a low power, wide area network (LPWAN) gateway application, a key hub in which multiple sensors will send initial data to. The data will then be sent to a network server and routed to application servers or cloud IoT services. These applications interpret the data collected from the embedded sensors using techniques such as machine learning and artificial intelligence, providing valuable information to the end-user securely.

Let's explore some examples of LoRa-based smart building solutions.

Fire Detection

Fires cause roughly $10 billion in property damage in the U.S. In a commercial building setting, a fire can rapidly spread in a matter of minutes, making early detection key to maintaining the safety of building occupants and reducing the damage to the property. By utilizing a network of fire and smoke detecting LoRa-based sensors, firefighters are provided with real-time data to effectively combat a fire outbreak.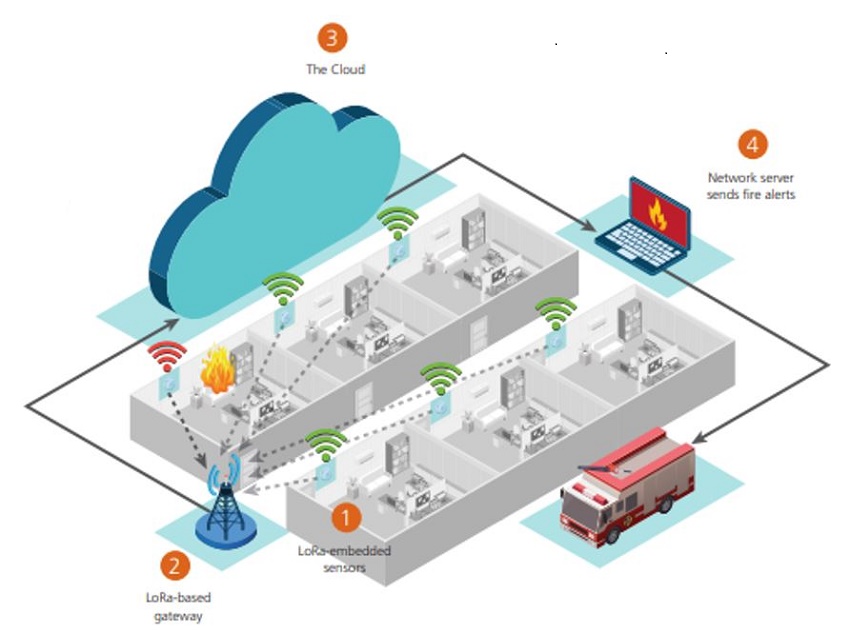 Figure 2. LoRa-Based Fire Detection Deployment

Embedded sensors are able to detect rapid thermal changes, smoke and gas. Through the connected network, information on where the fire is heading to, as well as the scale, is routed to emergency services. By using this data, first responders are able to prepare the most effective response while targeting key areas, saving valuable time.

Smart Offices

In today's competitive market, a low-cost scalable solution is necessary to meet the challenge of outfitting multiple offices for the connected era. To address this, Capgemini's Corporate Real Estate Services developed a line of LoRa-based IoT solutions to monitor over 400 office buildings in more than 40 countries.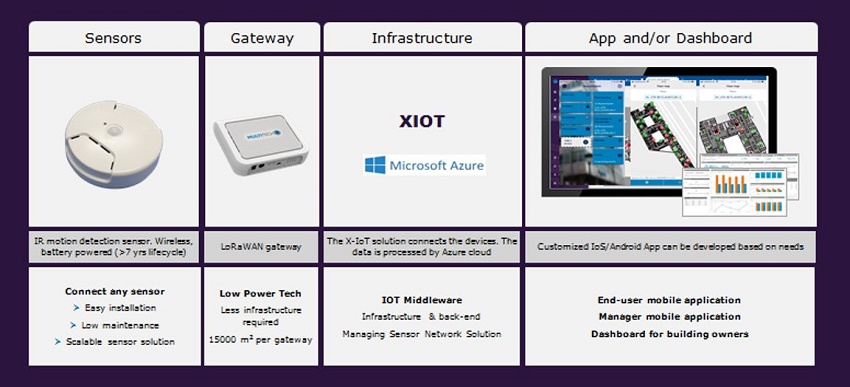 Figure 3. Capgemini's LoRa-Based IoT Platform

Using low-maintenance and easy to install sensors, Capgemini is able to consistently and accurately monitor real-time comfort information such as temperature, humidity, carbon dioxide levels and noise. Additionally, data provided by the deployments were able to solve no-shows in 30% of meeting rooms, improve sustainability through rightsizing offices and reduce energy consumption. Information is accessible through a smartphone app or dashboard, simplifying tasks such as booking empty meeting rooms, turning off lights in unused spaces and accessing environmental controls. The sensors supplying all this information can last up to 7 years thanks to its low-power consumption, making them ideal for large deployments requiring a wide area network.

Radiation detection

It's estimated that nuclear power plants supply 20 percent of the nation's power, with nearly three million Americans living within ten miles of an active nuclear power plant. Despite providing energy to many Americans, these power plants pose a major danger to those working in or near the surrounding area. A radioactive leak can be deadly, causing multiple health complications. Radiation leaks cannot be detected through human senses; managers must deploy embedded sensors capable of detecting radiation leaks throughout nuclear facilities, surrounding buildings and the larger community. A LoRaWAN deployment is able to constantly measure radiation levels to ensure a safe work environment for employees.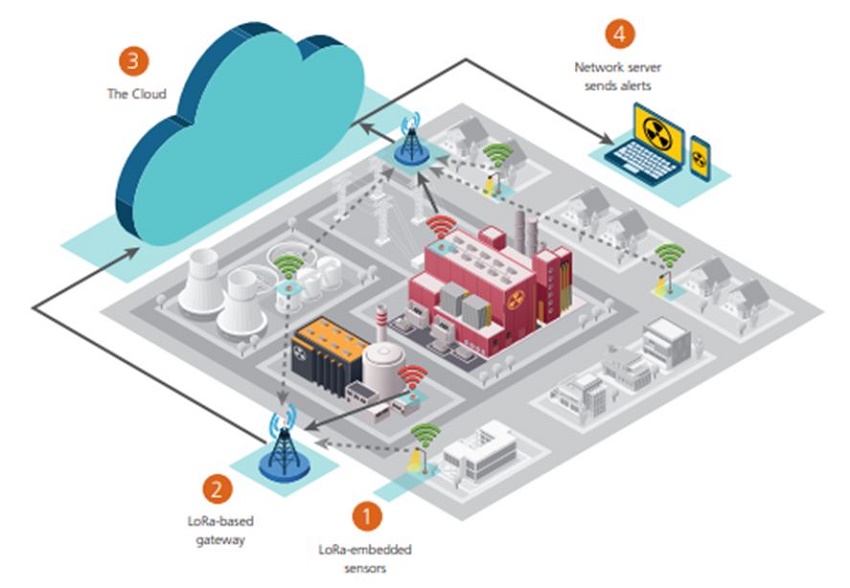 Figure 4. LoRa Based Radiation Detection Deployment

Through the deployment pictured above, sensors and gateways embedded with LoRa Technology can monitor radiation levels beyond the power plant, providing ease of mind to tenants within surrounding buildings. Batteries for radiation sensors can last up to 10 years, providing a low maintenance connected solution to a serious health risk.

Looking Ahead

IoT solutions for smart buildings have grown in versatility and evolved to meet the new industry demands by building tenants. Solutions will soon be personalized for individual needs, contributing to productivity and further improving workspace quality.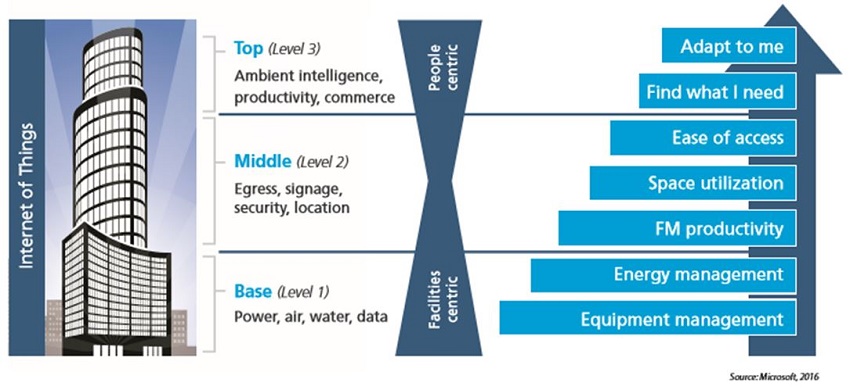 Figure 5. IoT Smart Building Solution Progression

As more investment will be directed towards smart building solutions, LoRa architecture will continue enabling hundreds of sensors to connect to a network in a cost-effective way. The versatility of these solutions allows applications to be deployed in new buildings or retroactively implemented. As new technologies emerge, it will be interesting to see how IoT connectivity solutions and cloud-based analytics will be leveraged in different ways to provide real value to building managers.

---
About the Author
Byron BeMiller is the vertical lead for Smart Buildings at Semtech and the head of the LoRa Alliance Smart Building Working Group. He is the former VP of Sales at TrackNet, an IoT solutions provider which was acquired by Semtech. Prior to TrackNet, Byron had spent the previous 7 years at Semtech where he held a variety of Business Development and Product Marketing positions. Previous to Semtech, Byron held Sales and Business Development management positions at Ciena and Nortel Networks. He holds a BSEE from the University of Illinois and an MS in Management from Georgia Tech.

---


[Click Banner To Learn More]
[Home Page] [The Automator] [About] [Subscribe ] [Contact Us]