---
OPC (OLE for Process Control) is a published connectivity standard that has become the de facto standard embraced by the process control industry because of the tremendous benefits it offers. However, these benefits are not unique to process control; they can be seen within other market segments such as discrete manufacturing, equipment monitoring and control, utilities and, recently, building automation and security.
Editor's note: OPC is not a wire protocol (like BACnet or LON). It is an application-level protocol originally designed to provide interchange of information between Windows applications.












The Proprietary Method
Traditionally, the market space for building automation control systems has been dominated by a select few solution providers. These solutions typically involved proprietary tools and connectivity methods that locked users into a particular vendor. When changes were required, integrators were forced to return to the same vendor and subsequently forced to pay for solutions that were not always optimal. Many building automation systems have been retrofitted to employ legacy devices, which make changes and upgrades expensive and difficult.
The OPC Solution
OPC is an established standard that enables integrators to connect disparate systems together, creating robust solutions and providing true interoperability; while at the same time reducing implementation time and costs. In addition, OPC enables a fully scalable solution for future changes and expansion. No longer are integrators tied, or locked in, to a single vendor. The data has now been freed and the ability to choose from an abundance of options is sitting well with integrators. Integrators are now able to deploy control systems and applications, regardless of vendor, and build best-of-breed solutions. Building automation is no longer dominated by a few large companies. The playing field is now open for many developers to offer far more advanced and superior solutions, while reducing the total cost of ownership.
OPC Architecture
OPC is based on a server-client architecture. Currently there are hundreds of commercial off-the-shelf OPC products available that will provide connectivity to every major control system on the market. OPC servers are available for many systems and protocols, including Modbus, BACnet, LonWorks, Johnson Controls, and others. Furthermore, there are hundreds of OPC client enabled applications to choose from including HMIs, visualization and reporting tools, preventive and predictive maintenance packages, HVAC, lighting controls, security applications and many more.
Single Building Location
OPC enables the different systems of building automation such as security, lighting, elevator, and HVAC systems all to be networked using a single connectivity standard. Imagine now that all components can be monitored and controlled via a single HMI application. Writing set-points to Intelligent Lighting Controls (ILCs) to maintain proper lighting, monitoring the carbon monoxide levels from HVAC air handling units and controlling emergency power supply generators and transfer switches can all be seamlessly integrated together using OPC. This vision is no less realistic for upgraded or expanded buildings than it is for new structures.
Geographically Dispersed Buildings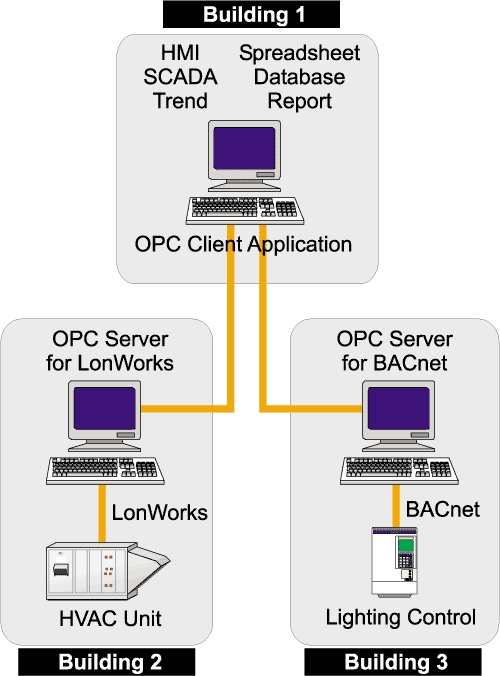 In telemetry-based SCADA (Supervisory Control and Data Acquisition) applications where several buildings are geographically dispersed but monitored and controlled from a single location raise issues not typically experienced with single, stand-alone structures. Consider retail chains and fast food restaurants networking all their building automation and controls from each location together to monitor and control from a centralized location. Now, different network domains, low bandwidth connections, and noisy communication lines become factors not typically addressed by alternative communication protocols.
OPC tunneling technology eliminates Windows DCOM issues altogether and enables OPC client applications to communicate with remote OPC servers via any appropriate communication technology, such as TCP/IP, HTTP, HTTPS, XML, etc. Third-party passwords are immediately nullified, network domains become irrelevant, and network performance (bandwidth and reliability) is a non-issue. Thus, OPC Tunneling enables data to be transferred in the most reliable way so that the communication remains continuous and consistent. The result? All of the headaches typically associated with DCOM are alleviated.
When it comes to integrating OPC in a specific setting one server is not necessarily as good as another. Though bandwidth is not an issue with single building structures, it can be precious when dealing with geographically dispersed buildings. As a result, not all OPC servers will handle data transfer efficiently when dealing with telemetry limitations such as distance, weather, radio noise and other conditions. The OPC standard defines what values an OPC server must pass to an OPC client - not how the values are passed. As a result, the how part is left up to the developer, which means it is likely that one OPC server will easily outperform another. This is particularly evident in SCADA applications where integrators attempt to deploy an OPC server designed for high-bandwidths and reliable networks in a telemetry-based environment. The result is poor performance and other frustrations. Comprehending all of the implications is better left for another article; however be aware that it is important to seek the right OPC server for your particular situation from your OPC vendor.
The Benefit
OPC is a viable solution for building automation and is available today. By letting OPC handle the communication solution, integrators spend less time establishing communication infrastructures and can focus on their core competencies. Integrating OPC into a new or current system reduces initial and long-term capital expenditures, minimizes operational spending requirements and improves both short and long-term facility performance to help companies achieve operational excellence.
Multimedia OPC Tutorial
Matrikon, the world's largest developer of OPC products, has recently produced a vendor-independent multimedia presentation that provides a quick introductory overview of OPC. It talks about the vision of OPC, covers a case study, and provides information about the various OPC specifications. After the presentation, viewers will understand the basics of OPC and possess the knowledge to begin integrating OPC into a new or current system. To view the tutorial, visit Matrikon's website at www.matrikon.com/tutorial.
---
About the author:
Randy Kondor, B.Sc. Eng. CompE, is the OPC Product Manager at Matrikon. Mr. Kondor is responsible for Matrikon's OPC business unit which is comprised of over 50 full time employees. Since 1996, Mr. Kondor has been vastly involved within the OPC industry and a strong supporter of the OPC Foundation. He continues to dedicate himself to spreading the OPC Foundation's message about system interoperability and inter-vendor cooperation.
Additional Resources:
Matrikon OPC: www.matrikon.com/opc
OPC Tunneller: www.matrikon.com/drivers/opc/opctunneller.asp
Multimedia Tutorial: www.matrikon.com/tutorial
---

[Click Banner To Learn More]
[Home Page] [The Automator] [About] [Subscribe ] [Contact Us]