---
| | |
| --- | --- |
| My 10 Takeaways from AHR Expo Chicago | by Ken Sinclair |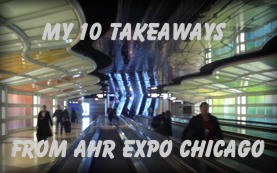 I have just returned from the largest ever AHR Expo which was a kaleidoscope of change. The energy and feeling of the transition into a new era was everywhere. Industry synergy abounded and the feeling of all the pieces fitting together was never greater. I wish to share with you 10 observations that I formulated while at this event. The exposition is a true melding pot for our industry which is converging in several different ways and several different directions simultaneously. If you were unable to attend put this on your "must be there list" for 2007 in Dallas and 2008 in New York City. 2006 AHR EXPO CHICAGO SETS NEW RECORD AS BIGGEST EVENT IN 76-YEAR HISTORY
My 10 technology takeaways from the show in no particular order

BACnet International a friendly powerful global community was born just before the show.

All the hard work of achieving a consensus standard has come to a brilliant finish. The energy, no the synergy in the BACnet International booth was amazing, the sense of industry cooperation with the demonstration of a myriad of connected manufacturers products. The notion that was obvious was the fact as each of these manufacturers innovates with new BACnet products and services they add to the strength, the reach plus the cost effectiveness of their international community. Another feather in BACnet International cap was the support by the major control companies of their international standard. Be sure to read this month's interview The New Face of BACnet "Dorsey: Just before the opening of the show, members of two former organizations voted to consolidate and rename their collective assembly. BACnet International was born. The two organizations had been known as the BACnet Manufacturers Association (BMA) and the BACnet Interest Group of North America (BIG-NA). The former boards of these organizations have now been combined into a single and smaller board that will reflect the diversity of membership and the agility and responsiveness that will permeate the new organization."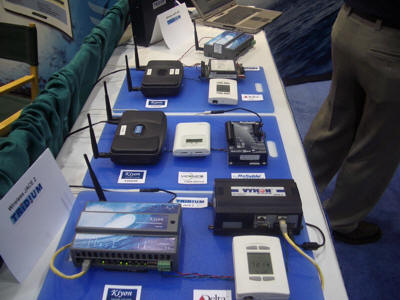 Wireless Will Win
Lots of real wireless products at this year's Expo. The picture on the right shows several vendors' equipment having a wireless chat in a casual gathering on the table at the Kiyon booth. AHR "Innovation Award" Winner - Kiyon led the wireless way but lots of other wireless products like Tour Andover's wireless BACnet extender (more to follow on that) and of course the announcement of Siemens First Wireless Building Automation System.
In the Building Intelligence Tour all day educational seminar Wednesday, (for more insight read; "The Time is Now for Intelligent Buildings - Learn why at AHR Expo" also see Building Intelligence Tour at AHR Expo 2006 Chicago) the discussion was hot about how wireless would dominate the last 300 feet adding thousands of points of intelligence to our systems. It was interesting to see that the structure cabling folks support wireless as it increases the need to have a structured back bone to accept all this new data that will be wirelessly collected.
See what Bob Metcalfe chairman and interim CEO for Ember Corporation has to say in our interview. Ember and STMicroelectronics partnership boosts the ZigBee market
Insight below:
Sinclair: What is ZigBee, particularly in its relevancy to building automation?
Metcalfe: ZigBee is a wireless, standards-based radio technology that addresses the unique needs of remote monitoring, control and sensor network applications. It will play an increasing role in enabling embedded networks for building automation. ZigBee is not just low-power radio standards (802.15.4), but also wireless mesh radio protocol stack standards.
STMicro, one of the world's largest semiconductor companies, will work with Ember to jointly develop complete semiconductor solutions for the fast-growing ZigBee wireless networking market.
Watch Wireless Win in 2006!
Honeywell keeps Tridium's Niagara path from field to enterprise open











A concern by the complete industry of what would happing to the open path from field to enterprise provided by Tridium was answered in last month's interview The recent acquisition of Tridium by Honeywell by John Petze, President & CEO and Marc Petock, Director of Marketing Tridium. Tridium is the inventor of the Niagara Framework®, a software framework that integrates diverse systems and devices - regardless of manufacturer, or communication protocol - into a unified platform that can be easily managed and controlled in real time over the Internet using a standard web browser. The general the feeling by most was that this open path will not become a closed corporate standard and that the large Niagara community will strive to keep it open. Growing the Niagara open community is of benefit for both Honeywell's Comfort Point Control and Enterprise Integrator product, both of which provide a valuable bridge to bring their legacy systems into the new era. It should be a good marriage.
Soft Control of Hard Equipment is the future of new construction
The announcement earlier this year of the Johnson Controls to Acquire York merger reminded us of the Carrier - Automated Logic merger. Carrier Corporation: To Acquire Automated Logic Corporation, Technology Leader in Commercial Controls. Why are hard equipment manufacturers and control companies merging? Two major reasons: First the new major construction business is not in North America but in India, China, Dubai and other off shore locations. Projects will be looking for complete solutions to HVAC comfort needs that include soft intelligent control of hard equipment ie chillers, air handling systems, terminal units etc. Reason number two is that hard equipment becomes more powerful and cost effective with soft controls. Look at today's auto industry: it is becoming that the car that has the most soft toys and best integrates with your ipod wins.
Although 2005 was a year of mergers I feel 2006 will be no different. Trane has bolstered their knowledge of soft control but Siemens and Honeywell potentially could be left without access to hard equipment. Schneider Electric may still be in a buying mood so look for more mergers of hard and soft companies.
Open standards and connection to them will play a major roll in the development of the independent hard equipment manufacturers as they work to supply products to fill holes in the product lines for the major equipment suppliers.
Retrofit will Dominate the North American Market
Most North American buildings have been built, but are in dire need of retrofit to be able to cope with the new era. It is likely that the independent integration contractors will excel in this high touch engineering and labour market. Movements like Gridwise and Green Buildings will fuel the growth in this market. The actual definition of what is our market will increase market size and reach. Please read this month's column Defining The Intelligent Building Control Market which provides insight into understanding the true volumetric size of our new industry as we converge in a new era.
LonMark leads in re-educating our industry but we all must invest in education to move to the new era
LONMARK membership soared in 2005 with growth of nearly 30% over the previous year. This increase is due to the successful 50+ city seminar program hosted by the LONMARK organization last year, attracting over 4,000 people in North America, Europe and Asia; and the addition of five countries to the LONMARK Affiliation Program. LONMARK affiliated organizations are active in Denmark, France, Italy, Switzerland and the United Kingdom. Several LONMARK affiliates are forming around the globe in Australia, China, Germany, Korea, Russia, and Singapore.
Chicago, IL – January 23, 2006 – LONMARK International announced today that it is developing a new program to test and certify industry professionals of LONMARK® Open Systems. The new program will target individuals that install, integrate and maintain systems utilizing LONMARK certified products.
Chicago, IL – January 23, 2006 – LONMARK International and its members created an impressive demonstration of open, interoperable products at AHR Expo 2006. The demonstration contained 36 products from 21 different vendors, linked together with eight different Human Machine Interfaces (HMI's), showing the dynamic nature of open, interoperable solutions.
In addition LonMark offered several free education sessions at AHRExpo.
For complete press releases click here
Kudos' to the Lon folks this is a lead we all must follow.
Cisco and other IT giants are studying the piece players of our industry to help us form the big picture
As our industry turns IT we will need guidance in this new world of Internet Technologies, We somewhat comprehend the Core Technologies– Switching & Routing– Software & Services but are babes in the wood when it come to Advanced Technologies– Storage Networking– Wireless– Network Security– IP Telephony– The Networked Home– Optical. The IT masters will lead us as well as all other converging industries into this new world. Below is a slide from the Building Intelligence Tour from Dave Clute, Cisco Systems, Inc. Advisory Services - Customer Solution Manager CCRE - Cisco Connected Real Estate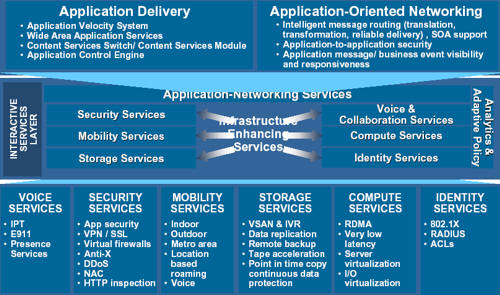 It shows several interrelating services that are not yet on our radar screen.
For more on Cisco thinking be sure to read this month's interview with Anto called AHR and the Road to Palm Springs.
"Many are asking why Cisco in interested in building automation. The quick answer is a $25b worldwide opportunity. What's behind that is Cisco's desire to partner with the industry and understand how it can participate and contribute to this emerging IP centric market."
Quarter baked thinking coupled with traditional marketing practices is eroding our markets.
Many of our control and automation companies seem pre-occupied with making a profit in the next quarter and are not focusing on the fact that we are in the middle of an era change. If they do not extend their planning window beyond the next quarter they will lose their market share and possibly their complete companies to new IT companies and/or off shore folk who have fully baked plans in place. Looking to our existing market for help is of little use; they have only a slim idea of what is the potential available. We must lead our markets into the new era.
In my Virtual Value Visions for Building Automation in 2006 I wrote; "I love this quote from Henry Ford, the automotive pioneer: "If I had asked people what they wanted, they would have said faster horses." I believe there are those in the traditional building automation industry who are designing faster horses, rather than trying to get their minds around the fact we are moving into a new era."
It was ironical that while I was in Chicago at the Exposition, the Ford Motor Company announced massive cuts back. I am sure that their marketing plan was a careful survey of their existing Ford owners who when asked what do you want for the future? responded with "a better Ford". Ford believing this line of bull gave them what they said they wanted and built them a "Taurus" to be exact. It was a disaster and the rest is history. What did the market really want? Something that looked like a Lexis and performed like a Toyota Prius. Why did they not ask for it? The conventional market did not know that competitors would provide better value cars and the gas prices would double. I wonder if Henry would have made the same mistake? I think not.
Industry! We are moving into the information age, a new era of integrated everything, not just information but everything which will lead us to a new way of doing everything. We cannot move into this new era selling dusted off dinosaurs for control systems because we think we can squeak one more quarter out of them. The new IT stuff coming down the pipe is slick and works well. Off shore markets are leapfrogging us with fully baked plans that provide connection to the new era. We must concentrate on providing a complete plan and lose that quarter baked thinking to provide new era connections to all of the pieces.
CABA provides the catalyst and glue to help bind our industry.

The following headlines from the CABA web site show how they do this
December 7, 2005
CABA TO SUPPORT BUILDING INTELLIGENCE TOUR SEMINAR AT AHR EXPO
January 9, 2006
CABA COMMISSIONS CONSORTIUM TO BUILD INTELLIGENT BUILDING RANKING TOOL
December 6, 2005
CABA TO CREATE TECHNOLOGY ROADMAP FOR INTELLIGENT BUILDINGS UPDATE
December 9, 2005
IPSOS REID TO DEVELOP CABA CONNECTED HOME ROADMAP
CABA has also started a new web sight www.buildingintelligencequotient.com
The BIQ™ site will be an affordable and easy to use online Intelligent Building ranking tool. The Web site and the subsequent Certification Process will increase market penetrability of Intelligent Building technology with building owners, operators, managers and designers by demonstrating value and providing guidance.
To learn more about BIQ™ download this document http://www.caba.org/biq/BIQC-AHRHandout.pdf
Watch and help this site grow.
The CABA Intelligent & Integrated Buildings Council works to strengthen the large building automation industry through innovative technology-driven research projects.

The Council was established in 2001 by CABA to specifically review opportunities, strategize, take action and monitor initiatives that relate to integrated systems and automation in the large building sector.

Our projects promote the next generation of intelligent building technologies, plus a whole-building approach that optimizes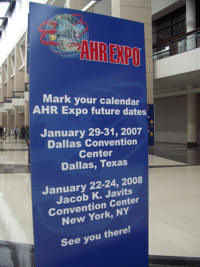 building performance and savings.

The Building Intelligence Quotient Steering Committee provides oversight over the development of an intelligent building ranking tool.
The Life Cycle Costs Steering Committee provides guidance over the development of an online life cycle costing tool.
Check out this valuable organization and see how you can become a member and get involved in their many valuable projects http://www.caba.org
AHR Expo's International Expositions Co. provides the annual melting pot for our converging community
AHR Expo is always a field for the cross pollination of ideas but this years it exceeded our expectations. With at least 57,673 people attended AHR Expo, according to preliminary results, every section of our industry was well represented. This was our 7th year of AutomatedBuildings.com providing free education sessions for the industry. We would not be able to do this without the support of International Expositions who produces and manages this show. The show has become the place where our industry can introduce new products, innovate, grow and change. This year's event was a record breaker for all of that. It was great to see the major control companies back on the floor in Chicago. I am sure lots of new and old players will now be planning to come to the Dallas 2007 show. Please join me in inviting our convergence partners to be part of our AHR Expo. There is only one way to grasp the size and the dynamics plus the energy that is our industry - come to AHR Expo 2007 Dallas, Tx.
---


[Click Banner To Learn More]
[Home Page] [The Automator] [About] [Subscribe ] [Contact Us]