---
Every month there is a blizzard of information contained in the emails and newsletters that cross my desk on their way to AutomatedBuildings.com. Some of this information is not in the form of any type of content we can publish but I feel I should share with you these snippets, blog bits, and url links that are about to fall off my desktop.
What Businesses Get Wrong About Creating Smarter Buildings Buildings around the world are demonstrating "smart" behavior today, thanks to automated systems that save energy, streamline building operations and prevent expensive equipment failures. Yet the value of making smart technology investments remains unclear to many people. Here are some of the misconceptions our smart building experts deal with as they help clients improve the performance and value of their properties.
ZigBee Alliance Announces Standards Activity For Smart Grid Neighborhood Area Networks Development of an interoperable wireless IPv6 communication profile based on international open IEEE and IETF standards
Harvesting the World's Mechanical Energy Published on Dec 9, 2013 Triboelectric Nanogenerator for Self-powered Systems and as New Energy Technology, featuring Z.L. Wang, Director, Center for Nanostructure Characterization, Georgia Tech School of Materials Science and Engineering.
BIoT – BUILDING Internet of Things™ Author: Jim Young, Co-Founder & CEO, Realcomm Over the last few months, anyone in the tech space has been inundated with a new catchphrase describing the next generation of the Internet: IoT, an acronym for the Internet of Things; and its close cousin IoE, the Internet of Everything.
Can Wi-Fi or Bluetooth Supplant ZigBee or Z-Wave for Home Automation? Some experts say Wi-Fi and/or Bluetooth, including lower-power variants, could upstage today's dedicated home-automation protocols such as ZigBee and Z-Wave.
Nest Acquisition Revives Google's Energy Management Strategy Written January 16th, 2014 by Denis Du Bois Google may have found its long-sought path into the energy utility market with its acquisition of Nest Labs and the Nest Learning Thermostat.
Smart buildings are poised to generate $100B by lowering operating costs by reducing energy consumption through the integration of HVAC and other systems. Gas monitoring could generate $69B by reducing meter-reading costs and increasing the accuracy of readings for citizens and municipal utility agencies.
CABA News The Continental Automated Buildings Association (CABA) is an international not-for-profit industry association dedicated to the advancement of intelligent home and intelligent building technologies. The organization is supported by an international membership of nearly 400 companies involved in the design, manufacture, installation and retailing of products relating to home automation and building automation. Public organizations, including utilities and government are also members

"Currently, integration with oBIX (Open Building Information Exchange) is available with further data protocols to be rolled out over the coming months through our technology partners." Right now, data can be pulled directly from an oBIX server containing any number of connected devices. When abnormal operating conditions occur, MA Monitoring™ triggers a work order in the CMMS, notifying Technicians and engineers immediately of a pending problem so corrective action can be taking and a system failure avoided.
Windows XP Cyber Time Bomb set for April 8, 2014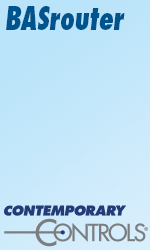 Windows XP Cyber Time Bomb set for April 8, 2014 By Bill Lydon, Editor The huge installed base of automation software running on Windows XP will be vulnerable to cyber-attacks with the end of Windows XP support April 8, 2014. Windows XP accounts for more than 30 percent of all operating systems deployed, according to Net Applications.com
Cisco Study Says IoE Can Create Savings, Increase Productivity and Revenue for Governments Globally, While Improving Citizen Benefits New Cisco study reveals $4.6 Trillion in Value at Stake for governments that embrace IoE
NINJA SPHERE: Next Generation Control of Your Environment by Ninja Blocks
If you're interested in KNX home and building control, you can read the January issue of the KNXtoday newsletter here http://knxtoday.com/ezine/KNXtoday-ezine20140120.html
There is a reason software developers, service providers, engineers, and system integrators are building offerings on and around SkySpark – it is the leading platform for turning data into money. Key to the growth of the community is the openness of the SkySpark® platform. This commitment to openness has enabled a growing community of partners to create complimentary applications and services to meet customer needs. In this issue of the Insider we focus on the value-add being generated by the community who are all contributing to the effort to help owners and operators get more value from their investments in smart devices.
As of July 1, 2014 all construction projects new and remodeled must have mandatory lighting controls in the State of California, verified by State registered Acceptance Test Technician!

---


[Click Banner To Learn More]
[Home Page] [The Automator] [About] [Subscribe ] [Contact Us]