---
Our Education Sessions AHRExpo, New York

in review

We were very pleased with our education sessions as they were well received and rooms were full of engaging folks. The meeting rooms in New York are small but we got between 70 to 100 in an overflowing Market Trends session.

We changed the format this year trying to make it more interactive and used PowerPoint for wallpaper only, preventing our teams from talking to the screen. This seemed to work well and drew the audience into meaningful discussions. I was very pleased with the interaction that occurred. We have posted the PowerPoints in PDF form. Because of this the information is somewhat limited but, if you look at our wallpaper you can create your own presentation, which might be better than ours....smile.
To our team we added Brad White, a young energy environmental consultant working in this area with lots of retro commissioning and continuous optimization experience, like this slide-simple overview of what we need to do.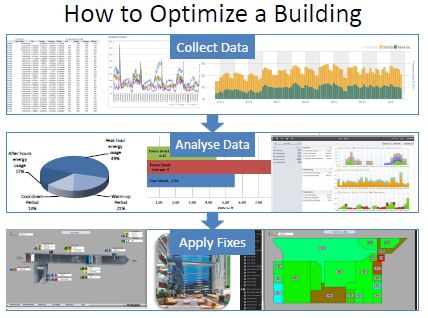 The chatter create between Brad and Jim, with my heckling, seemed to work very well in engaging the audience. I think we, in this industry, need to envolve the up-and-coming folks in our presentations and lives.
The cold snowy weather did not seem to deter the attendees. Much of the talk and interest was focused around fault detection. Some great discussions broke out on how to create this, how to best manage, and who in fact should be developing the fault rules. Unfortunately we were unable to capture all these great ideas and the interaction generated.
NIST was identified as a great resource for evolving Fault Detection rules
http://www.nist.gov/fault-detection-and-diagnostics.cfm

All in all extremely pleased with the sessions and look forward to Chicago next year. It seems that social media works very well at allowing us to focus our audience and our presentations.
I will see how we can better use social media for our Chicago AHR 2015 Sessions. Maybe open a discussion on each session and allow audience interaction prior to session.

I have imbedded the PDF with each respective session below.
Building Data the New Deliverable
1. PDF Our Changing Building Automation Industry and our New Deliverable Data. Speakers - Jim Sinopoli & Ken Sinclair AutomatedBuildings.com Tuesday, Jan. 21, 9:00 – 10:00 am Jim Sinopoli our contributing editor, and I discussed trends and directions that have occurred since Dallas AHR Expo 2013 that are rapidly changing our industry.
2. PDF Market Trends for Integrated and Intelligent Building Systems and the Retrofit Opportunity Speakers - William Rhodes, Market Analyst, Brad White, Consultant & Ken Sinclair, Publisher Tuesday January 21, 1:30 – 2:30 pm An update on evolving market size, shape and general trends that are changing our industry. Wireless, cloud and deep integration and the data blizzard were discussed. We also explored the retro commissioning opportunity from a consultant's point of view.
3. PDF Our Building Automation industry has become Data Driven. Speakers - Jim Sinopoli, Brad White & Ken Sinclair Wednesday Jan. 22, 9:00 am Examples and discussion on how two consultant are coping with Community, Convergence, & Collaboration from Cloud Data. Retro commissioning programs were discussed and the opportunities. As well, the power of data modeling and the blizzard of evolving data standards.
A quick review of signifcant changes in 2013 and insight into our AHRExpo education sessions.
http://www.automatedbuildings.com/news/jan14/reviews/1312014701mirror.html

---

[Click Banner To Learn More]
[Home Page] [The Automator] [About] [Subscribe ] [Contact Us]