---
Commercial HVAC Optimization Technology

Reducing Costs, Improving Comfort and Contributing to the Achievement of Today's Corporate Sustainability Goals

Mark Boliaris,

National Sales Director,

Enerliance
As the arguments supporting the negative impact of global climate change gain increasing influence over regulatory bodies, new legislations aimed at stricter efficiency standards are popping up in cities across the nation. In September, Mayor Bill de Blasio of New York City announced a commitment to reduce his city's greenhouse gas emissions 80 percent by 2050. In Fort Collins, Colorado, last April, the city council pushed for an update to their Climate Action Plan, calling for Fort Collins to be carbon neutral by 2050. Summits and workshops like one held in Houston last October, are cropping up all over the country in an attempt to bridge the knowledge gap between efficiency thought leaders and innovators, policymakers and building owners. And while these are just a few illustrations of current sustainability initiatives, they are likely setting the standard for future efforts across the nation. We in the commercial building automation industry can do much to support these types of sustainability initiatives.

For years, the quest to create higher levels of efficiency in both new construction and retrofits, has shaped building automation innovation. HVAC efficiency not only curbs emissions, it produces substantial savings for buildings owners and operators. The latest energy efficiency technology can drive projects with extremely attractive returns on investment not possible with traditional building automation systems. Everywhere we turn in the commercial building sector, automation engineers are developing new ways for buildings to reduce their energy consumption. And with this push, comes an even greater pressure to create comfort-based solutions. Nowhere is this sea-change currently more evident than in the HVAC industry.

The HVAC system is a commercial building's single largest energy draw—representing up to forty percent of total energy consumption. And while improvements have been made over the years to individual HVAC components such as control systems, chillers and air handling units, the overall system's basic control strategies have remained unchanged since the early 1970's. In light of modern technological advances, there is ample room for improvement and an enormous opportunity for energy savings. Because of this, building owners, energy providers and controls experts are increasingly searching for ways to improve both new and existing systems.

A recent Navigant Research Report summary predicts that the advanced HVAC controls industry will experience an annual revenue growth of more than five billion dollars per year by 2023. The summary predicts that many of those dollars will be spent on energy reduction retrofits. In order to truly be successful, however, curtailment must be accomplished in a way that will not create a negative impact on the building's occupants. Comfort-focused HVAC optimization solutions such as Enerliance's LOBOS technology meet this criterion.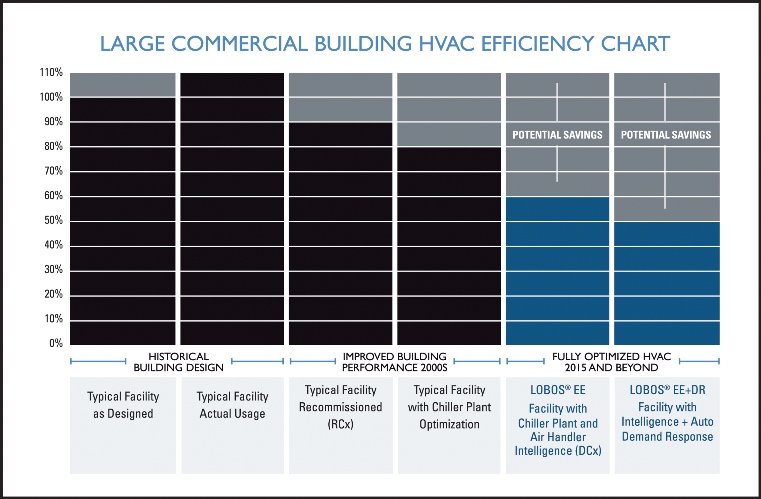 Running on the Niagara platform through Tridium's Java Application Control Engine (JACE) LOBOS is compatible with most modern HVAC controls systems. LOBOS provides onsite or remote HVAC efficiency, ADR capability, and fault detection and diagnostics through 24/7 intelligent system analysis and control.

Comfort-based efficiency technology is capable of meeting the needs of building owners on multiple fronts. As a money saving measure, the energy cost savings associated with a LOBOS installation average about $0.12 to $0.20 per square foot. As a corporate sustainability initiative, LOBOS efficiency gains can be up to 30% higher than what can be achieved through typical control systems upgrades alone. Meanwhile, in installed buildings across the country, improved comfort is contributing to vacancy reduction and tenant retention thus providing a dynamic return on investment and payback upon building resale.

HVAC systems optimized for efficiency and demand response can be largely financed through government and utility rebate and incentive programs resulting in a building upgrade that can be accomplished without heavy front-end capital expenditures. As part of New York's emission reduction plan, the state has earmarked more than $200 million in incentive money for commercial efficiency and demand response with the goal of relieving 125 megawatts of electricity demand from the grid servicing Manhattan and the five boroughs by 2016. And this is only one example. According to the US Department of Energy, there is around 3.6 billion dollars in funding on the table each year to finance efficiency and demand reduction projects.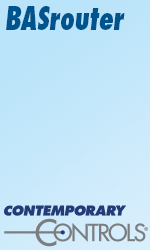 Today, the sustainability requirements, goals and expectations for large commercial buildings are greater than ever. By maintaining comfort while delivering considerable savings, LOBOS and products like it provide a clear path for facility managers and owners to implement a solution that is both environmentally and economically responsible. And because this type of technology is built on the commonly implemented, open source Niagara platform, it is easily deployed in most facilities that have a traditional BAS, enabling facility personnel to positively impact both tenant comfort and the bottom line without a total system overhaul.

While they are only one solution among many, HVAC optimization systems provide a critical avenue for success in meeting global sustainability initiatives. By addressing sustainability requirements that are in concert with economic and comfort requirements, LOBOS and products like it can provide the types of building upgrades that address the needs of all involved parties from regulators and utilities to facilities owners and managers, right down to building's occupants.

---
About the Author
Mark Boliaris, Enerliance National Director of Sales, Energy Efficiency

With 30 years' experience in engineering and building efficiency, building systems sales and management expert Mark Boliaris leads Enerliance business development team. Mark's management history at some of the building automation industry's most respected companies includes Honeywell Building Solutions, Cisco, and Johnson Controls. His specialized knowledge includes leading the market introduction of BAS products from concept through development & global launch.


---


[Click Banner To Learn More]
[Home Page] [The Automator] [About] [Subscribe ] [Contact Us]