---
Integrate BACnet MS/TP Segments to JACE



The BASrouter and BASrouterLX offer stand-alone routing between BACnet/IP, BACnet Ethernet, and BACnet MS/TP networks, allowing the system integrator to mix BACnet network technologies within a single BACnet inter-network.










Kathy Neumeyer Technical Writer at

While the JACE can receive or route MS/TP traffic over one of its serial ports, there is a limitation of 31 full-load MS/TP devices and a maximum distance of 4000 ft for a MS/TP segment and handling the overhead of the BACnet MS/TP token passing protocol burdens the JACE's CPU. Furthermore, the network architecture and wiring considerations may also dictate installing MS/TP devices across different locations which make it hard to interconnect them over one MS/TP bus.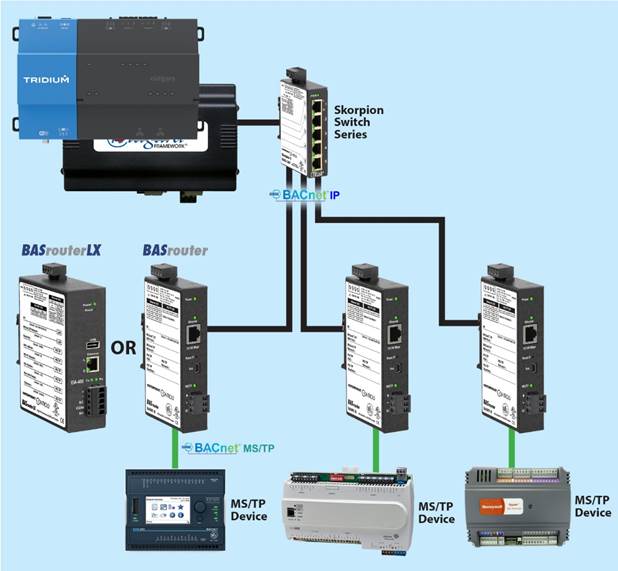 Limiting MS/TP segment size speeds up the communication by allowing the device to receive the token more quickly compared to a larger segment. Multiple MS/TP segments also help in isolating signal quality issues. Contemporary Controls' BASrouter or BASrouterLX allows you to segment your BACnet network by using a router on each MS/TP segment to route the traffic to IP and an Ethernet switch to interconnect the BACnet routers. The JACE then receives all traffic from all MS/TP segments through its Ethernet port.
The BASrouter and BASrouterLX offer stand-alone routing between BACnet/IP, BACnet Ethernet, and BACnet MS/TP networks, allowing the system integrator to mix BACnet network technologies within a single BACnet inter-network.
You can access the JACE remotely with one of Contemporary Controls' remote access solutions which provide an array of secure remote monitoring solution options for your JACE, or any IP network.
---


[Click Banner To Learn More]
[Home Page] [The Automator] [About] [Subscribe ] [Contact Us]