Mark Hess, Marketing Engineer

The fact of the matter is that each protocol has its merits. Both will be vital to the future of interoperability in the building automation systems industry.
---
It's hard not to notice the attention BACnet™ and LonTalk™ are getting in our industry these days. Together, these two communication protocols have become the most prominent tools for delivering interoperable solutions to commercial building control systems.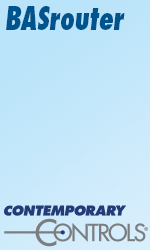 Some vendors insist that only BACnet is feasible as the standard for commercial building control, while others insist that LonTalk is the only way to go. Some are waiting for the industry to make that decision for them. The fact of the matter is that each protocol has its merits. Both will be vital to the future of interoperability in the building automation systems industry.
System level control
Unit level controllers are grouped into subsystems that are controlled by a system level controller. HVAC unit controllers may be grouped into one subsystem. Fire and life safety might be another. The ability to communicate between subsystems is referred to as system level interoperability. Unit level (equipment controller) and system level (building controller) interoperability are important to overall system flexibility and competitive bidding.
BACnet is very efficient at communicating data over high-speed local and wide-area networks such as ARCNET, Ethernet and Ethernet/IP. BACnet works well for communication between system level controllers, allowing subsystems, such as HVAC and fire alarm systems, to communicate and share information through a single user interface. It also works well for centralized control over multiple standalone buildings.
The basic words in the BACnet language are called objects. An object is a digital representation of physical input/output (I/O) points. Each object has several properties that describe the status of that object. For example, an analog input object representing supply air temperature may have properties such as setpoint, present value, high limit, and low limit. The BACnet protocol defines a list of standard BACnet objects that includes required and optional properties. These objects come in the form of analog inputs and outputs, binary inputs and outputs, schedules, etc.
Unit level control
LonTalk is most efficient for communication from unit level control devices, such as water source heat pump controllers or variable speed drives. LonTalk is a cost-effective tool for pre-packaged peer-to-peer communications between equipment controllers or intelligent end devices. Manufacturers can easily implement it by using the Neuron® chip in their control devices. Many vendors have already taken advantage of this easy implementation, making a host of products available across multiple industries.
The most basic elements of the LonTalk protocol are standard network variable types, or SNVTs (pronounced "snivits"). SNVTs exist as a standard format for communicating quantities, such as temperature, pressure, and time. They are grouped into functional profiles to perform standard control functions developed by the LonMark Association. Functional profiles define the interoperable data sets for typical building control components using mandatory, optional, and vendor-specific information. Standard profiles have been developed specifically for the HVAC industry. These HVAC profiles include the following:
Space comfort controller profile-applies to terminal devices in the space, such as heat pumps and unit ventilators

Discharge air controller profile-applies to rooftop units, air-handling units, etc.

Chiller profile-applies to chillers
Profiles help standardize which SNVT is used for a given function. For example, a device may send a temperature using the LonTalk SNVT for integer analog values, while the automation system expects to receive it using the LonTalk SNVT for floating point analog values. Both methods are valid, but unless both sender and receiver know what to use, they won't be able to communicate. Profiles specify the proper SNVTs for a given application.
While these profiles reduce the amount of overhead necessary to monitor and control a unit level device, LonTalk does not simplify things to the point of interchangeability, or plug and play. There is still a certain degree of configuration necessary for most devices using LonTalk or BACnet. Consider a programmable input/output controller used to control an air handling unit. While LonTalk and BACnet provide a means for other devices to monitor and override individual input and output points, neither provides a common format for programming the logic statements which reside in the controller.
Major vendors have opted to apply LonTalk at the unit control level of the building automation system architecture. LonTalk is well suited to connecting standalone devices within the scope of a given control system. For example, factory mounted variable frequency drive (VFD) or boiler controls connected within the scope of an HVAC control system.
The BACnet and LonTalk protocols are continually under development and review and will continue to adapt in order to serve our needs now and in the future. For example, additional standard BACnet objects are being developed to support specific types of equipment, similar to LonTalk profiles. A conformance test is under development by ASHRAE to ensure vendors can meet all of the functions expressed in their BACnet protocol implementation conformance statement (PICS). LonTalk is continuing to work on new profiles.
While LonTalk and BACnet share some common objectives, they each have unique characteristics that make them best equipped for different parts of the building automation system. Both are important tools for delivering interoperability, and they are much more complimentary technologies than they are competing technologies.
LonTalk and BACnet are both useful tools for the right type of application. LonTalk provides a cost-effective, easy-to-implement option for adding intelligent communication to many devices that couldn't otherwise carry the cost or technology overhead. BACnet is efficient at passing large packages of data over a high-speed (10 Mbps Ethernet) network and also allows for native connections to Internet protocol (IP) networks for sharing data via Internet protocol. BACnet has been adopted at the system (building) control level of many building automation system architectures.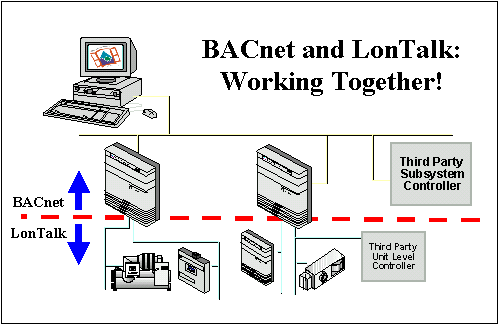 Advances in technology and specification techniques will ensure BACnet and LonTalk will be the standards in our industry for years to come.
This combination of BACnet and LonTalk protocols provides the network architecture necessary to supply interoperability in an efficient and economic manner for the future of building automation systems.
---


[Click Banner To Learn More]
[Home Page] [The Automator] [About] [Subscribe ] [Contact Us]