---
| | |
| --- | --- |
| Preview of BuilConn 2005 | Ken Sinclair |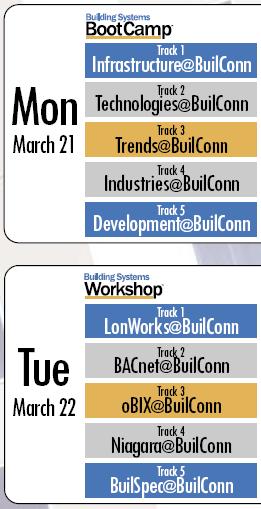 Everything you want to know about the convergence story is happening @ BuilConn 2005 and here is a sneak preview of this third annual event being held in Dallas March 21-24, 2005 www.builconn.com.
Link to complete preview in pdf http://www.builconn.com/downloads/BuilConn05-Preview.pdf.
Anto writes;
I am very excited to bring to you BuilConn 2005, the third annual event dedicated to the issues of the integration and convergence of building systems with IT.
In 2003, we started the convergence story with the first BuilConn; the second event in 2004 brought together all players in the new space, and we collectively came to realize that technology is no longer the challenge. In 2005, the focus will be on the application of integration, open systems, and convergence technologies, with an emphasis on their relevance to how buildings will interact with the Enterprise.
Our mission is to make BuilConn the gathering place for Building-IT convergence, and you will see from the program that we have a vast collection of relevant subjects all coming together at BuilConn. This is why we have created the theme of '@BuilConn'. All the issues pertaining to the evolution of this space will be presented, discussed, and developed @BuilConn in Dallas, TX, March 21-24.
BuilConn 2005 will cover four full days starting with the Building Systems BootCamp on Monday, followed by a day of Workshops on each of the leading technologies enabling convergence: BACnet, LonWorks, Niagara, and oBIX. Each of these is a full-day track organized by their respective organizations. Tuesday's Workshops will also feature BuilSpec, the interactive seminar designed for building owners, facility managers and consultants.
The two main days of BuilConn will include: Keynotes from industry leaders, four tracks on each day covering relevant subjects in great detail, the comprehensive Expo, and networking opportunities that continue to be a unique aspect of BuilConn. We also have a full agenda of social events, from the return of the Interoperable Blues Band to the Buildy Awards presentation where we honor leaders of our emerging industry.
One of the most valuable things you'll find in March is presentations of convergence case studies as we are inviting building owners to talk about their experiences in the convergence of building systems and IT. The objective is for the industry to focus on delivering tangible value to owners, and for owners to see with their own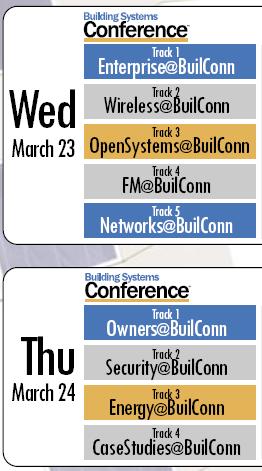 eyes how convergence is actually happening today.
I am excited about the technological advances being made to support convergence by way of standard definitions and collaboration between industry groups. I also expect 2005 to be the year when many system vendors launch products and services to allow convergence to truly flourish. If these issues touch you or your business, there is only one place for you to be March 21-24—in Dallas, TX, where key stakeholders working toward convergence will converge. I look forward to seeing you in Dallas.
Anto Budiardjo
BuilConn Organizer – www.builconn.com
The Broadening Base of Buildings By Robert Beverly, Editor, Engineered Systems
Last year in this space, I discussed how it wasn't too late to get familiar with this movement toward a new generation in building system integration and efficiency. As a metaphor, I referred to a building (how clever!) that was going up. Attendees at the sophomore BuilConn came to help shape that building's second story. Really, though, my metaphor was slightly flawed. This movement isn't getting taller as much as it is spreading out – or perhaps reaching out, to get the message to more people. The last year saw the maiden BuilConn voyage to Europe. The touring BuilSpec seminars also hit the ground running in various U.S. cities. However, March is the time for updating the message and bringing it all back home, as it were, to Dallas. We've seen oBIX raise its profile significantly as an effort to help people make the most of XML, and so this year's schedule features a full BootCamp day on oBIX. It joins other full-day workshops on BACnet, LonWorks, and Niagara. When you consider the motivated nature of the average BuilConn participant, not to mention the presenters, it's kind of frightening to think of how much learning will be packed into just that day, how many light bulbs will light up about how to solve challenges back home. As an editor whose readers insist on real-world evidence, I'm most excited to see the Convergence Case Studies. The proof is in the pudding, after all. If you came last year, then you know the energy that runs throughout BuilConn. If you didn't, don't fret – you'd be surprised at how much catching up you can do in three or four days. And that sure beats spending the rest of the year falling behind.
Link to complete preview in pdf http://www.builconn.com/downloads/BuilConn05-Preview.pdf.
---


[Click Banner To Learn More]
[Home Page] [The Automator] [About] [Subscribe ] [Contact Us]