---
The Future of Building Energy Savings

Uniting Building Automation & Utilities



Many studies have been conducted regarding energy costs and building operation since the birth of automated building control systems. The upgrade from pneumatics to Energy Management Systems (EMS) has allowed operators the ability to closely monitor and control key energy consumers within a buildings; thereby reducing energy consumption through mechanical and controls retrofits. Taking the concept further, some facility owners examine power consumption in comparison to historical data in order to identify problems and optimize equipment usage. So what is the next great milestone in energy management? What if you could correlate your control system and your utility provider to optimally reduce consumption at peak energy usage hours? Although Auto Demand Response (ADR) and load reduction strategies have been around since the early 2000s, they have become more pivotal with the increased demand and cost of energy.

So what is ADR and how is it implemented? Auto Demand Response was a collective effort between technology companies and utility providers to reduce grid consumption during peak energy usage hours. With the increase in energy consumption and decommissioning of power plants nationwide, the cost of energy will continue to rise more drastically. Known as Peak Day Pricing (PDP), utility providers can forecast days where energy consumption will exceed their generation capabilities. In these scenarios the provider must "borrow" energy from other utility companies and resell it to their consumers; often pricing it at triple the normal cost. To curb the energy demand, utilities can now provide numerous signals to building automation systems, reducing consumption during these periods with what is known as a DRAS (Demand Response Automation Server). Interfacing the DRAS to a building's ADR client found in the automation, the building can now shed equipment load based on pretested sequencing. Sound too futuristic yet?

Unfortunately load cutting implementations are not as easy as plugging in a "black box" and flipping the switch. In most cases, automation control contractors struggle with reduction strategies from sequence execution to predicted savings. Typically, a controls contractor will partner with a mechanical design or energy analysis firm to deliver correct equipment sequencing and energy reduction verification. Here is a quick checklist to see if your building is applicable to be integrated for load reduction:

Do you have zone level control or zone monitoring capability?

Most reduction strategies originate at the zone level with setpoint adjustments.
By adjusting the temperature up or down based on climate conditions, the energy reduction cascades up from the zone level to the major equipment including air handlers, central plants, etc.
Automated VAV systems are optimal for load reduction although wireless pneumatic thermostats provide a cost effective alternative.
If your site utilizes air handling units, do they currently have variable control strategies setup?

These strategies include supply air temperature and duct static resets based on zone demand or climate conditions.
Strategies rely on variable control of valves and fan speeds either through staging or analog adjustment.
Setting up variable strategies to incrementally reduce load within a building will reduce tenant and equipment impact during reduction events.
What kind of power monitoring do you have setup for your building?

After implementing different reduction strategies it is critical to verify estimated power consumption during tests.

Although estimation software has been revised to accurately predict power shedding, it is advised to actually measure reduction during a test event.
By signing up on a load reduction plan with your utility provider, you are guaranteeing a certain level of energy savings. If you don't meet the savings criteria of your plan you can be charged double the normal peak pricing for lost energy.
Can your current control system be optimized with an ADR client?

Most open control systems like Tridium make ADR an easy software upgrade for clients.

Trying to interface two differently manufactured systems (DDC & ADR) may come at a heavy risk if signals aren't properly transmitted during an event.

The majority of expense should be in the sequencing of the building equipment, not interfacing to the utility DRAS.
Other alternatives include manual operation of load reduction sequences.

So you've decided to go with a peak pricing program for your building, now what? The first step is to consult with an energy or mechanical design firm to understand how your building operates. Correct power reduction entails more than just turning equipment off or limiting staging. Here are some considerations and pitfalls of peak pricing programs:

What level of climate impact are your tenants worth sacrificing?

If you raise the temperature in a room three degrees it might have an impact on some tenants who are more subject to climate variation.

Certain rooms can be alleviated from the control scheme although they will prevent maximum savings achievement and utility incentives.

Can you verify actual energy savings during an event before disclosing the information to your utility provider?

Before you sign up on a Peak Day Pricing plan it is always good practice to verify actual reduction through energy metering.
How much sequencing is being re-engineered as part of the initial project?

Heavy operational sequence changes with equipment increases the complexity of a project and room for failure.

If the program doesn't work correctly on an event day you could be charged triple the peak costs in your building instead of saving costs.

Do you want your facility managers in charge of the program or will it be fully automated?

Fully automated is taking a signal from a DRAS server to your building's ADR client and the building automation system enacting a load reducing sequence without any operator interference.

Depending on the reduction plan you've signed up for will give your operator a level of warning before your building is called to reduce load.
More aggressive plans may only give the operator hours of warning, while other events are planned months in advance.

Other plans entail the facility manager enacting the event manually from the building automation system.

Are mechanical upgrades necessary to reduce power incrementally throughout your building?

If you need equipment upgrades (VFDs on motors, variable valve modulation for temperature control, VAV integrations, etc.) it is best to consult a mechanical design firm to ensure proper savings.

Most mechanical firms have the capability to successfully predict energy savings as part of larger, more complex mechanical and controls joint upgrades.

Coordination of in-house mechanical and controls design teams allows for proper integrations with less room for error.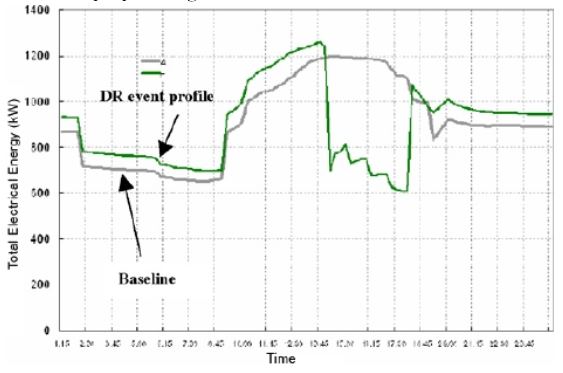 Figure 1: An example of power reduction during peak hours on an event day.

So how can you offset the capital cost of integrating load reduction strategies? Although most software related strategies have a high ROI (Return of Investment), the addition of mechanical upgrades can lengthen that return. Most utility providers are in support of load reduction strategies during peak hours and help to fund the upfront capital necessary for integration. Providers like PG&E pay up to $250.00 per kW saved with payment plans spread over the life of the project. Funding is in relation not only how much energy is saved, but in the manner it's reduced. By signing up on a fully (ADR) versus partially (Operator enabled) automated reduction plan, a facility can get up to 20% more funding per kW saved.

The future of power generation is dependent more upon how much can be saved rather than produced. Power plants are currently surpassing original life expectancies and are being decommissioned throughout the United States. With the dramatic increase in population, most homeowners are revoking utility providers the ability to build new plants. Yet, with more people and less power, how can blackouts and excessive energy costs be prevented? Power reduction integrations throughout commercial properties will continue to increase due to utility support and the decrease of power generation.
---
About the Author
I currently maintain an engineering sales position at Western Allied Mechanical. Our business is consulting customers on energy consumption and reducing costs through a joint mechanical and automation venture. I'm an avid follower of the industry and am always open to new opportunities and approaches. You can reach me at zdenning@westernallied.com or my cell at 650-798-4154.

---


[Click Banner To Learn More]
[Home Page] [The Automator] [About] [Subscribe ] [Contact Us]