---
Connecting to Diverse Data Sources




SkySpark Adds OPC UA Connector




John Petze, Principal, SkyFoundry
The Internet of Things has clearly become the buzzword of 2015. Hidden behind this term is the reality that there are literally thousands of different types of devices and dozens of protocols involved in the IoT field. And as much as we might wish for a narrowing in the number of protocols used by smart devices, it's fair to say the IoT space has likely seen an increase in 2015.

These protocols exist for many reasons: legacy systems that are used by large numbers of customers and equipment suppliers; the need to support communications on ultra low power devices (wireless for example); and new protocols that provide more modern, streamlined communications in the latest generation of devices. The reality is that no one protocol can serve all of these needs. There is nothing wrong with this. I want my new car to have better features and perform better than my 10 year old car and accept that means changes to how the car works, and the skill sets needed to service it.

In our business as a provider of automated operational analytics software, we have to be able to connect to and manage data from a wide range of devices, applications and data sources used by our system integrator partners, which now number over 115 across the world. Fortunately, an increasing number of devices are coalescing around a reasonable number of accepted standards. Some are the device protocols we are all familiar with from the BAS industry like BACnet® IP, oBix™, and LONTalk®. From the IT domain we also see the SNMP growing in importance as data from IT assets is brought into integrated facilities management systems.

Newer protocols, like the Haystack protocol, are seeing rapid acceptance due to their ability to communicate semantic information that makes data self-describing. The addition of semantic information dramatically reduces project engineering costs which quickly justifies the learning curve for these new communication technologies.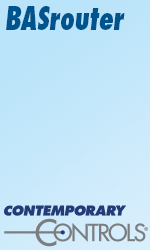 Other important communications options come from the software application world. Here we can think of XML, connection to SQL databases, CSV file formats, (often the "common denominator" data format), and REST style communications. REST stands for representational state transfer. It is the primary style of communication of the world wide web, and is supported by the majority of modern, web-based software applications - SkySpark included. REST can reasonably be said to have revolutionized inter-application communications and data sharing. The Haystack communications protocol is REST interface. You can learn more about REST here: https://en.wikipedia.org/wiki/Representational_state_transfer

The latest addition to the SkySpark suite of native connectors is OPC-UA. OPC is most well known for its widespread use in industrial automation. Numerous products in the BAS market use it as well. The OPC Unified Architecture (UA), was released in 2008. It is a platform independent, service-oriented architecture that integrates all the functionality of the earlier "OPC Classic" specifications into one extensible framework. You can learn about OPC UA here: https://opcfoundation.org/about/opc-technologies/opc-ua/

With the addition of native support for OPC UA, another large population of devices, systems and applications can now be connected directly to SkySpark without the need for external gateway devices or software.


---
About the Author

John Petze, C.E.M., is a partner in SkyFoundry, the developers of SkySpark™, an analytics platform for building, energy and equipment data. John has over 30 years of experience in building automation, energy management and M2M, having served in senior level positions for manufacturers of hardware and software products including Tridium, Andover Controls, and Cisco Systems. At SkyFoundry he is working to bring the next generation of information analytics to the "Internet of Things".

More information on SkySpark® analytics is available at www.skyfoundry.com


---


[Click Banner To Learn More]
[Home Page] [The Automator] [About] [Subscribe ] [Contact Us]