---
Every month there is a blizzard of information contained in the emails and newsletters that cross my desk on their way to AutomatedBuildings.com. Some of this information is not in the form of any type of content we can publish but I feel I should share with you these snippets, blog bits, and url links that are about to fall off my desktop.

Building Automation Systems Market to Exceed $36 Billion in 2015

Pike Research, a market research and consulting firm focused on global clean technology markets, was a media partner for the recently concluded ConnectivityWeek event. As one of the attendees, we would like to invite you to visit our website to download a variety of complimentary white papers and executive summaries of our in-depth research reports.

ISA's Building Automation Systems Technical Interest Group (BASTIG) is focuses on using ISA's 66 years of automation knowledge and apply that to the building automation vertical. ISA openly acknowledges others have made significant contributions to the vertical application of automation within buildings, and that building automation does have different requirements. But that is the case with many different verticals; packaging automation is not the same as oil & gas automation. Yet our methodology allows us to pull the best from the many different verticals represented in order to assist all of them. It allows us to build a common base to improve productivity, training, certifications, and to advance the profession.

ZigBee's uncertain future: Will it survive?

Digital signage software is the new rage in today's world. It has gained huge importance in schools, hospitals and many such places where its use seemed to be baseless. Yet it has strongly maintained it ground. Its followers are constantly increasing. It has become one of the major components of the corporate world. A corporate society dreams of digital signage software and assigns a certain amount from their budget for it. One of the reason for it becoming so successful is because digital signage is eco friendly and thus becomes budget friendly.

Far-infrared technology heats objects such as, floors, walls and furniture, but not the air. Because it does not heat the air, people and animals experience soothing warmth. Prestyl's thin-film far-infrared heaters are very efficient. Typical energy savings over traditional heating methods range from 15 to 50% (depending on placement and building conditions). Prestyl's heating products are maintenance free for life. Prestyl technology that turns hanging art pieces, photos and even corporate signage into customized wall and/or ceiling mounted heat sources.

IP Network Video Security is a booming market that offers products allowing you to monitor your home or business from anywhere in the world. NetworkCamerareviews.com was created to help you understand, troubleshoot and purchase IP Network Cameras and Video Servers. We offer information regarding IP Cameras, Network Cameras, Internet Cameras, Video Servers and all other types of IP Network Video Products.

LonMark Education Sessions from AHR Expo are now available for download, along with accompanying audio

Educational Webinar Series, Energy Fundamentals for Commercial Buildings. Watch now
Title: Energy 101 Duration: 20 minutes Presenter: Zack Buquet, Senior Energy Services Business Consultant
Description: Part 1 of our Energy Fundamentals for Commercial Buildings webinar series will discuss the essential knowledge an HVAC professional needs in order to begin their journey into energy services. The information contained in this webinar series is intended to empower contractors to have intelligent energy conversations with their clients.

IBM's new software called Intelligent Building Management offers 18 analytical tools to detect anomalies in a building's functionality based on energy and operational rules. It helps us "listen" to buildings to gain insight such as:
• Monitoring indoor humidity, pollutants and temperature
• Flagging outlying behavior such as the concurrent use of heating and air conditioning
• Pinpointing mechanical malfunctions causing inefficiencies in equipment, such as an air handling unit working overtime

Large-Scale High-Density IP Video Decoding Ideal for use in security surveillance and critical infrastructure sectors, combine SMD-2 streaming media decoders with Matrox display wall controller boards to simultaneously decode and display up to 128 D1 streams

Who Owns the Advertising Space in an Augmented Reality World? John C. Havens is EVP of social media at Porter Novelli and the author of Tactical Transparency: How Leaders Can Leverage Social Media to Maximize Value and Build their Brand. He speaks regularly about augmented reality and emerging technology.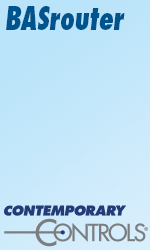 Building Management Systems Market in Japan Posted By Zen Kishimoto, Friday, May 20, 2011 I had a chance to talk with an expert in building management systems (BMS) in Tokyo. Who dominates that market in Japan? In the HVAC segment, Yamatake takes 80% of the share and Johnson Controls takes 10%. The rest of that segment is shared by Mitsubishi, NEC, Panasonic, and Toshiba, each with a small percentage.

Digital Signage Training Now Available Digital signage is the fastest growing segment of the commercial audio visual and IT industries, the DOOH (Digital Out-Of-Home) advertising industry, and the at-retail marketing industry, and is a fast-growing component of transportation, corporate, education, and enterprise-wide communications. The newly launched Digital Signage Experts Group (DSEG) training addresses this growth, with DSCE Certification will be available in select locations nationwide throughout 2011, as well as through dedicated webinars.
Visit www.digitalsignageexperts.org for more information.

Windows 8 and Its Incredibly Cool New Touch Interface Matt Buchanan— So, this is the new Start screen for Windows 8. It's a brand new interface for tablets. It looks a lot like Windows Phone Live Tiles. And hey, that looks like an app store.

Mass Analytics Improve Process Control Performance By Bill Lydon, Editor ExperTune User Conference - May 10-12, 2011, Milwaukee, Wisconsin The PlantTriage "true believers" gathered at the ExperTune User Conference from around the world to improve their skills and share their project successes. The conference focused on ways to improve process control performance with training, access to industry experts, and case studies presented by customers.

Lack of Industry Support and Consumer Education Is Slowing QR Code Adoption and Creating an Opening for Near-Field Communication NEW YORK, NY—May 31, 2011—Marketers have been increasing the use of QR codes to drive engagement, bridging traditional print campaigns with online content and making information more accessible and portable for consumers. The little square patterns have been showing up everywhere from outdoor billboards to magazine campaigns. While the use of QR codes is becoming more widespread, one should not assume that its increasing prevalence is a sign of the technology's success.


---

[Click Banner To Learn More]
[Home Page] [The Automator] [About] [Subscribe ] [Contact Us]