---
QR Codes





A New Technology For Enhancing Operational Efficiency




Korey Warzala

Marketing Associate

DGLogik, Inc
QR Codes, the 2-Dimensional barcodes that resemble a pixelated square, are a free, open media for embedding links, downloads, geographical data, technical documents, instructions, tutorial videos and other content. While QR Codes were created in the 1990's, the technology is just now starting to take off in the United States. The square patches of black and white blocks, known as Quick Response (QR) Codes have shown up all over marketing campaigns in recent years. You can see thses codes anywhere from magazines, to billboards, to truck decals, to large city building fronts. Within the construction industry specifically, QR codes are becoming more and more prevalent, but not just for marketing purposes. The ability to apply a tag (QR Code) to your equipment which is directly integrated with your work order management systems, building automation system, and geographic location is set to become an incredibly useful tool for building operators to increase efficiency.

With mobile devices and tablets becoming more prevalent in our everyday lives, building managers understand the need for mobile BMS applications. As the number of smartphone and tablet owners continue to grow, people will continue to become more familiar with QR codes and more inclined to use them as a tool within the workplace. As mobile BMS applications become more common, these codes have the potential opportunity to become a useful tool for engineering dashboards within the building automation industry. The ability to connect facility managers, building operators, and systems integrators with each other and multimedia digital content with a simple scan could be very useful. Leaders within the building automation industry need to embrace this new technology and start identifying opportunities where QR codes can be utilized to increase efficiency within the building automation industry. Rather than attempting to remember instructions, technical documentation, or specific equipment locations – QR codes could be the portal for the building automation industry to minimize user errors, eliminate wasted time on sites and increase workflow efficiency.

Technology currently exists to connect all of your building systems into a unified interface with true-to-life 3D graphics and notifications to identify operational errors or faults with your equipment. A typical use case, utilizing this QR Code and a high tech BMS application would be to first, identify that there is an issue, whether it be through a laptop web browser, desktop computer or an engineering kiosk display. Once an issue has been identified, taking your BMS application on a mobile device, such as an iPad or iPhone, to the location of the piece of equipment presenting an issue. Once in front of your identified problem, users could scan the QR Code on that piece of equipment to be directed to the relevant dashboard. This code would then retrieve the unit's historical and real time performance for further analysis by directing the user to that particular unit's dashboard within the application itself. Furthermore, this code could also provide links to common FAQ's or manufacturing contact information allowing you to take action to resolve your issue. With the ability to reference spec sheets, appropriate operation manuals, safety guidelines, replacement part information, product literature, or quick troubleshooting tutorial videos using QR Codes, there is almost zero room left for confusion.

Opening up a world of opportunities for creating more efficient building automation system and work order management process, facility operators need to begin integrating this technology into current systems and reaping the benefits. The intelligent building community makes leaps everyday in providing newer, more sophisticated technology for creating a more interactive, 2-way conversation with the way we manage our building automation systems. We are now collecting mountains of data about our buildings performance. QR codes are one way we will be able to clearly organize this data to find exactly what we need to know. Only once we are able to organize and identify this relevant data, can we then transform it into actionable knowledge. The technology is here to enable building operators and facility managers to save more energy, cut costs and waste less time. We just need to embrace it.

One example of embracing the codes is the installation at Stanford University Forsythe Research Computing Facility. By placing QR Codes within each individual CoolCentric rack, Stanford data center managers can easily scan the Codes to retrieve any specific rack's trending real-time and historic performance using the DGLux Mobile app. As a leader in DCIM innovation, Stanford managers can not only identify hot or cold spots at a glance using the true-to-life floor plan and a controllable heat map analytics tool to identify issues from tablet devices, but can also scan these codes within the rack to quickly verify areas for improvement and make adjustments to enhance power usage efficiency, lower energy consumption and optimize financial performance. A typical use case is setting a specific temperature threshold from the controls panel within the interface, finding outliers using the intuitive visualization, and then walking to the rack's precise location for further examination. Once the rack location has been identified, managers can scan the rack's QR code within the mobile application to verify the rack's performance and continue troubleshooting. With the ability to analyze all of the data center's systems at a glance and investigate issues using these codes, the Forsythe Research Computing Facility is equipped to be as efficient, cost effective, and green as possible.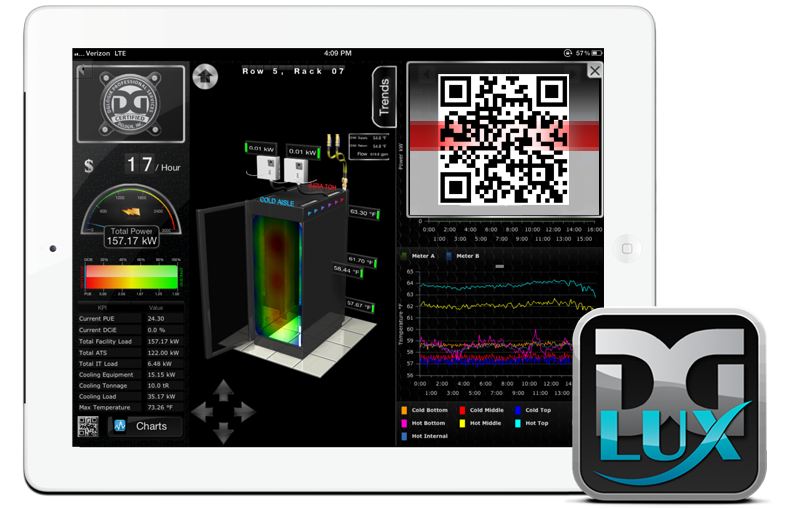 QR Codes are still new to a lot of people - it will take some time for users to fully accept and start using this technology. The largest barrier to the Codes being utilized to the fullest capability is that users don't know they need to download additional apps, such as Red Laser. Taking this into consideration, DGLogik has implemented a code reading technology directly into the application itself, creating a seamless user experience for users. Facility operators no longer need to bring a laptop to a piece of equipment and relay information back and forth – but can now simply open the DGLux Mobile app, scan the Code from the unit of equipment and immediately pull up the relevant information required for maintenance, management and troubleshooting. In the future, DGLogik envisions QR codes becoming an integral part of mobile BMS applications and will continue to offer users this technology as a standard piece of the design toolkit.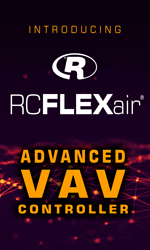 With the building automation industry continually becoming more technologically advanced, higher end communication being created and the number of personnel owning smartphones within the building automation industry increasing, building automation is in a great position to benefit from QR codes. Unlike RFID technology, the Codes are very cheap to print and easy to deploy. To best use this technology, controls and equipment manufacturers should know that there are a large number of websites available to generate simple codes and they are all free. Google, for instance, offers a service to enter the URL of the site you wish to lead visitors to, shortens the URL automatically and offers the ability to add .qr to it with minimal effort. Providing a cheap, simplistic process – these Codes can easily be included with product packages as stickers linking to a wide variety of multimedia, such as instructions, manufacturing details, and or technical support, making it easier for systems integrators to use. Furthermore, we see QR code integration providing instant navigation to the most relevant information (real-time data & historic trending) opening opportunities for quick comparison between units of equipment. With performance comparison always readily available, operators will be able to easily understand where energy consumption is being distributed and able to pinpoint areas for improvement.
Adopting this technology is only the start, learning to properly utilize it with best practice will be the way to truly improve building performance beyond previous standards. For more information on how DGLogik can enhance your BAS solutions, feel free to contact us at inquiry@dglogik.com for a consultation.





---


[Click Banner To Learn More]
[Home Page] [The Automator] [About] [Subscribe ] [Contact Us]