---
Understanding OpenADR

The move toward OpenADR is being done to help utilities and ISOs deal with a growing dependence on renewable energy, decommissioning of nuclear and coal plants, and our growing appetite for energy.

OpenADR provides an open and standardized way for electricity providers and system operators to communicate Demand Response (DR) event and price information using the Internet. This new standard will help utilities implement new approaches to shifting electricity load by sending an automated message to the building requesting participation in a load event or indicating a change in the price of electricity.

Many building owners and operators are familiar with traditional DR that has been used for many years by utilities and Independent System Operators (ISO) to shift or shed electricity demand when the electrical grid is stressed or when the price of electricity is unusually high. Energy aggregators typically sell DR services to building owners and operators, who, in return receive incentives or rebates for participating in the program. Industry has lacked DR standards, creating problems for users and utilities that often get stuck with stranded assets when they change from one supplier to another. DR is also intrusive, often requiring close coordination and manual intervention on both sides to share event information and to react to it.

The move toward OpenADR is being done to help utilities and ISOs deal with a growing dependence on renewable energy, decommissioning of nuclear and coal plants, and our growing appetite for energy. In an attempt to better balance the grid and to deal with the disparity between the wholesale and retail price of electricity, regulators, utilities and ISOs view the OpenADR standard an important smart grid technology.

OpenADR Impact on Buildings
The OpenADR standard will become the primary smart grid standard for connecting energy providers to buildings. Grid connected buildings will need to be specially configured to receive automated price or event messages from energy providers. This means that building owners and operators will need better access to data to see how their facilities are performing. Further investments must be made in sub-meters, energy analytics and granular controls to allow buildings to ebb and flow with the grid.

This trend will create tremendous business opportunities for controls industry and its large supply chain. According to a new report recently published by Pike Research on Automated Demand Response: they estimate that 27,430 facilities in the world will be enabled by ADR by the end of this year. Things will change quickly through 2013 with a six-fold increase to 169,847 buildings.

According to Pike Research, "Total spending for ADR is expected to reach over $401 million globally in 2012 and grow to more than $1.7 billion by 2018. The overwhelming majority of the retrofit cost is for "dumb" buildings that lack the technology to support ADR programs." The report goes on to say, "North America represents the lion's share of ADR sites and spending. The region has been deploying ADR for many years already and is thus starting out with a substantial investment base in 2011, the first year of the forecast for this report. Growth in spending for ADR in this very mature DR region is forecast to grow at a solid compound annual growth rate (CAGR) of almost 24% between 2011 and 2018. However, Pike Research forecasts very strong CAGRs of well over 100% in Asia Pacific, Latin America, and the Middle East/Africa. This is mainly because these regions will not start to implement ADR until 2012 or 2013 and will ramp up very quickly from then until 2018.

Bringing the Standard to Market
The OpenADR Alliance, formed in 2010, fosters the development, adoption, and compliance of the OpenADR standard through collaboration, education, training, testing, and certification.

OpenADR 2.0 uses unique nomenclature to define servers and clients and their interaction. Virtual Top Nodes (VTNs) are servers that communicate with Virtual End Nodes (VENs) or clients. Typically, the VTN provides information to the VEN, which themselves respond to the information. For instance, a VTN would be the entity to announce a DR event; VENs hear about DR events and respond. The response may be to reduce power to some devices. The response could also be to propagate the signal further downstream to other VEN's. In this case, the VEN would become the VTN for the new interaction. (FIG 1).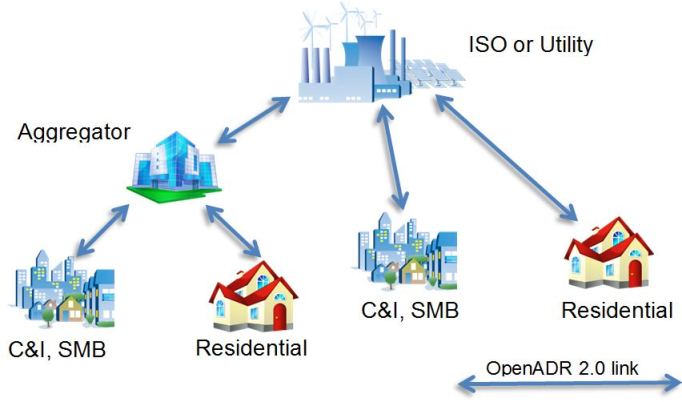 Figure 1.

The OpenADR 2.0 standard is part of a larger energy standard called Energy Interoperation, published by OASIS earlier this year. The alliance extracted the OpenADR profile from Energy Interoperation and divided it into three parts: a, b and c.

OpenADR 2.0a
The OpenADR 2.0a Profile is intended for simple devices (thermostats, electric water heaters, etc) with limited computing and memory capacity. The key supported service includes:
a) EiEvent Service - The Event Service is used to call for performance under a transaction that may include reliability events, emergency events, and more. OpenADR 2.0a devices only need to support limited EiEvent services.

The profile schemas and payloads as well as the conformance statements are completed. The alliance is currently putting the final touches on the security section and should have everything completed in July. There have been a handful of server and client implementations that are very close to being fully compliant..

OpenADR 2.0b
The OpenADR 2.0b Profile is intended for full service OpenADR servers and clients. The supported services include:
a) EiEvent – Defined above.
b) EiReport - Conveys information from remote sensing or about remote state back to the requester. This service supports the collection of data for Reports that can be associated with an Event or can be requested through the Report Services.
c) EiOpt - The Opt service creates and communicates Opt-In and Opt-Out schedules from the VEN to the VTN.
d) EiRegisterParty - The EiRegisterParty service operations create a registration for potential Parties in interactions. This is necessary in advance of a device interacting with other parties in various roles such as VEN, VTN, tenderer, etc.

The OpenADR 2.0b profile is well underway and plans are well underway for the first test event in the second week of July. Two additional test events are scheduled to take place in August and September that will help the alliance to finalize the specification. Test tool and product availability would be expected in the 4th quarter.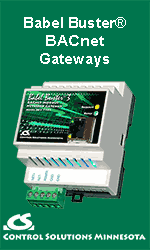 OpenADR 2.0c
The OpenADR 2.0c profile is intended for wholesale market communication between ISO/RTO, aggregators and utilities. This profile is nearly identical to the 'b' profile, with the following supported services:
a) Enhanced EiEvent Service
b) EiOpt Service
c) EiReport Service
d) EiRegister Service
e) EiQuote Service (if required) – publishes price distribution or price signals for a tender price.

The OpenADR Alliance released the test tool from QualityLogic to members in order to facilitate the development of products and support pre-testing of OpenADR 2.0a implementations. As the 2.0b and c profiles are completed, the alliance will release updates to tool owners.

There are now 74 members in the OpenADR Alliance, representing key stakeholders in the smart grid ecosystem from ISOs and utilities, to hardware and software suppliers, to consultants and integrators. Activities are well underway to guide the OpenADR 2.0 standard through the National Institute of Standards and Technology (NIST) Smart Grid Interoperability Panel (SGIP) Catalog of Standards process. Additional work is underway to get OpenADR 2.0 established as an international standard through the ISO/IEC PC118 committee.

More information on the OpenADR Alliance can be found at http://www.openadr.org.





---


[Click Banner To Learn More]
[Home Page] [The Automator] [About] [Subscribe ] [Contact Us]