---
Plugged In





Trends in plug load monitoring and management









Kevin Callahan and Kevin Clinger

Alerton



Building owners and operators have two primary reasons to monitor and manage plug loads – one obvious, and the other less so, but also important. Simply put, these two reasons are: 1) energy efficiency, and 2) reliable operations.

Let's look at each of these, in turn, followed by the current state-of-the-art in plug load monitoring and management tools.

Energy efficiency
Equipment plugged into wall outlets represents an ever larger share of energy consumption in buildings, so naturally building pros are looking there for energy savings. Plug loads now consume about 15% - 20% of electricity in offices, and as much as 40% - 60% in some buildings, reports the New Buildings Institute. A double whammy of trends is causing this. First, as building envelopes and HVAC systems become more energy efficient, plug loads naturally account for a larger piece of the pie. Second is the explosion in the number and types of office equipment.

Much of plug load consumption is necessary for business operations, while other draws are wasteful. Think of the difference between employees using desktop computers during their shifts to complete work versus leaving monitors on overnight when no one is around. Or, the employee with a contraband space heater tucked under his desk – not only drawing power but potentially creating a fire hazard.

With the advent of plug load monitoring and management tools, building pros have more powerful and sophisticated ways to reduce such phantom power draws. They no longer have to rely on company memos nagging employees to shut down equipment at the end of their shifts, or stickers exhorting them to "turn it off when not in use" plastered on everything. Instead, equipment can now be turned down or off remotely and automatically.

Reliable operations
While reducing electricity waste is a clear benefit of plug load monitoring and management, an equally beneficial function is ensuring crucial equipment stays on. So, while facility managers want to make sure an employee's desk light isn't left on all night, they also have an interest in ensuring that certain equipment stays on. An obvious example is that power is not cut to mission critical computer servers or to lab or hospital equipment. A less obvious example is that the vending machine in the employee break room remains on. While keeping the Klondike Bars in the office vending machine frozen is not a matter of life or death, losing power to such a machine can result in costly waste and a time consuming mess.

Plug load monitoring and management tools
Today's plug load monitoring and management tools help building pros fulfill both of the above needs. Simple-to-install BACnet-enabled receptacles interface with building management systems (BMS) to help reduce plug load costs up to 40%, while ensuring mission critical and other equipment remains on.

For example, Alerton offers through its dealer network a suite of plug load tools from Ibis Networks. Such tools provide real-time data on plug-load energy use, which helps building pros spot excessive power draws. In the case of the Ibis sockets, as BACnet devices, BMS operators can easily bring them into Alerton Compass software to be managed alongside HVAC, lighting and other building systems.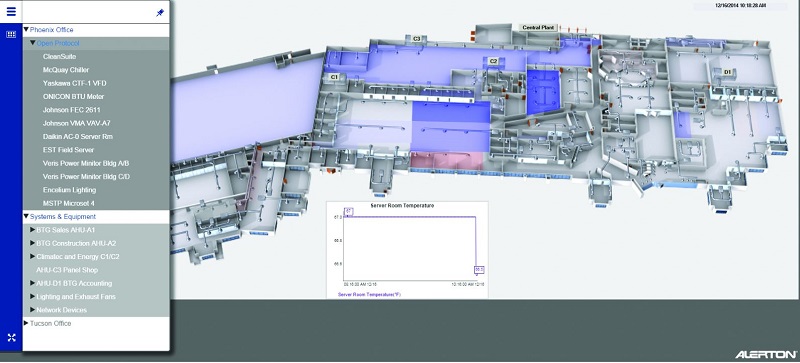 Facility pros can monitor and manage electrical plugs, along with HVAC, lighting and other building systems via BMS tools such as Alerton Compass software.

Using these tools, building managers can schedule selective shutdowns to individual plugs, while leaving power on for critical equipment in the same room. For example, shutting down desk lamps in a laboratory overnight, while retaining power to incubators.

Facility managers also can use plug load monitoring tools to predict potential equipment failures and take preventative action. A case in point is a server that starts using higher-than-typical power, which could indicate the equipment will soon breakdown. By avoiding run to failure with the server, the facility pros can help avoid costly disruptions.

---
About the Authors

Kevin Callahan is a product owner and evangelist for Alerton, Lynwood, Wash., a Honeywell business specializing in building management systems. He has 39 years of experience in the building control technologies field, including control systems design and commissioning, facilities management and user training. Callahan can be contacted at kevin.callahan@alerton.com.
Kevin Clinger is a senior manager of customer marketing for Alerton, with more than 11 years of experience in various aspects of building automation systems. He led Alerton's efforts to bring the Ibis Networks plug load monitoring solution to Alerton dealers. Clinger can be contacted at kevin.clinger@alerton.com


---


[Click Banner To Learn More]
[Home Page] [The Automator] [About] [Subscribe ] [Contact Us]