---
| | |
| --- | --- |
| Can a comprehensive software platform contribute to living a comprehensive life? | |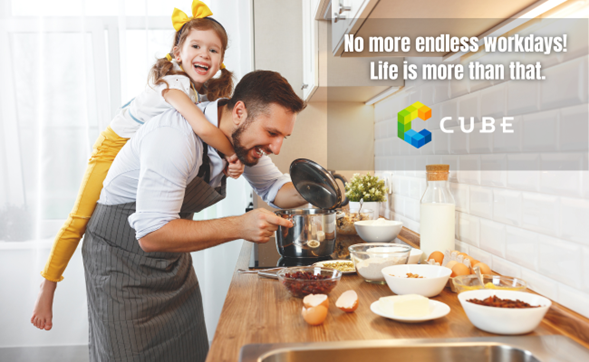 Controls contractors and building automation specialists are often short on time and long on work, and with the controls market experiencing rapid growth, they can expect to be even busier as time goes on. That's where CUBE comes in.
This special management platform has been designed with control contractors in mind, and the need for integration of all the processes that take place in their companies. CUBE has been specifically developed to make life easier for all its users.
By making use of CUBE's multiple functionalities, you will be able to reduce or eliminate frustrating and time-consuming situations in your daily work life, such as: unnecessary interruptions, frequent and untimely meetings, constant fire-fighting or endless workdays, usually caused by lack of documentation, lack of clarity in planning, inadequate project management, lack of tools and time to read your company's health signals in a timely manner, among others.
CUBE brings you solutions to these issues and many more. Just a few examples:
- Document it all.
Attach special documents to your projects on CUBE, and register notes and blogs as long as projects develop. At first, it could seem that it takes more of the scarce time per day you have, but when you look back after 2 weeks, you and your team will feel empowered with the knowledge of projects details that you need to know, you will be able to identify issues that help you focus on what's important, and you'll be progressively planning and developing better structured projects.
- Lean on automation.
Every time you do an engineering job, you need to create a submittal. Once you use Cube, submittal gets generated automatically. So, you will be streamlining and automating the administration tasks that engineers doesn't need to be doing, because they should be focusing on engineering tasks.
Similarly, let CUBE recommend the parts your company should order and the labor you should assign for every project you manage.
- Make the most of your resources.
Because CUBE manages engineering, estimating, and the entire submittal process, it offers greater capacity with the same staff, allowing you and your team to work smarter, not harder.
And since CUBE also allows you to manage sales, human resources, inventory, and services associated with your projects (all in one platform) soon CUBE will become the best assistant for you and your entire team.
- Read your company's warning signs in a timely manner.
Let CUBE show you your KPI at a glance. With them in mind, you'll be able to better schedule and manage your resources and your next projects.
So, do you believe that a comprehensive software platform, such as CUBE, contributes to living a holistic life? If you are not sure, get to know CUBE!
Click here to join the CUBE community and here to schedule a demo with one of CUBE experts.
---


[Click Banner To Learn More]
[Home Page] [The Automator] [About] [Subscribe ] [Contact Us]