---

EMAIL INTERVIEW – Jim Young and Ken Sinclair
---
IBcon – The Smart, Connected, High Performance, Intelligent Buildings Conference

IBcon is the first global conference and tradeshow specifically dedicated to bringing together ALL aspects of the "Intelligent Building," including the traditional building automation topics such as HVAC, lighting and security, as well as the new components such as digital signage, parking, fire/life safety, access control and others.

Sinclair: Jim, how are you and how is Realcomm going?

Young: Thanks for asking Ken, we are doing great and are celebrating our 14th event this year in Las Vegas. It is amazing how much has happened in the last 14 years at the intersection of Commercial, Corporate, Institutional, Government Real Estate and Technology!
Sinclair: What would you say has been the biggest trend in your marketplace?

Young: That's a tough question and one that probably deserves a few answers.

1. Technology is changing every aspect of building operations and touches every department in an organization -- IT, PM, FM, Operations, Finance, Marketing, Energy and Sustainability. This convergence requires a lot more communication and collaboration between these groups, who aren't always used to talking to one another.

2. The systems are getting more and more complex and require a new and more sophisticated set of skills to manage and operate.

3. Although we have been at this for a long time, we are only at the beginning of the automation impact on buildings, especially when it comes to Smart, Intelligent Infrastructure.

Sinclair: I heard Realcomm started a new conference called IBCON, what is it about?

Young: Yes, after addressing the Intelligent Building topic inside Realcomm for the past 10 years we felt the time was right to go wider and deeper. We're going from 9 sessions inside Realcomm to over 28 in IBcon. This gives us a great opportunity to broaden our scope and invite everyone that touches building operations and wants to learn about smart buildings.

Our goal is to bring together ALL the new technologies with ALL the building stakeholders. Every department that touches traditional building operations needs to be involved in this transformation. No one department within an organization will do this alone. All the groups I mentioned earlier will be involved in some way or another. This is an opportunity for them to come together to learn.

Sinclair: How has the response been so far?

Young: It's been great! Everyone I have spoken to believes this is a timely new event. We have assembled more than 60 of the smartest people from around the world (including you!) to be on our advisory council and guide us with content creation. These are the people I believe make up the foundation of the next generation of the open architected, interoperable, integrated, IP centric smart, connected, high performance, intelligent building movement.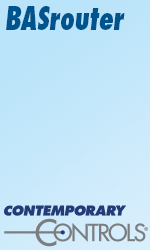 Sinclair: Can you give me a couple of highlights of IBCON?

Young: Sure. Here are just a few of the highlights we are pretty excited about:

• NYC Buildings Commissioner Robert LiMandri, representing 975,000 buildings, will be keynoting our general session.
• CBRE, representing 4 billion square feet of commercial real estate, will be sending 7 top executives representing all major departments in their organization to also speak in our general session.
• Between Realcomm and IBcon, which will sit side-by-side, there will be decision makers representing over 20 billion square feet of commercial buildings and they will be looking for technology, automation and innovation.
• We will have over 28 sessions dedicated to Intelligent Buildings, including a pre-conference Boot Camp designed for someone new to the topic.
• Our Exhibit Floor will include leading solutions and technologies for Intelligent Buildings. We've also created a special pavilion area we've named "Niagara Way," which will be anchored by our platinum sponsor, Tridium, a global leader in intelligent building automation technology and device-to-enterprise integration solutions, and several of their integration partners.

Thanks for the opportunity to speak to your readers. We invite them to join us at IBcon on June 12-14th in Las Vegas to continue the discussion on Smart, Connected, High Performance, Intelligent Buildings.

---


[Click Banner To Learn More]
[Home Page] [The Automator] [About] [Subscribe ] [Contact Us]