---

EMAIL INTERVIEW – Ken Eldridge and
Ken Sinclair
Ken Eldridge, President,
Open Automation Software
Bachelor's degree in Electrical Engineering from the University of Idaho. Over 20 years of experience designing and implementing control systems in a wide range of industries including oil and gas, nuclear, facilities management, food processing, semiconductor, manufacturing, water treatment, power monitoring, chemical, and paper. In the last 10 years implementing SCADA systems in open architecture using Microsoft development tools with C#, SQL Server databases, and open standards like OPC. Evergreen, Colorado US

---

Using Open Standards
to create a cost effective HMI Solution


Sinclair: There has been much debate over the topic of open standards this year in the BAS space. I know that Open Automation Software has been leveraging many different open standards to integrate its products. What do you see as the value in leveraging open standards?
Eldridge: There are so many benefits to get into regarding the use of open standards vs. proprietary technology it's hard to know where to start. The greatest advantage is to empower end-users with the ability to build best-of-breed systems without the huge costs associated with equipment upgrades. Take our new Complete SCADA solution, for example. It is based on the principle of leveraging open standards to give end-users the ability to easily access data from existing, and legacy, systems and display that data in customizable gauges and screens. Designed to run as a service, Complete SCADA eliminates the high costs of adding additional hardware to existing systems. Flexible, functional, and at a cost effective price.
Sinclair: What about integration to the device level? Does Complete SCADA provide easy connections to common BAS protocols like LonWorks, Johnson Controls, and BACnet?
Eldridge: Absolutely! That is the beauty of the Complete SCADA design. No matter the devices in place in a system we can provide an OPC connection to seamlessly integrate with it. No additional hardware required. No complex software to install. Complete SCADA is Cloud (Web-Based) so there is no software that impacts the registry of the systems. It runs as a service. We have an extensive catalogue of devices that we can connect to, and can easily move that data into any number of enterprise applications with the click of a mouse.

Sinclair: I understand that you have added a new feature to your Complete SCADA suite that eliminates the need for dedicated servers with fixed IP addresses and hosting services at the data source. Providing users with the ability to host data over the Cloud?
Eldridge: That is correct. Live Data Cloud is the newest application that we have added to Complete SCADA. Live Data Cloud provides users with the ability to host live data with a standard Internet connection from anywhere in the world for any number of data sources and clients. No longer do you need a dedicated Internet server at the data source to host your own real-time and historical data. Almost every PC in the world has the ability to connect to the Internet, which is all that is required to host data with Complete SCADA.
Sinclair: What is the primary benefit to using Live Data Cloud?
Eldridge: The feature is most applicable for users that want to share real-time and historical data over the Internet, but do not have a dedicated Internet server at the data source, and also eliminates the cost for hardware and allows sharing hosting services among multiple services.
Sinclair: Naturally there would be a question of security; primarily the security of the data. How has that been addressed?
Eldridge: The communication packets are implemented with a binary encryption and then transported over WCF which has an optional encryption and signing with X509 certificate validation. The data storage and transfer are completely secure.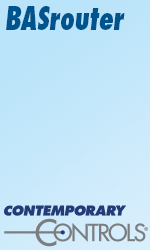 Sinclair: Can you share with us how Complete SCADA, and the Live Cloud, would reduce costs for an intelligent building?
Eldridge: We have learned some very interesting applications from our customers over the years for energy conservation and facility optimization as a result of accurate data collection. Up to date information of course is key for upper management to make the informed decision, but history also provides accurate analysis to determine which spaces are being utilized best and which need improvement. One of our customers implemented simple control algorithms to determine if a boiler should come on based on time of day, time of year, and projected weather. Some of our customers have seen a ROI in less than a month when considering the high cost of fuel and improvement in equipment efficiencies and personnel productivity. Often systems are put in place to improve performance of mechanical devices, but more often it is improved employee performance that is an unexpected result that makes the biggest difference. By providing operations personnel with remote access they can make adjustments before any further losses occur.
Sinclair: Where can interested parties download these products?
Eldridge: Users can contact us directly and we will be more than happy to set up a full demo of the Complete SCADA and Live Data Cloud products.

Contact us at sales@livedatacloud.com.

A demo of Live Cloud Data can be viewed at http://www.livedatacloud.com/videos.php.

---


[Click Banner To Learn More]
[Home Page] [The Automator] [About] [Subscribe ] [Contact Us]