---
Making your plant room a value-generating asset



Typically hidden away in plant rooms, HVAC systems can be complex, challenging and are frequently overlooked.

Chirayu Shah,
General Manager,
Conserve It





In commercial buildings, HVAC is by far the most energy intensive system, accounting for close to half of the total energy consumption.

For this reason every efficiency improvement in HVAC performance can significantly reduce the energy profile of the building, turning HVAC optimisation into a value-generating opportunity.

Typically hidden away in plant rooms, HVAC systems can be complex, challenging and are frequently overlooked. No wonder that energy saving opportunities are missed in this complex technical arena.

Dedicated, specialised control solutions are required to manage HVAC systems correctly and efficiently. By optimising the operation and maintenance of these systems, it is indeed possible to capture the true energy reduction potential available and to manage this over time.

The Plant Room

The plant room can be considered the heart of the HVAC systems within any building. It is typically where hot and cold water is created for distribution to other HVAC subsystems throughout the building.

Typical HVAC equipment in plant rooms include; chillers, heat pumps and boilers; heat rejection systems: air, water, ground source; and distribution equipment: pumps, valves and pipework.

Chillers and heat pumps are the heaviest energy using components, accounting for 78% of total plant room energy consumption. Optimisation of the energy used within the plant room is therefore critical to the overall building energy profile, and can only be effectively managed by suitably experienced technical experts.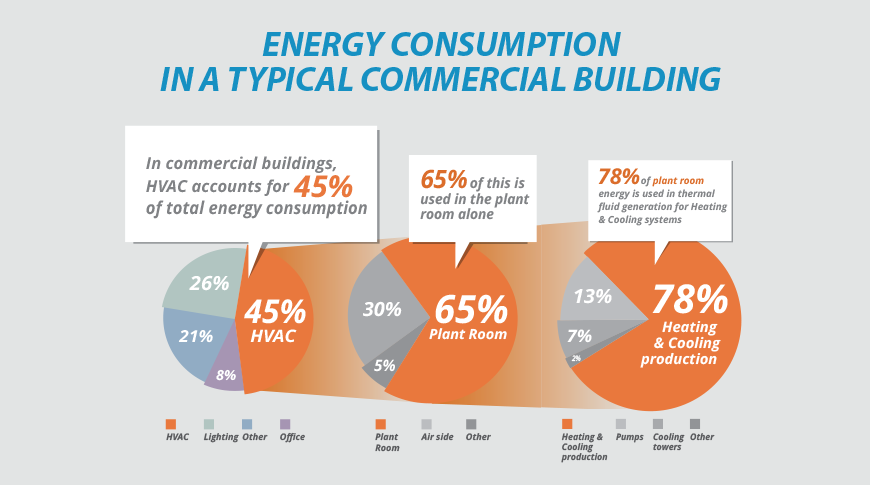 Solutions

Excellent system design and the use of high quality components are essential. However, without accurate monitoring & verification along with continuous commissioning, even the best HVAC systems degrade over time.

Developed with an in-depth understanding of all thermodynamic variables involved in managing plant room HVAC equipment, PlantPRO is one such solution, enabling optimum control of every device with its integration into a single synergistic system.

Optimisation is not achieved by the use of a single algorithm designed to ensure the best efficiency, but is rather a continuous process articulated through different levels of smart software functions, which contribute to ensure the best result.

The optimisation process can be represented by a pyramid divided into several layers, the base of which corresponds to the initial design phase of HVAC systems by consultant Engineers.

Every project presents specific challenges. Designing the optimum system for each HVAC application and selecting the best plant room equipment, is the essential starting point and is also the key responsibility of the M&E Engineering consultant.

In order to achieve and maintain the high level of efficiency as per original design, optimised management of the plant room is essential. Every single element of the system involved in the production and the distribution of the energy must therefore operate in perfect harmony.

For this reason it is essential to use a dedicated optimisation & control software system which includes high-end logic, to ensure real energy savings as well as delivering long term reliability.

PlantPRO is award-winning Plant room optimisation and control software developed by Australian company Conserve It. For more information visit www.plantpro.com.au


---


[Click Banner To Learn More]
[Home Page] [The Automator] [About] [Subscribe ] [Contact Us]