---
Within buildings today, we have learned how to digitize every aspect of comfort, safety, and security control, and are now truly adding value through the integration of these systems connected to the internet. We have crossed a new threshold by combining these services—allowing us to accomplish actions that deliver new services to the operators and occupants of these buildings. While this has driven countless upgrades to building controls, I believe we are at the beginning stages of the next evolution of our journey.

There is one factor in almost every building we put controls in: occupants. People in buildings are the driving factor for schedules, alarms, and notifications, yet we have so little data from them, and we serve them very little. So how do we connect with these occupants, people who affect the systems we control? One method is to integrate a new device into the building control ecoculture, a device we all know and trust… your mobile device.

Think about how we're already using our mobile devices to make our homes smarter, and in turn, safer, more comfortable and more secure. If you're worried about the weather, you can quickly look at your weather app to plan your actions accordingly. If you're uncomfortable while lying in bed, you can easily change the room temperature on your mobile device. If someone unexpectedly comes to your home, you can check your Wi-Fi camera on your mobile device, so you're aware of who's there before approaching the door. You can turn your lights on and off, check to make sure your garage door is closed and operate it from anywhere on your mobile device as needed.

This is something we never had to work within buildings until now. Millions of thesSc devices are inside of our buildings, and they have capabilities that we can harness to make buildings, too, more comfortable, safer and more secure. Consider the capabilities of push notifications, for instance.

Currently, most of our building systems will only send emails or pop-up alarms on computer screens, yet the people who need them only have access to a mobile device and are getting hundreds of emails a day from other people for other purposes. By taking important building information such as alarms (or any event within a Niagara 4 station or other API) and sending it as a push notification, the mobile device becomes a beacon. The data can bring the phone out of sleep mode, override applications, and present itself to the mobile device user in milliseconds—getting the pertinent information in front of them in real-time so they can take action accordingly.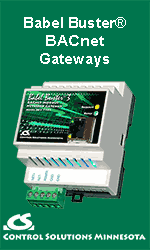 Optimal notifications would contain the event message, notes and external hyperlinks for diving deeper into the system to deal with the information at hand. And with an app also being capable of storing these notifications, they can be archived for future considerations. Imagine you get a notification, and you can make the decision to swipe it away, leave it on the mobile device notification queue, or manage the information based on your schedule—regardless of where you are. This is a significant enhancement from the typical way buildings communicate by utilizing a service within mobile devices.

And this is just the start of how these mobile devices become a part of the ecosystem of the building. They allow us to create new services that can bring huge value to people who occupy and operate these facilities. Welcome to the next phase in building control—functional integration—where real-time building control data meets real-time people, creating a new universe of functional applications between them.

---
About the Author
Scott Cochrane is President and CEO of Cochrane Supply & Engineering and Cochrane Tech Services, providing large local inventory, tech support, world-class training programs, and the world's first smart building notification system, RAVEN. In 2000, Scott took over the business from his father, Donald Cochrane, Sr., who founded the company 50 years ago. He is proud to be an advisory council member for multiple industry manufacturers such as Honeywell, Johnson Controls, and Tridium, and to be named a 2016 IBcon Digital Impact Award Winner for his innovative contributions to the industry.

---


[Click Banner To Learn More]
[Home Page] [The Automator] [About] [Subscribe ] [Contact Us]