---
The User Experience



Flexibility and simplicity is key to making the user experience effective – if it's too hard, or the tools are too limited, users can't achieve the desired results.





John Petze,
Principal,
SkyFoundry
Finding patterns and transforming data may be the technological core of the analytics, but to make results useful, we need to present findings in ways that make it easy for operators to understand and act on them. Flexibility and simplicity is key to making the user experience effective – if it's too hard, or the tools are too limited, users can't achieve the desired results.

From its earliest days, our approach has been for our software to automatically generate rich, intuitive visualizations to show operators analytic findings, trends, correlations and relationships without the conventional approach of requiring assembly of graphical displays. That approach has dramatically reduced the cost of delivering analytics and enabling owners and operators to achieve financial results.

But there is always a need and desire to customize presentations of data and analytics to fit the needs and interests of different users. In 2017 we introduced a feature called View Builder that provides users with a "point-and-click" tool to create custom views that combine multiple views into Apps, reports, and views. (Find details on View Builder here: https://skyfoundry.com/file/263/SkyFoundry-Insider-Sept-2017---View-Builder---A-Special-Issue.pdf

With the latest release of SkySpark (v3.0.15), we have added the ability to modify the presentation of the standard SkySpark Apps with no programming required with a feature we call "Swivel."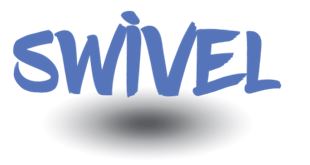 Swivel takes the power of automatically-generated visualization tools to a new level by allowing the user to easily modify the analysis and presentation of their data to fit their needs with just a few mouse clicks. It allows users to slice and dice their data AND analytic results in virtually any way desired – and most importantly it does it with absolutely no programming required.

Here's a quick example. The App that presents "Sparks" – analytic results – is considered the focal point of SkySpark for most users. That App has always provided users with clear, intuitive views of analytic findings. The default view shows the key attributes of Sparks the Site, the Rule, the Duration, the Cost and our "sparklines" which show the exact pattern identified in the data.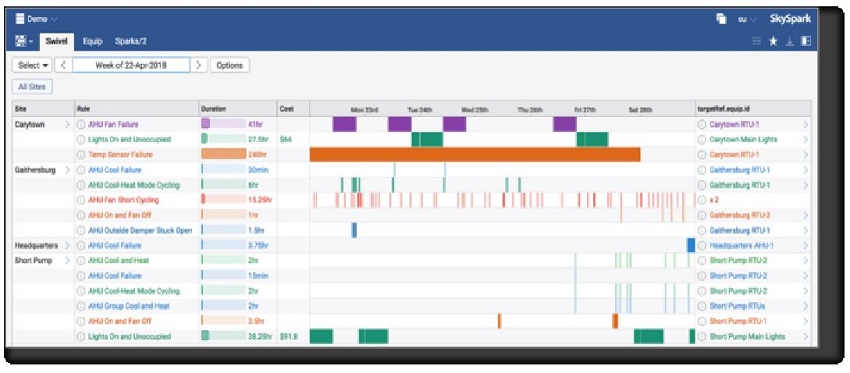 But let's say I want to show duration and other attributes in a different graphical format. With a simple click on "Options," I can choose different display options. In this case, I will show Duration and Cost as "bubbles." (Options include bubble, bar timelines, and text)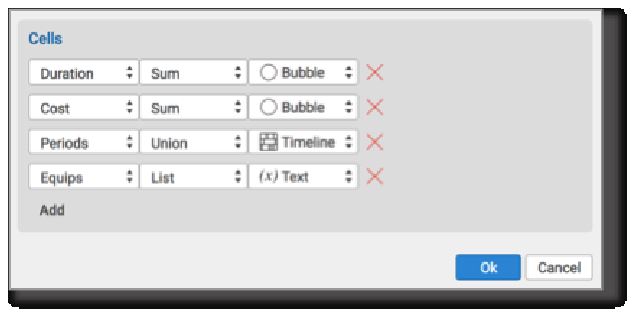 Now let's say I want to organize the Sparks-based on different attributes. In this case, I will group my Sparks first by City, then Site, then Equip and finally by Rule:

We are really just scratching the surface of what you can do with Swivel, and it's hard to convey software interaction in a static document. In order to grasp its full potential, you really need to see it in action. You can contact us at info@skyfoundry.com to learn more.

---


[Click Banner To Learn More]
[Home Page] [The Automator] [About] [Subscribe ] [Contact Us]