---

Introduction to Fan Coil Units

Local temperature control with FCU

Oleksandr Zdir,
Product Manager
Global Control 5

The comfort of our tenants in a building is an important issue for building owners. When we think about temperature, it seems that an average of 21 °C (69.8 F) should be satisfactory for everybody. True? Not always. What if during the winter you generally wear warm clothes and in summer an opposite? What if there are 5 or 10 people in the room? What if different people have different temperature preferences? In each of these situations, the different desired temperature should be maintained. That's where local control of the temperature becomes essential.

Fan Coil Units (FCU's) are an example of devices which can adjust temperature locally. They use a fan to recirculate room air over water/air heat exchange coils. Water generally offers significant savings in the process of distribution of media for heating and cooling compared to air. Different units are available, but typically Fan Coil Units are fitted in a suspended ceiling or under the windows. As FCU's typically only recirculates the air inside of the room, a supply of fresh air may be provided separately. Typical FCU's get filtered, humidified and temperature-prepared air from the central unit. For example, Air Handle Unit gets the outside air, filtrates it through multiple filters, pre-heat it to the temperature of 20 °C (69.8 F) and distributes to different building areas where FCU's adjust the temperature to tenant's preferences.

Control of the output of FCU's may be performed by:
1. Fan speed control. In this type of control, the water in the coil is circulated at a constant temperature and the speed of the fan modulates it according to demand.
2. Waterside control. In this type of control, the amount of hot or chilled water is controlled using a two- or three-way valve.

There are two different types of water circuits used in FCU's systems:
1. Two-pipe water systems. A single supply of water is available at a time. Depending on the season it may be either cold or hot. The problem with this system is that different units in the same zone can't heat and cool simultaneously. This can be a problem when one side of the building is sunny and the other covered in shadow.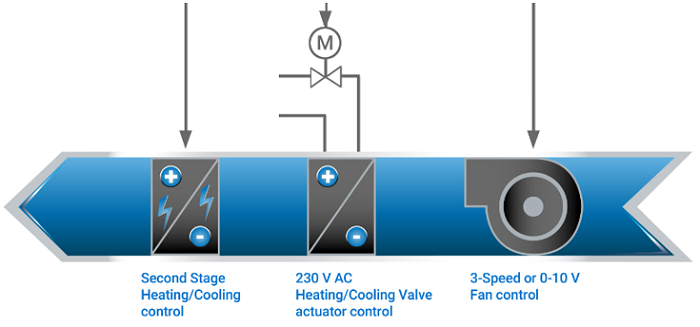 2. Four-pipe systems. Here, both hot and chilled water amounts, are available at the same time. The problem with this system is that you need twice as much piping as in two-pipe system and thus the system has a significantly higher price.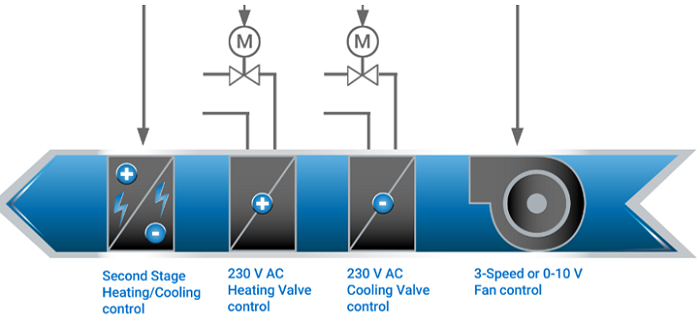 In the bigger areas, where several FCU's are required to maintain needed temperature, one Fan Coil Unit controller gets information about the space temperature (so-called "Master") and regulates the operation of other FCU's (so-called "Slaves").

Generally, the operation of the FCU's controller is one of the most important parts of effective temperature adjustment in individual zones. It should provide flawless and most effective regulation of the temperature according to the chosen control algorithm. As the FCU's often installed in the large numbers in a building they significantly influence the overall energy efficiency of a building.

There are plenty of controllers available on the market, but I would like to introduce the one which has proven record and recognition. Global Control 5 has a perfect solution for the majority of Fan Coil Unit systems. Our iSMA-B-FCU controller comes with a factory equipped application for all mentioned above Fan Coil Units systems. The adjustment of application is possible without programming, using DIP-switches. Additionally, in the BACnet protocol, the application has the built-in function which allows to automatically bind Master and Slave controllers in the groups. The free programmable tool is available for this controller as well. If you are interested in learning more click here --> https://gc5.pl/en/produkty/fcu/ or send e-mail to Product Manager: oleksandr.zdir@gc5.pl
---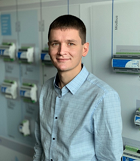 About the author:

Oleksandr Zdir is a Product Manager responsible for the success of the room solution devices in Global Control 5. Previous experience as a Technical Support Engineer and System Integrator has given him strong understanding of building automation market, client needs and key players. Technology geek. Ecological volunteer. True-born engineer.

Nowadays, the #onlinespace, both business and private, is our most important channel of communication with the world. This prompted us to start the series of #iSMALIVE! meetings, where we present #iSMAsolutions.

Next #iSMALIVE every 2 weeks:
June 10th 2020 - Registration URL
https://attendee.gotowebinar.com/register/6706555143646915087



---


[Click Banner To Learn More]
[Home Page] [The Automator] [About] [Subscribe ] [Contact Us]