---

Anto Budiardjo, CEO & President of Clasma, Inc.

Manager: Sanjiv Bhaskar,
Analyst: Sapan Agarwal
©2005 Frost & Sullivan

Award Description
This Frost & Sullivan Award is bestowed each year upon the CEO/Executive who has demonstrated leadership excellence within his/her industry. Gains in market share and decisions that improve earnings and help the company grow, as well as leadership that affects observable changes in the industry, are common CEO performance measurement criteria and are important metrics Frost & Sullivan utilizes in its CEO of the Year Award selection process. A CEO's vision, risk-taking, and leadership can also have a profound effect on performance. Frost & Sullivan seeks to identify a highly successful CEO whose leadership, vision, and successful risk-taking stand out among his/her peers in one or more Industry Research Groups. The award recipient also has distinguished himself/herself from competitors by pursuing a unique restructuring, an organizational management re-engineering, or a competitive road map that has resulted in propelling or sustaining the company's market position.












Research Methodology
To choose the Award recipient, Frost & Sullivan tracks market developments and measurements in the industry. The selection process utilizes market participant interviews and extensive primary and secondary research. After evaluating the research, the analyst team considers market share, market growth, market penetration, profit margins, stock price, and overall industry impact in relation to CEO corporate organizational and strategic business actions.
Measurement & Judging Criteria
In addition to the methodology described above, there are specific criteria used in determining the final ranking and award recipient. The recipient of this Award has excelled based on several of the following criteria:
History of serving the industry

Impact on organization and contribution to company financial results, restructuring, or business strategy to grow market share (for example, effective development and implementation of a new business model)

Leadership, risk-taking, vision, or decision that has served as the catalyst for market growth, sustaining market share, and/or company image in a specific IRG

Leadership that created industry standards in operations, product quality, processes, or other notable benchmarks

Leadership that increased value as perceived by the stakeholders (for example, consumers, suppliers, shareholders, and so on.)

Degree of industry participation and influence on the market as a result of CEO actions

Degree of CEO leadership and employee participation in community service programs (Boys/Girls Clubs, homeless activities, United Way, and so on)

Operational excellence
2005 Building Technologies CEO of the Year Award
Award Recipient: Anto Budiardjo, CEO & President of Clasma, Inc.
Frost & Sullivan is pleased to present the 2005 Building Technologies CEO of the Year Award to Mr. Anto Budiardjo, CEO/President of Clasma, Inc. for demonstrating exemplary leadership, making a difference to the industry, and possessing the ability to carry out the responsibilities that come with his position.
What makes him extraordinary is not just the tremendous influence he has within his industry, nor is it only about his extraordinary leadership capabilities and talent management skills that have catapulted him into this exalted position. What distinguishes him from the hundreds of others vying for the top honors is how he has managed to take his company beyond the boundaries of the country and bring a whole new meaning to leadership in the age of globalization.
Mr. Budiardjo Has Seen It All Happen
Building automation was still a developing field in 1989 when Mr. Budiardjo started his career in this industry in the United Kingdom. It was a time when the world knew that this technology would give birth to new solutions, but the most dramatic of those solutions and the speed with which they would become available was beyond the comprehension of most. Mr. Budiardjo started to get involved in integrating different buildings systems, not a common concept in those times. Over time, capitalizing on his growing experience and expertise, Mr. Budiardjo started his own company and spent the following eight years in the United Kingdom developing and marketing products to both the HVAC industry and the security industry in Europe, the United States and Asia.
Later in 1997, CSI (Control Systems International, Inc.) acquired his venture based on its healthy performance and extensive knowledge in building automation. Mr. Budiardjo continued focusing on integration of building systems within CSI, which later became TAC, until 2002 when he left TAC to start his own commercial venture – Clasma, Inc.
With an experience spanning over 15 years in the industry, working on and promoting the concept of integration, Mr. Budiardjo realized that what this industry was really lacking was a platform for exchanging views and information. Clasma, Inc. was thus initiated to facilitate the industry to move along the concept of integration by putting together conferences such as BuilConn and BuilSpec.
Determination, Drive, and Vision Make All the Difference
Mr. Budiardjo has seen the building automation industry evolve over time. He has been a frontline eyewitness to the technological leaps of the past decade that have forever changed the landscape of this industry. From proprietary control systems to open communication standards, the industry has taken a giant leap in a much shorter span of time. The next logical evolution is being envisioned as putting IT infrastructure and building automation systems together. The real challenge, however, remains to be the dissemination of information to end users as well as manufacturers and service providers.
Mr. Budiardjo, with his global perspective on the market, took up the daunting task of promoting integration concepts and leading the industry into a technologically more advanced future. Nonetheless, it was a significantly big risk for a person to venture out in the market with just a noble interest in mind. With no products to market, it has been the determination and drive of Mr. Budiardjo that has promoted him to a position where the industry recognizes him as one of the forerunners of the next technological revolution in building automation.
The Success Story
With the launch of Clasma, Inc., Mr. Budiardjo initiated an annual conference called BuilConn in 2003 in the United States. The idea was to present an open platform to market participants for interaction, brainstorming, and working on the road map for the future technological direction of this industry. Bringing such synergies together under one roof has had a significant impact on the level of interest and has also helped to establish the importance of subjects such as integration of building control systems and adoption of standard IT practices.
With the attendance levels rising by over 150 percent in just two years and growth in the number of exhibitors following a similar trend, the success of BuilConn has been unparalleled. In this significantly short time, since 2003, BuilConn has started to become a part of the vocabulary in the emerging space in building automation, and industry giants from the HVAC, security, and lighting industries have started showing increased interest in participation in this annual event. BuilConn was taken to Europe in 2004 not only to repeat the success story of the United States, but also as an effort to define this emerging space in building automation at a global level rather than leaving the task to become a more regionalized phenomenon.
In conjunction with BuilConn, Mr. Budiardjo has also initiated "M2M", another annual event that deals with machine-to-machine technology. In 2004, Mr. Budiardjo furthered his efforts of enhancing the awareness levels in the industry by launching BuilSpec across the United States, a series of one-day educational seminar designed for consulting engineers, facility managers, and building owners involved with designing projects amid the prevailing confusion and misinformation in the building automation industry.
Chart 1.1 encapsulates Mr. Budiardjo's relentless quest for leading this industry to the next higher level of technological advancement.
All these efforts and more have been recognized by eminent industry organizations, translating into endorsements from LonMark International, BACnet Manufacturers Association, CABA, OASIS, and OBIX (Open Building Information Xchange).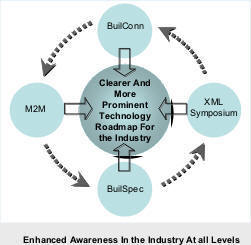 Conclusion
The greatest measure of Mr. Budiardjo's success is his accomplishments in bringing the technology road map for the building automation industry to the forefront. Mr. Budiardjo is a determined executive who believes in his vision, a superior entrepreneur who has placed his company on a steep growth trajectory, and a straightforward leader who not only inspires his employees and colleagues but also the entire industry. Frost & Sullivan is pleased to present the 2005 Building Technologies CEO of the Year Award to Mr. Anto Budiardjo.
---


[Click Banner To Learn More]
[Home Page] [The Automator] [About] [Subscribe ] [Contact Us]