---

2004 was the year when a whole series of Internet and network communications developments truly elevated average structures to Intelligent Buildings.

John J. "Jack" Mc Gowan, CEM
Energy Control Inc.
Contributing Editor
Intelligent buildings were a hot topic in the 1980's. The vision was to share building telecommunication backbones with energy management systems, fire alarms, security systems and even office automation. The benefits were touted to include cost savings for cabling and long term maintenance, plus a future potential for interoperability between systems. Unfortunately this never happened, or did it? As I reflect on the signature events of 2004, it becomes evident that Intelligent Buildings have finally come to pass. I am struck by a line from a movie "Flashback" where Dennis Hopper's character says "...once we get out of the 1980's, the 90's are going to make the 60's look like the 1950's" He was talking about a time of complete market and lifestyle transformation, and that is what happened with Intelligent buildings in 2004.












Actually Intelligent Buildings have seen a growing resurgence over the last few years, yet a number of events last year really demonstrate how much progress has been made. In the 1980's building intelligence was constrained by both technology limitations and economic viability. Developments since that time have, like widespread implementation of high speed Internet service in buildings, have dramatically changed the story. 2004 was the year when a whole series of Internet and network communications developments truly elevated average structures to Intelligent Buildings. This is not yet the norm, but several events point to a growing number of Intelligent Buildings in the mainstream. One indication is the widespread use of the word Convergence to describe the blending of building systems with information technology (IT) and the Internet.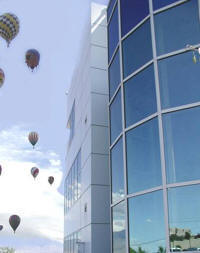 To highlight examples where this is happening in real buildings, a new phenomenon developed last year called the "Buildy Award". Buildy's were given at the BuilConn Forum in Dallas (www.builconn.com ) to recognize building owners and system integrators who have created integrated and interoperable systems, which are in a word intelligent. In the 1980's the vision was "possible interoperability", but the functionality applied in these buildings goes far beyond the definition of interoperability at that time. Standardized data networks for building systems, communicating over Ethernet, with high speed Internet access have transformed the perception of intelligent buildings. The Buildy awards recognized buildings such as the one shown here. This building integrates control between energy management, security including access and video plus a host of other systems, but goes far beyond that to include Internet communication for monitoring via web browsers, access to weather forecasts, utility history data, utility procurement and whatever you can imagine.
More than BuilConn though there are a proliferation of indicators that Intelligent Buildings have arrived. www.automatedbuildings.com has become the dominant Web domain for up to the minute information on the state of this movement, as well as links to major industry participants. The Continental Automated Buildings Association (CABA) www.caba.org is a Canadian think tank that has chronicled this development, and offers a clearing house of white papers and general information on all of the technologies that make up smart buildings. The Building Automation System industry has widely adopted data communication standards such as LON™ (see www.lonmark.org ) and BACnet™ (see www.bacnet.org ). In 2004 BACnet™ became a European and International Standard. Even more significant is that the predominant tool for interface with BAS systems today is no longer modems and customer software but the Web Browser. These standards have been the price of entry for monitoring automation systems by Web-browser and beyond that for Internet-enabled buildings.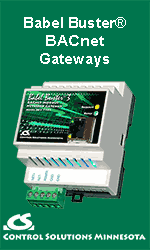 A new movement underway in the industry to provide standards for Web Services focuses on XML (extensible markup language). XML is a standard used to develop Web services by Internet companies like Amazon.com and eBay that holds promise for energy and buildings. In fact the second XML Symposium (www.xml-symposium.com) took place on February 9, 2005, held concurrently with the AHR Expo in Orlando. The symposium was sponsored by CABA and Clasma, Inc., which runs the BuilConn Forum. It was billed as "a high-level introduction to the most important enabling technology for the future of integrated and intelligent buildings with a specific focus on the HVAC industry." The material goes on to explain that XML and Web Services are "widely used by the IT community and many other industry groups who desire to leverage the Internet as a connectivity and automation vehicle. These technologies bring to fruition the convergence of building systems and the IT infrastructure, and they are drastically changing the buildings industry as they enable cooperation between disparate approaches to open systems."
Another movement that kicked off in 2004 is formation of the GridWise Architecture Council by the Department of Energy Office of Electricity Transmission and Distribution (see Energy Online October 2004). GridWise envisions Web Services to create a smart national electricity distribution system or grid. A Smart grid would be more reliable by allowing for utilities to respond quickly and intelligently to emergencies. GridWise could do much more though by also creating tremendous savings opportunities for energy users.
From this vantage point, it is clear that Intelligent Buildings are a reality. Yet the proliferation of Internet access and Web Services is making it possible to transcend to a whole new level of sophistication. In the near future the focus on Intelligent Buildings will likely transform into a vision of an Intelligent Enterprise. The Internet is without doubt the enabling technology that was missing in the 1980's. With Internet access and Web services the intelligence in our buildings is only limited by our imagination. However, evolution to Intelligent Enterprises coupled with an Intelligent Electric Grid may actually tax our imaginations as we try to envision the future of the energy and buildings industry. The best advice this column can offer is pay close attention to these developments. Futurists talk about disruptive technologies that completely reshape markets, this convergence of technologies that make building intelligence possible is just that type of technology. The technology offers risk but for those who embrace the change, and look for the opportunities that it presents, I believe it offers even greater reward.
---


[Click Banner To Learn More]
[Home Page] [The Automator] [About] [Subscribe ] [Contact Us]