---
The Small Building Market (up to 20 000 square feet) makes up 85% of the Commercial Real Estate Market in North America.
How have we applied networked HVAC controls in these small facilities in the past?












Presently the market perception is that the installed costs of networked DDC control systems generally apply to the larger Commercial Buildings Market. Generally, these facilities have been controlled by more traditional electric/electronic systems consisting of programmable thermostats, time clocks, and analog type zoning systems to which provide adequate occupant comfort. The reality is that there is significant justification through energy savings for a reasonable ROI timeframe in the small to medium size commercial building market.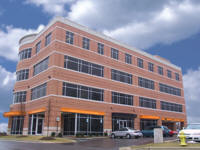 How is the industry changing?
Demand for more efficient facilities (which is driven by the increased cost of energy) is slowly trickling down to the specification level. This movement, is "alive and well" within the consulting community and is driving the revision of ASHRAE standards for small building specifications toward networked communication HVAC systems.
Building Automation System manufacturers are taking notice of these new specifications and, as a result, the focus is steadily changing from larger to smaller scale automation equipment. Many automation and thermostat manufacturers are introducing communicating wall devices; reducing first installed costs by eliminating the traditional split controller designs (room sensor, & equipment-mounted controller). More and more advanced communicating wall devices are even conforming to many of the open standard protocols (BACnet, Echelon, etc…)
How will these new devices spark change?
With the proliferation of these new "packaged" control devices, small facilities venture to benefit. The focus of the new communicating class of devices (as previously noted) is to reduce the initial installed cost, thereby reducing the payback time for smaller commercial building owners.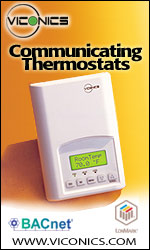 These new devices, in the some cases, come pre-programmed with "application specific" sequences which accommodate the "most-used" equipment in these smaller buildings. Typically these consist of packaged roof-top equipment, heat-pumps, fan coil units etc. As previously mentioned, pre-programmed devices offer additional savings through reduced project commission time.
When control devices are first powered, a complex, multi-level commissioning and check out procedure is executed, this drives the installed project cost up dramatically. When installing pre-programmed devices, this initial power-up verification check is usually the last task in the commissioning process. This approach will further prove reduce the project's final cost, in addition to offering the benefits of networked devices.
Today's new networkable thermostats typically "pack the same punch" in terms of functionality as traditional larger DDC controllers. These new devices are supporting many of the same network services, alarming, scheduling, trending etc., which have previously been reserved for larger scale systems. By combining these devices with the lower cost multi-protocol GUI's (Graphical User Interface) systems (available from many different automation companies), smaller facilities can enjoy many of the same feature advantages previously offered by more expensive hardware, at a significantly lower price.
Are there any future improvements to further reduce costs?
Relatively speaking, packaged control devices are for the most part in their infancy compared to traditional unitary stand-alone products. The companies developing these new networked thermostat products are focusing on providing value through energy saving and increased comfort levels. The most notable is wireless technology, and more specifically applying the new wireless ZigBee Standard (IEEE 802.15.4) recently ratified.
The cost savings with the application of these technologies are obvious for both small and large projects alike are well documented.
Imagine a wireless installation that can communicate between completely separate HVAC, lighting, fire and safety, protection alarm systems to name only a few possibilities. The opportunities are limited only by our imagination.
---

[Click Banner To Learn More]
[Home Page] [The Automator] [About] [Subscribe ] [Contact Us]