---
The Transformation of the Building Performance Software Business



The building performance software industry has at least 350 established suppliers delivering across six main different market segments that can be further sub-divided into 16 segments.






James McHale,
Managing Director,
Memoori


The building performance software industry has at least 350 established suppliers delivering across six main different market segments that can be further sub-divided into 16 segments. These segments overlap and cause confusion when the building operators are evaluating how they meet their value propositions.

This is particularly critical now that the major real estate owners are in the midst of investigating the impact of the Building Internet of Things (BIoT) on their building estates. Memoori's recent report The Market for Building Performance Software 2016 to 2020 investigates the shape and structure of the market and identifies the measures that are being made by the BPS industry to meet this challenge.

The report has focused on some 358 well-established companies who are providing software to commercial and industrial buildings, split into six main categories as shown in the table below. We have not included all the companies that are part of the Real Estate & Property Management Software within the definition sector of CRE Tech which some reports estimate at 2,200. This includes software for lease management, accounting and other specific real estate administrative functions, which is not within the scope of our report.

We have targeted 94 vendors focused on facilities and real estate management. It should be noted that there is significant duplication of features across a number of these categories and with time and the advance of Big Data & Cloud services merger and integration will further transform the structure of the Building Performance Software business.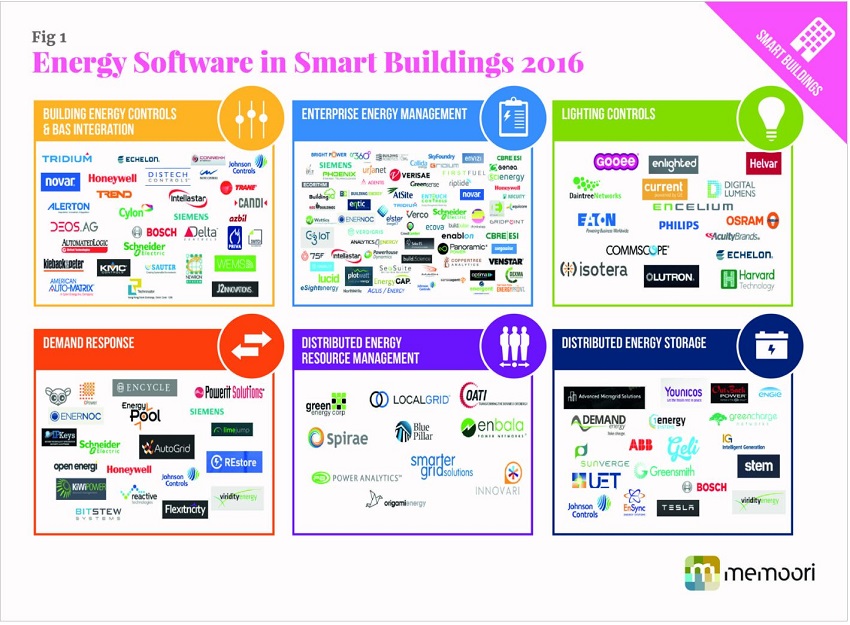 ENERGY SOFTWARE PROVIDERS
The major BAS suppliers still dominate here, but they have lost market share over the last 10 years. They have the largest customer base and heritage estate and more recently have expanded their offerings by means of strategic acquisitions and alliances and are no longer reliant on BECS Supervisory Software.

GE will become a formidable competitor to the BAS vendors in the not too distant future, as Current rapidly expands into the building automation sector.

EEMS providers account for the majority share of this listing accounting for 28% of the total number of software suppliers. A multitude of vendors are competing for a slice of the energy management solutions market which can be broken down into three distinct camps:
Major, diversified BAS vendors, and energy service companies (ESCOs) including Johnson Controls, Honeywell, Siemens, Engie and Schneider Electric. In this market, it is also worth noting that these players also have a significant presence in the software markets for integration on the smart grid side, giving them the ability to offer end-to-end solutions across the energy value chain. Many of these established players have strengthened their position through aggressive acquisition strategies and investment funding of startups targeting expertise in EEMS over the last five years.

New start-up challengers offering predominantly SaaS solutions to targeted market verticals including the likes of Flywheel Building Intelligence (formerly SCIenergy), Switch Automation, BuildingIQ and Lucid.

Innovators who are attempting to create new business models and offerings by using not only energy datasets but are also integrating data from outside sources such as occupancy, energy benchmarks, utility billing, dynamic energy pricing or weather data. These include C3IoT, Comfy (Building Robotics) and Ecorithm.
Companies targeting specific market verticals such as Telkonet, which targets the hospitality sector, Vigilent, which targets data centers and Joulex, which was focused on IT and data center infrastructure, have been able to carve out a slice of the market with their highly targeted offerings. Joulex's success caught the eye of Cisco, who snapped up the emerging player in a November 2013 acquisition deal.

On the IT front, major players including IBM, HP, SAP, and Oracle are increasingly incorporating energy management functionality and / or interface capabilities into their platforms.

PHYSICAL SECURITY & FIRE DETECTION SOFTWARE SUPPLIERS

There are many companies focusing on one specific sub-category (VMS, Video analytics, PSIM, PIAM, Fire detection, Access control, Mass notification) which are detailed in the report. The major manufacturers, such as Bosch, Tyco, United Technologies, Siemens, and Honeywell offer software across the range of fire and security solutions and in some cases, covering the complete suite of building performance software.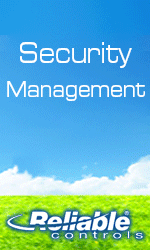 One company to watch is Bosch, who has been very active in developing their software capability in recent years and are prominent in the development of IoT capability. Although their initiatives are heavily targeted towards the manufacturing sector, their security systems, energy and building technologies business are a focus too.

Bosch Software Innovations have also recently been partnering with Zumtobel, an architectural lighting company in the development of IoT-connected lighting solutions at the Life Cycle Tower Building in Dornbirn, Austria. The Zumtobel lighting system is linked to Bosch's cloud-based IoT suite, which allows for real data insights, the basis for new value-added services in the areas of predictive maintenance or condition monitoring for building operators and facility managers.

With considerable capability and resources across energy management, fire and security and facilities management, Bosch is likely to build its expertise quickly in these areas and may challenge the incumbent BAS providers in providing building performance software solutions across all disciplines.

REAL ESTATE AND PROPERTY MANAGEMENT SOFTWARE SUPPLIERS
Real Estate and property management software providers accounted for over 26% of our listing which focuses on the major suppliers. The major players offering a range of software for this sector include Accruent, Archibus, Planon and IBM. Some 500 companies offering software for real estate and property management have entered the sector in the last five or six years. Realcomm estimates that there are 2,200 companies in the overall CRE tech sector.

This will be a continuing feature of the sector, even with a high degree of acquisitions, new entrants are able to offer software, due to low entry barriers.

This article was taken from our recent report "The Market for Building Performance Software 2016 to 2020"


---
[Home Page] [The Automator] [About] [Subscribe ] [Contact Us]