---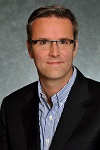 EMAIL INTERVIEW – Dr. Rick Huijbregts and Ken Sinclair
Dr. Rick Huijbregts, Vice President, Digital Transformation and Innovation,
Cisco Canada
As Vice President of Digital Transformation and Innovation, Dr. Rick Huijbregts is responsible for business development, digitization, and Cisco Canada's Innovation program. Rick oversees the digital transformation practice for industries with a focus on healthcare, oil and gas, mining, financial services, real estate, manufacturing and education. He is also responsible for Cisco Canada's smart city strategy, and a frequent speaker on topics of urban digitization, innovation, and disruption. His team includes experts and investments in Corporate Social Responsibility, Cisco's Networking Academy program, the Cisco Canada Innovation Centre, Academic relationships and Research Chairs, Cisco Canada's $150M Ventures Fund, and its Canadian Customer Experience Centre. For Cisco Canada, Rick and his team fuel and lead the digital transformation of customers, industries, institutions, governments, and ultimately the country.

Rick holds a bachelor's degree in construction management from the Tilburg Polytechnic University in the Netherlands; a master's degree in real estate development and project management from Delft University in the Netherlands; and a doctorate from Harvard University with a specialization in real estate technology and investment management. In 2012, Rick was awarded the Queen Elizabeth II Diamond Jubilee Medal for his transformational work in municipal innovation in Canada; and also recognized at numerous occasions as a game changer in the real estate industry.

---
Cisco S
ix Years Later
We were going to build on our strengths: expanding and enabling our partner ecosystems to create relevant solutions that will transform the workplace and built environment.
Sinclair: It's been a while since I spoke with Rick Huijbregts at Cisco Canada (then, head of their digital building and smart city practice, now Vice President of Digital Transformation and Innovation). It was in 2011 when I ended my last interview with Rick asking him what he hoped the greatest accomplishment of the industry would be. Here we are, six years later, I thought to open my latest discussion with Rick exactly where we left it off back then:

Huijbregts: Six years ago, I hoped that the real estate and construction industry would be embracing digital technologies—like every other industry is voluntarily or forcibly doing—to help prepare itself for an age of digital disruption. New digital business processes and consumption models, as well as the evolving expectations of next generation workforces, is increasingly requiring us to rethink the spaces we provide and consequently how we create them. As expected, in part due the fragmented nature of the industry, progress is slow, but the tide is turning. We have not sat still at Cisco during the past years. You remember that we bought and ended the Mediator. Instead, we were going to build on our strengths: expanding and enabling our partner ecosystems to create relevant solutions that will transform the workplace and built environment. The basis for any business transformation is a secure, scalable, and resilient digital infrastructure—and this is what we do. More new construction projects in Canada (and around the world) are deploying Cisco base-building networks as the foundation for future application and services.

Sinclair: What are some of the signals that show that the real estate industry is getting ready for the digitization of our existing and future buildings?

Huijbregts: Our team has been actively engaged with standards organizations and associations (CSA, CaGBC, CoreNET, Realcomm) as well as government bodies that control federal and provincial (state) real estate portfolios. The narrative is beyond "learning" and has shifted into "doing." This year, with the release of new CSA standards, you will see new language introduced that frames IP-based and Power-over-Ethernet solutions as valid alternatives to the traditional ways of construction. In 2016, our Toronto Innovation Centre (Cisco's global smart building center of excellence) has hosted more than 3,000 industry professionals and many industry meetings; architects, engineers, contractors, electrical and mechanical professionals, and most importantly end-customers that are pushed by their employees or customers to deliver a different kind of workplace. Lastly, the success of our Digital Building partner eco-system (quality, relevance, and numerous leading industry partners) is giving us hope that we see an acceleration of the adoption of smart and connected real estate.

Sinclair: Can you give an example of this expanded partner ecosystem that you speak of?

Huijbregts: Last year, we launched an exciting solution—the Digital Ceiling. This is the first packaged offer for the real estate industry as part of our Digital Building approach. It is built around our latest and greatest and most secure networking technologies. It includes a rich number of partners such as Philips, CREE, Molex, Eatons, Johnson Controls, and more. Together, we provide a completely digital approach that will future-proof any real estate project. A large network of application partners can deliver value-added services over our connected and converged building network. The building is becoming like a tablet; greatest technologies inside, and the ability to apply leading-edge applications, services, and solutions that will truly maximize the value of any built environment: from energy management, space utilization, personalized control, and sequences that will deliver unprecedented experiences to the tenants of smart and connected buildings. A Digital Ready Network (with purpose-built technologies for the construction industry) is at the heart of all this…without a properly designed IP-network (one that also provides Power-over-Ethernet to the edge devices such as light fixtures, controllers, accentuates, sensors, security camera, speakers, etc.) one will continue to build "old" buildings with "old" technologies that won't provide the agility and flexibility that the future building owner and user needs. This will be an unsustainable premise in the age of digital disruption.

Sinclair: Can you point us to a building where this Digital Ceiling has been deployed?

Huijbregts: Our own Cisco Canada headquarters was relocated two years ago to a brand-new office building from Oxford Properties (RBC Waterpark Place). This is the 2nd building in the world, and 1st building in the Americas where all building systems are connected to, and powered by one integrated and secure IP network. The digital ceiling in this building means that there is no electrical infrastructure above our ceiling and every light fixture, HVAC controller, speaker, WiFi access point, door lock, (etc.) are fully powered by our network, secured, and connected. EllisDon, the general contractor for Oxford Properties and also responsible for the fit-up of the Cisco offices, ensured the collaboration of all construction partner and the full integration and convergence of all technologies. Since we moved into our office, we are testing and deploying new and exciting applications (e.g. Rifiniti for space utilization, Comfy for HVAC optimization, and other dashboards and analytics) to continue to show the art of the possible. The beauty of all this: we were able to construct our building for $0.60 per sq.ft less than 'traditional' construction, and are almost saving 10% on our operating cost, largely due to the optimization and reduction of our energy consumption (IP-POE-LED lighting is showing us a reduction in energy consumption of almost 80% compared to our traditional comparable offices spaces throughout North America). Maybe you'll enjoy the following two videos that we created about our exciting office space in Toronto: how it is to work in one of the most intelligent buildings on earth; and how you create one of the most intelligent buildings on earth.

Sinclair: You talk about testing new applications in your building. What else do you do to push and pull our industry forward?

Huijbregts: We remain very committed to the opportunities in the smart building marketplace. We are very focused in our Toronto Innovation Centre to advance the capabilities that will help us continue to redefine the purpose of space, and how we ultimately define, design, build and use our future real estate. Stay tuned to see some exciting retrofit lighting (IP-POE-LED) and life safety solutions to come from our efforts. We also are seeking the help from some of the smartest people in Canada—that do exciting research in the best Canadian academic institutions. Cisco Canada is investing more than $17M in scientific and applied research in the area of "Internet of Things," Big Data and Analytics, and industry transformation. Several of our research chairs have a specific focus on the betterment of our built environment. In Waterloo University, we engage with a Cisco Research Chair on re-thinking the demand side of our electrical grid. Smart energy systems (connected, secure, and converged) in our buildings will have a huge impact on the necessary grid modernization. At George Brown College, we are working on a variety of smart building projects with our Industry Research Chair to test and validate new automation and control technologies. At the University of British Columbia, we have collaborated on a project that uses data from our WiFi access points to optimize and control the HVAC within the building. This effort has led to the creation of a new company, Sensible Building Science (SBS), with whom we now gladly go to market. UBC has been able to use the SBS analytics of our WiFi data to reduce its energy consumption by 5%. We just issued an exciting technical white paper and published a video of the exciting effort.


Lastly, we appreciate that these new technologies may need new skills to manage our future buildings. We've worked closely with George Brown College to launch a new building automation program that is geared towards skills for the smart and connected building. Our team has served on the Program Advisory Committee. Last week, we launched a similar partnership with NAIT where we also will continue to work on skill-building for the future construction and facilities manager. We expect our efforts and investments to grow to other colleges and universities throughout the country.

Sinclair: It seems you remain positive about the opportunities in the construction and real estate industry?

Huijbregts: Yes, very much so. In the fourth industrial revolution (where we see the convergence of physical and virtual environments) we have the ability, to redefine our future once again. Every industry (retail, manufacturing, banking, education) needs agile strategies that continue to help them respond to the rapidly changing marketplace. Businesses and institutions need to go through a business transformation to define and execute on an agile strategy. Today, this business transformation is powered by digital capabilities. This is Cisco's sweet spot. The construction and real estate industry—though lagging a little—will undergo a digital transformation, and it all starts with the right, sustainable, scalable, and secure network foundation. There has never been a better time to start digitizing our built environment.

---

[Click Banner To Learn More]
[Home Page] [The Automator] [About] [Subscribe ] [Contact Us]