---
Across My Desk

snippets, blog bits, and url links that are about to fall off my desktop

Founder, Owner, Publisher AutomatedBuildings.com
Every month there is a blizzard of information contained in the emails and newsletters that cross my desk on their way to AutomatedBuildings.com. Some of this information is not in the form of any type of content we can publish but I feel I should share with you these snippets, blog bits, and URL links that are about to fall off my desktop.
Finding the value needle in the Big Data haystack Project Haystack is an open source initiative to streamline working with data from the Internet of Things The Project Haystack Organization is an open source community of people and companies who share that vision Haystack Connect 2017 is organized and produced by The Project Haystack Organization that builds on the inspiration and mission of the community
Digital Buildings June 28, 2017 Harvard University Campus Learn about the digital technology and innovation that will change the way we look at buildings forever. Create dynamic, responsive, and efficient spaces in which future generations will thrive. Everything in our buildings is, or soon will be, connected to the Internet. Explore how to build a networked intelligent building and how to take advantage of advanced analytics to increase its performance.
Pay as you go smart grids in Nigeria? Published on Apr 20, 2017 Sudha Jamthe, CEO of http://iotdisruptions.com spoke to Oluwatobi, an Embedded Engineer, passionately working on multiple IoT projects suited for the local market. Come hear about the Robot in Nigeria and Pay as you go smart grid system and more.
Simplifying Smart Lighting: Launching ALEC for All-in-One Intelligent Lighting Control The simple, affordable and scalable smart lighting system for your office or campus is now available
The results of the IoT Developer Survey. Thank you to all IoT Council members who helped promote the survey. This is the third year for the survey so we are starting to see some interesting trends emerging from the results. I hope the report is a useful data point for the wider IoT industry.Survey report: https://www.slideshare.net/IanSkerrett/iot-developer-survey-2017 Blog analysis: https://ianskerrett.wordpress.com/2017/04/19/iot-developer-trends-2017-edition/
Proven Technology Stack As C3 IoT, the company is meeting an urgent and fast-growing demand for enterprise IoT applications that enable organizations in data-intensive industries to use real-time performance monitoring and predictive analytics to optimize business processes, differentiate products and services, and create new revenue streams. C3 IoT offers a comprehensive technology stack for the rapid design, development, deployment, and operation of next-generation IoT applications that unlock data-driven insights and transform business processes. The C3 IoT Platform is the result of a seven-year development effort from a seasoned management team and industry-leading data scientists and software developers.
In this interview with George Hernandez, Principal Technical Advisor, Buildings to Grid Integration and Buildings Controls Research Program Manager, PNNL. VOLTTRON An agent based open-source distributed control and sensing platform for buildings, the power grid, and the integration of the two to support the deployment of energy efficiency and grid services to increase consumer benefits. We have been very busy building out the VOLTTRON platform and supporting the implementing of several proofs of concept projects to validate various US Department of Energy driven control theories that allow buildings to be more tightly coupled to the grid.
DDC Training with the BAScontrol22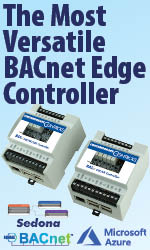 April 2017 - For colleges and training centers interested in providing Direct Digital Control (DDC) system training, Contemporary Controls recommends using the BAScontrol22 unitary controller and the free Sedona Application Editor (SAE). The BAScontrol22 is an ideal controller for training technicians on programming DDCs and use of unitary building automation controllers. The BAScontrol22 provides eight universal inputs, four binary inputs, four analog outputs and six binary outputs (relay) which can be used for most unitary control applications. The BAScontrol22 has two 10/100 Mbps Ethernet connections which provide a simple connection to most PCs or a simple connection to a Wi-Fi network through a commonly available access point or Wi-Fi bridge. By having two Ethernet connections, one can be used for the student's PC and one can connect to an Ethernet switch which interconnects all of the BAScontrol22 units in the classroom. Switches can be cascaded to support more BAScontrol22 units. This would also allow the teacher's PC to communicate to all of the BAScontrol22 units for assistance and examination purposes.
SOUND MASKING Transforming environments into purposeful, productive environments is what we do every day. By creating environments that support both heads down work and collaborative efforts, Lencore sound masking systems improves productivity, comfort, reduces employee turnover and can save thousands of dollars in construction costs.
Harbor Research Report: IoT Challenges Require a New Approach to Data Management and Analytics Data management and big data analytics tools will be the core enabler of new values created by the intersection of the Internet of Things (IoT), people and the physical world. An emerging class of data warehouse and analytics tools, which are increasingly tailored to address unique IoT data requirements, will be critical to realizing the full potential of smart systems. This report examines how the HPE Vertica Analytics Platform addresses your IoT data challenges by blending the performance of massively parallel processing (MPP) with SQL analytics and key IoT-enabling functionality to enable you to derive greater value from your growing machine data volumes.
What's VOLTTRON? VOLTTRONTM is an open source control and coordination platform that DOE is developing as a common platform for distributed control. VOLTTRON enables developers to quickly build secure applications and agents that can unlock more value from building devices through the delivery of end-use services, grid services, and energy market services.More information is available on the VOLTTRON website(Offsite link)
Bolted-on ICS cyber security can be similar to fighting a virus in a hazmat suit - expensive and limiting! A cyber vaccinated ICS uses layered and embedded intrinsic cyber security technologies to deliver consistent low cost protection in a cyber vulnerable world. That is the Bedrock way…future proof your cyber defense now.
How FMs Should Collaborate With IT For Building Internet of Things Implementation
Success with IoT requires blurring the traditional lines between facility management and information technology.
Did you'all listen to Jim Lee talk Haystack on webinar conducted by Jim McHale of Memoori? http://www.memoori.com/audio-creating-transparency-building-analytics/ That new voice on the topic was compelling. It was like a BACnet spokesperson explaining the harmony of the two org's. around Minute 45-49: How analytics projects embedded in major upgrades/retrofits/NC need to have a plan for data definitions from the very start. (BACnet, Haystack)How eventually a connection needs to be forged between BIM and data definitions for control programming How a more informed approach to Value Engineering that takes into account controls implications is needed The trend is toward having a controls expert on the project team from the earliest phases of design in New Construction and retrofit projects.

---


[Click Banner To Learn More]
[Home Page] [The Automator] [About] [Subscribe ] [Contact Us]