---
How building digitalization is changing the Master Systems Integrators focus area

It is well recognized that the number of IP devices is exploding in the real estate industry and is growing faster than previous technical advances

Sabine Lam

https://www.linkedin.com/in/sabinelam/

Google Building Operating Systems (BOS) Global Lead for Real Estate and Workplace Services (REWS)

https://about.google/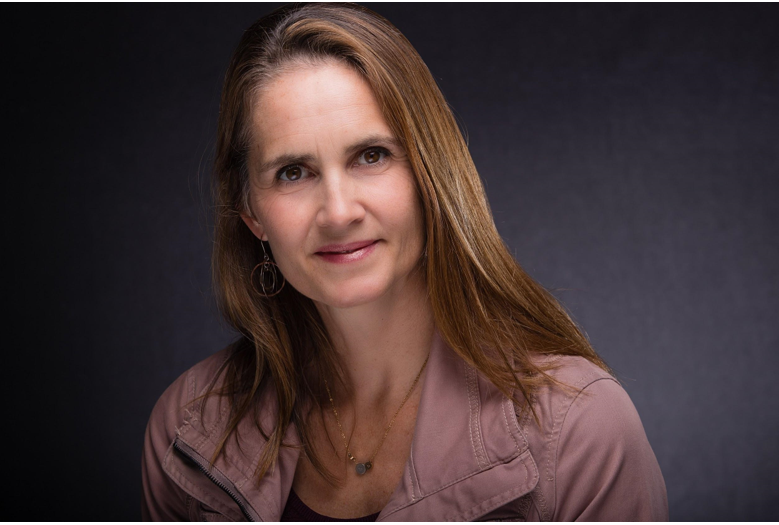 Sabine Lam
Google Building Operating Systems (BOS) Global Lead for Real Estate and Workplace Services (REWS)
Sabine Lam is the Building Operating Systems (BOS) Global Lead for Google Real Estate and Workplace Services (REWS) organization. In this role, she focuses on bringing the connected building vision to the forefront of Google real estate and facilities operations teams and equips them to deliver next generation services and workspaces to enhance employee's security and productivity. Her responsibilities include collaborating with industry stakeholders to work towards a global strategy for building automation systems across the Google portfolio.
Prior to joining Google in 2013, Sabine was a Senior Project Manager at Xilinx, leading the development of Digital Signal Processing IP and FPGA development platforms.
Sabine holds a master's degree in Electrical Engineering from EFREI, Paris, France and is LEED accredited.
It is well recognized that the number of IP devices is exploding in the real estate industry and is growing faster than previous technical advances. Not only because real estate owners and operators are eager for more information to optimize operation, increase comfort and provide an environment that can adjust to their tenant needs, but because of an evolving infrastructure moving away from serial networks, which is a more legacy approach to BAS, in favor of increased IP connected infrastructures with gateway and controllers capable of communicating directly to Cloud . For example, instead of serially connecting 16 FCUs controllers into one IP connected gateway, we now have every single one of these FCUs directly IP connected to the network.
We are looking at a 100x increase in IP connected devices, going from an IoT light environment with an average of 10-50 IP connected devices to an IoT heavy environment with 1000s of IP connected devices per building. The idea behind this transition is (among others) to provide better visibility and life cycle management of these systems by operationalizing regular software/firmware updates keeping the infrastructure up to date and secure.
The building industry works on much longer lead times than the software industry. From the time a building is being procured and when the systems are commissioned, a smart building platform could easily go through multiple major revisions, and the building runs on a multi-year old version of a platform until it gets replaced in the next major fitout many years later.




Not only are we increasing the number of connected devices, but the type of data captured is much more intrusive, entering the realm of legal, data and employee privacy (cameras, mics, occupancy, health...) and the technology much more powerful and intelligent (Edge device with AI, Linux operating system...).
This leads to today's discussion: How can we get visibility, manageability and control of this rich but increasingly exposed environment, and how are MSIs helping us in the process?
A horizontal Architecture

The way buildings are built and operated today is based on a siloed, ruled based approach with limited external data access and where systems integration is complex, insecure and non scalable. It needs to be redefined to enable a secure, manageable and smart ecosystem, and it is argued that creating a technical architecture based on a horizontal layered approach will do just that. (Reference: Realcomm Newsletter: http://shortn/_qjjYBdzyNE)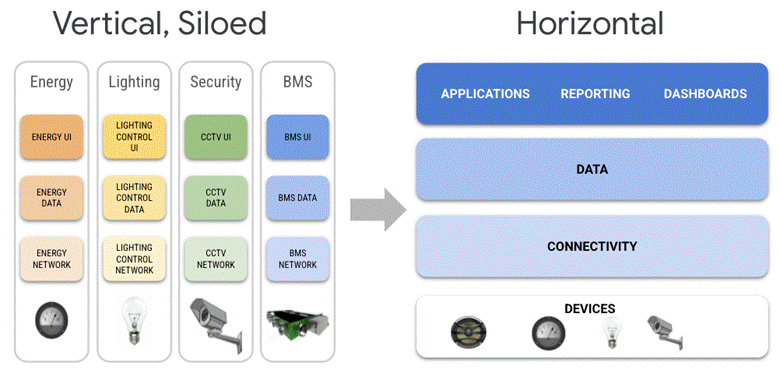 This horizontal infrastructure is technology agnostic, relies on open standards, open protocols and non-proprietary solutions, and achieves the goal of enabling any device to talk to any application, and vice-versa.
Devices layer: IT principles are applied throughout the stack, starting with meeting strict IoT security standards at the device level. Devices are tested to ensure compliance with necessary requirements through manual and automated testing using the DAQ framework.


Connectivity layer: All on-prem systems connect together via a converged network in a way that doesn't compromise enterprise while providing full visibility and control at scale.
Communication and management capabilities such as the open UDMI standard are added to push towards connecting devices to the cloud in standardized and interoperable ways.
Data layer: All the data coming out of these devices is stored in a central location (cloud based data storage) and made accessible to any application that wants to access it. The data platform aggregates and augments building IoT data for real operations usage.
The data recorded is structured using an Ontology where each device is described based on its role (ex: AHU, VAV, FCU - published Building Device Naming Standard BDNS), controls and system topology (relationship), function and point mapping.
These open sourced solutions rely on community engagement to scale and support a broader range of system types and functions, and you can hear more specifically about the Digital Building Ontology directly from the source with Keith Berkoben and Trevor Sodorff in this Nexus Labs podcast: #29: Google's plan for smart buildings at scale.
Although the number of ontology offering is expanding there is only so many ways to model a system, and a strong push towards some convergence or at the minimum a mean to map from one ontology to another as explained by Brian Turner in the AutomatedBuilding article Inside Buildings IOT's Ontology Alignment Project (OAP) and ControlTalk video Episode 378 What's next in the world of Ontology.
Application layer: Dashboards, data analytics, machine learning, AI from third party vendors, or developed in house are applied to building data, enabling a wide range of optimization. The key element is that any of the current or new applications are now unlocked and can be used across the portfolio.
For practical reasons (legacy technology, skills, resistance to change..) it is understood that systems need to be designed to support current (local) and future needs. To that end, a dual communication path enables the traditional local BMS during construction and operations if desired, while the MQTT path enables direct data transfer to the centralized cloud platform for historical data and analysis.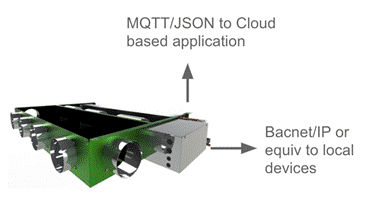 Image attribution - https://commons.wikimedia.org/wiki/File:Fan_Coil_Unit.jpg
Master Systems Integrator (MSI) role:
MSIs are a key element to a successful deployment of this solution. Their role is evolving towards a much more security and data driven focus area where OT protocols are being replaced with everything communicating IT (MQTT/UDMI) and where the data modeling aspect is a means to enable applications across an entire portfolio instead of specific to one building.
Their role covers a wide range of tasks such as the ability to qualify devices against IoT security requirements, describe devices/point lists/relationships in a human-readable data-serialization language (yaml), register devices and host telemetry data in Cloud.
The skills required include strong understanding of IT security standards, networking, cloud based protocols, Linux based OS coding…. We are asking mechanical engineers to become proficient in IT and coding.
The concern is that the need for MSIs will be exponential with the increased complexity of building control/IoT systems and the growing number of IP devices. Today, the MSI is expected to deliver an accurate replica of the physical space in a digital format on the first day of business, but would also be needed throughout the life cycle of the building to properly represent any update made to the building. This is unsustainable, and a high level of automation will be required to ensure consistency, accuracy and scalability.
Deployment steps: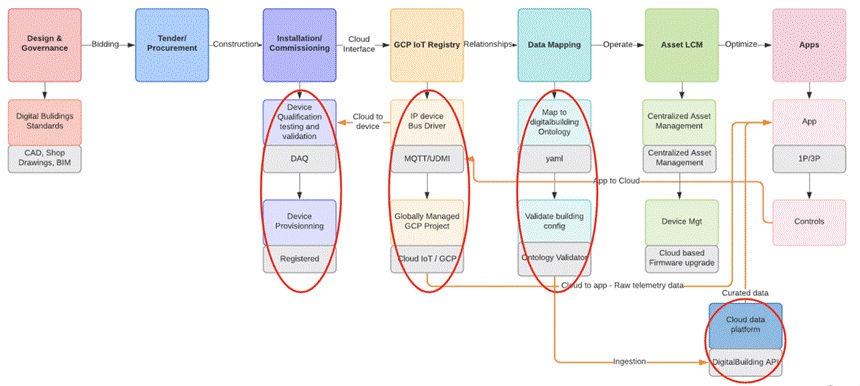 To hear more, join us in the Controls-Con Business Track on Friday, May 7th, 2021 where I'll share how Google is applying IT principles, policies and practices to the OT world, has pulled together a cross functional team from 5+ organizations and surrounded itself with industry experts and leaders to address the problem for a very large and varied portfolio. I will dive into the MSI role and the new demanding and technical skill set we come to expect and are required to tackle in this gigantic digital building endeavor. Controls-Con is A Smart Building Controls Conference and World's First Master Systems Integrator Conference. Learn more at www.controlscon.com.

---


[Click Banner To Learn More]
[Home Page] [The Automator] [About] [Subscribe ] [Contact Us]