The convergence of IT and building systems technology has produced secure, cost-competitive products that are more effective for demand response than non-networked control.

Rachel Reiss,
Senior Research Associate
E SOURCE Technology Assessment Group
Platts Research & Consulting rachel_reiss@platts.com
---
The proliferation of the Internet and information technology (IT) hasn't stopped at the outside of buildings--it's actually changing the way that buildings are operated. Facility managers and energy service providers (ESPs) are beginning to reap the benefits of networked building control--the practice of integrating building management systems (BMSs) with corporate intranets or the Internet.












One of the main advantages of networked systems is that facility managers can control the operation of buildings scattered across a campus or across the U.S. It's no longer necessary to physically travel to numerous buildings to control equipment. And because these networked building systems are easier to use, facility managers are more likely to detect equipment problems before a total failure can occur.
In addition, the price of a networked system is often comparable to that of legacy systems, because the new system can leverage existing IT infrastructure. Although there have been concerns about security with these network-based systems in the past, industry experts assert that they are now as secure as legacy systems. IT professionals have been working closely with building managers to ensure that the new building systems have appropriate firewalls and use encrypted data.
Why Networked Building Control is Better for Demand Response Programs
The convergence of IT and building systems technology has produced secure, cost-competitive products that are more effective for demand response than non-networked control for several reasons:
It's cost-effective. To determine whether a technology is feasible for load control, we typically compare it with the cost of new generation. If it costs about $400/kW for a new gas turbine, then any technology that costs significantly less than $400/kW could be considered cost-effective. We can't place an exact price per kilowatt on networked building control because each installation is so location-specific, but we have evaluated the economics of several projects and it seems as though networked building control is cost-effective for load control (Table 1).
Table 1: Cost-effectiveness of networked building control for demand response
The California Energy Commission runs its Enhanced Automation program to provide information and technical assistance to facilities wishing to upgrade their building management systems (BMSs). The goal of the program is to enable facility managers to better control energy costs and to respond to price signals while maintaining the comfort and productivity of building occupants. All of the installations implemented under this program have proved to be cost-effective.
| | | | |
| --- | --- | --- | --- |
| Project | Project Cost ($) | Curtailable demand (MW) | Cost per kW ($) |
| Alameda County | 280,000 | 1.4 | 200 |
| Staples | 320,000 | 2.8 | 114 |
| Hewlett-Packard | 275,000 | 1.5 | 183 |
| Foothill-De Anza Community College | 283,140 | 1.7 | 166 |
| Lafarge | 273,333 | 22.0 | 12 |
It enables a faster response. The remote control capabilities provided by networked building control make it possible for facility managers to respond to curtailment signals more quickly than they can with non-networked systems. With older stand-alone systems, a facility manager has to run around and manually shut off equipment in response to a curtailment request. If that manager is responsible for buildings spread out over a large campus, or even across the country, that task could take hours. And if the facility manager happens to be away from his office and the dedicated system workstation, his company wouldn't be able to respond to curtailment signals at all. With the remote control capabilities inherent in networked building control, facility managers can respond quickly and easily, no matter where they-or their buildings-are.
Multiple facilities can be aggregated. Web-based building management allows multiple buildings to be controlled from a single location. This functionality is extremely valuable to university campuses or office parks as well as to chain stores or national accounts with facilities in different places. Large corporations using networked building control are able to reduce load in response to requests from utilities and other energy agencies more effectively than if load for each individual store had to be adjusted. Aggregation was not possible in the past because the cost of running phone lines to each facility would have been cost-prohibitive; network-based control offers a cost-effective alternative.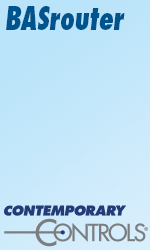 Another benefit of aggregation is that load reductions aren't as noticeable to occupants. That's because the networked system can rotate the cycling of equipment across a large number of buildings. This helps to maintain occupant comfort and to keep processes running during load curtailment.
Utilities can also receive data. Networked building control can allow utilities to monitor their customers' energy usage to prepare for peaks. For example, a utility could pull up a facility or campus Web site, and use a monitoring-only password to look at energy-related information for that facility. In the absence of a Web-based system, the utility could only access this information by sending someone to the facility or asking the customer for a printed report.
Access to this type of information is also useful for ESP load management activities. Before the utility sends out a curtailment signal, it could check to see how much load is online. Or after a signal has been sent out, utility personnel could check to see how much load is actually being reduced. We're not aware of any utilities that are using customers' networked building management systems this way at present, but we expect that there will be some early adopters before long.
Because networking building controls is cost-effective for demand response and enables faster response to curtailment signals, it would seem that ESPs with demand response programs could benefit by encouraging their customers to adopt this technology. The facility managers probably won't mind the temporary disruption of having such a system installed, because networked controls will help them maintain occupant comfort and continue operations during curtailments.
What Will the Future Hold?
Despite the advantages of networked building controls, BMSs still lack the means to communicate with each other and with other business systems unless they're designed to speak exactly the same language. In the near future, we expect more building control systems will be based on Extensible Markup Language (XML), which is used for Internet programming. Using XML will help integrate building systems with each other and with other business systems, and it will enable the businesses that manage buildings to run more efficiently.
XML-based controls could further enhance demand responsiveness, as well. With the exception of a few online services like Apogee's Demand Exchange, utilities resort to using fax, e-mail, or telephone to notify end users of a curtailment event. With XML-based controls, the utility's load management system could speak directly to a facility's BMS to automatically initiate and perform curtailments without the involvement of a building operator.
---
ABOUT THE AUTHOR
Rachel Reiss, a senior research associate with the E Source Technology Assessment Group at Platts Research & Consulting, investigates and writes about energy-efficient end-use technologies, load management, and energy management systems. Prior to joining Platts, Rachel worked for a competitive energy services company, where she provided regulatory tracking and managed programs to implement energy efficiency. She also has experience working on various environmental marketing efforts and renewable energy projects. Rachel received her BA from Colgate University with a major in political science and a minor in environmental studies.
Rachel will be presenting more information on this topic at the Association of Energy Services Professionals 14th Annual National Energy Services Conference and Exposition on December 9 in New Orleans.
---


[Click Banner To Learn More]
[Home Page] [The Automator] [About] [Subscribe ] [Contact Us]