---
Why you cannot afford to miss the BuilSpec Seminar near you.

A Sneak Preview
Ken Sinclair
AutomatedBuildings.com

Why should I get involved in BuilSpec 2004 intensive and interactive seminar? http://www.builspec.com/
While the name "BuilSpec" suggests that this day would be for those whose heads are deep in the legal jargon of building specifications, my sneak preview reveals that the scene setting power of this BuilSpec day is to be shared by all who seek to find out more about open automation systems and enterprise convergence. Interactive sessions will allow the local flavours of automation in your area to seep through and the community that controls its implementation will be challenged with the process of not only accepting change but embracing it. It is not just a chance to catch up, it is the start of a movement in the industry that I think you want to be part of.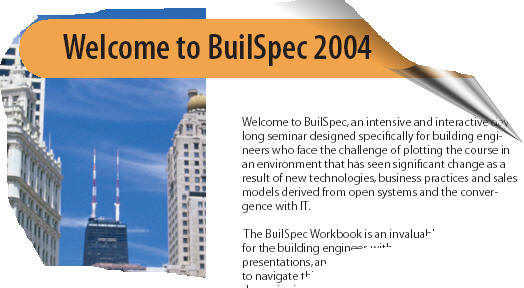 BuilSpec is a concise organized one day presentation encompassing the recent rapid evolution in open automation and internet standards presented by the people who helped them happen. It is an opportunity to quickly understand what has gone on and what is likely to happen in the near future with open systems and enterprise integration. This mind expanding event will allow you to reset the hinges on your present knowledge base and to move ahead into today's world of convergence.
You must get involved in this movement if you wish to stay current in today's rapidly changing industry. This is not just another one day course - this is the vehicle that will objectively connect you to both your local and the global open systems community. As an industry we are well beyond the early adopters stage, but the need for our understanding of this information is being thrust upon us by our clients wanting "openness" and enterprise convergence but not knowing what that exactly means.
To allow the renaissance to occur you must believe that your leaders are leaders. Anto Budiardjo and Clasma have brought much needed attention to the subject of convergence through numerous industry events such as BuilSpec, BuilConn Americas, BuilConn Europe, the XML Symposium and the M2M Expo and Conference. Through such events, Anto strives to motivate and educate the buildings industry about the immense benefits of whole building integration and its staggering potential value to the building owner and operator. Paul Ehrlich, a well-known industry stakeholder and advocate of integrated and intelligent buildings, is Clasma's program development director and chief content developer for the BuilSpec Education Seminars.
I have known both Anto and Paul for several years and have admired their energy and ability to lead. These two have taken it upon themselves to lead our industry in the assembly of the blizzard of information on open systems that falls on us daily. If you have not had the benefit of attending one of Anto's ground breaking BuilConns or watched Paul's activities to balance commercial, technical and industry needs then you have missed much of our industry's recent evolution. The growth of open systems in the last several years has been carefully moulded by these two.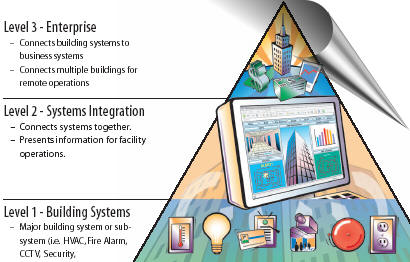 I have digitally taken bits from the seminar content to provide a sneak preview of what you would be missing if you do not attend. The agenda reads "with chances to learn, share, network and discover the answers to many of your questions regarding building systems, convergence, integration and building automation." and I have no doubt that you will.
The Session starts with Understanding the Issues with a lively opening on the Future of Facility Management. It then swings into an interactive session that will allow you to put your issues on the table and interact with the seminar. Some history and insight allows you to set some business goals from all of this. I digitally tore this pyramid from the seminar content as it is the backbone of many of the course's powerful graphics that simplify complex subject matter. The rapidly moving seminar then turns its focus on the bigger issues of building intelligence, industry structure, and internet standards. More simplified graphics are presented of very complex things that show the Open System Interconnection model and true open system architecture. The seminar also deals with major issues like security, shared data and the expectation of our client in the presentation and use of real time data. New business models are presented to help us evolve as quickly as we can, as well as advice on what we need to do to make that happen.
The seminar's pace is quick and interesting with the following issues being well presented and discussed:
The impact of the internet and its constant growth;

The synergy of structured cable systems and open systems;

How the game changer "Wireless" will change all the rules;

Internet appliances, protocols, the power of web browsers and the mobility of web ways;

How to walk and talk IT, but mostly how to think IT and the skills you must acquire;

Connection to resources to help you understand all of the above.
The course content is full of take-away resources you do not want to miss.
BuilSpec is endorsed by these open system organizations LonMark, BMA and oBIX. A strong session on Open Systems Standards provides the unbiased facts – accompanied by actual case studies – showing the benefits and challenges with the use of an open system. Benefits of open systems with an overview of current and future options for BACnet, LonWorks, oBIX and other initiatives. Modbus, DALI, EIB/Konnex, and OPC are also discussed as well as gateways. The interoperability of all is discussed and a rating system provided.
A valuable design process guide is included to help you understand how to procure really open systems. Projects are discussed and design exercises allow you to work with your new found open community to design tomorrow's buildings. The new CSI sections and the power of the LEED program are demonstrated.
The power of performance over prescriptive specifications in a changing world is discussed and demonstrated and the nuts and bolts of point lists and good schematics are taught.
You will take away from this seminar new knowledge, resources, and connection to a community that will change your point of view and help you change the views of others.
No, it is not too late! You can still register, but do it now http://builspec.com/register.asp
---


[Click Banner To Learn More]
[Home Page] [The Automator] [About] [Subscribe ] [Contact Us]