---
| | |
| --- | --- |
| BuilConn: Cisco's Connected Real Estate Roundtable Working Paper | Ken Sinclair |
The first ever Connected Real Estate Roundtable in Palm Springs on the vision of integrated IP-based building systems has been captured in a working paper by Stanford University.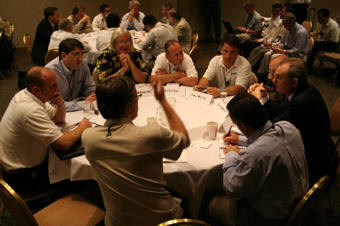 I had the opportunity to be part of the first ever ConnectivityWeek Cisco round table in Palm Spring May 2006. In June I wrote this review.
Connected Real Estate Roundtable, Palm Springs BuilConn
I was extremely pleased to be invited to the first ever Connected Real Estate Roundtable in Palm Springs. The following are observations and summations I made while there and is intended to provide the flavour of the information served around the roundtable.
This event has been documented OCTOBER 2006 by CIFE - CENTER FOR INTEGRATED FACILITY ENGINEERING by Tobias Maile & Martin Fischer of STANFORD UNIVERSITY in a Working Paper #098
BuilConn: Cisco's Connected Real Estate Roundtable - The Vision of Integrated IP-Based Building Systems
Abstract
CIFE research shows that Virtual Design and Construction emerges in phases: visualization, followed by computer-based data integration and finallyautomation of design, construction, and operational activities. Based on the BuilConn Conference Roundtable hosted by Cisco Systems in May 2006, this white paper lays out some of the owner requirements to support IP- and computer-based integration of building systems. The participants detailed the value proposition, challenges, and related engineering and business transformations of integrated building systems. While cost savings, new advanced services, and flexibility in building operations are the major benefits, the main challenges are the missing awareness and knowledge in the building industry, the implementation of appropriate security, and the realization of reliable critical building operations. Furthermore, the balance between IP and non-IP devices, benefits of the IP protocol itself, and the need for more elaborate standards were discussed at the Roundtable. The Roundtable participants identified the following critical transformations within the building project environment to make integrated IP-based building systems a reality: more flexible contracts, earlier involvement of integration experts, and more flexibility in today's design process. The participants felt that only when these transformations are accomplished and the mentioned challenges resolved will companies be able to take full advantage of the benefits and realize the vision of integrated IP-based building systems.
This working paper can be down loaded from www.builconn.net/2006/na/downloads/WP098.pdf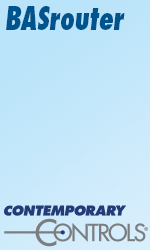 Cisco Systems has sponsored a roundtable discussion in Amsterdam and now has one planned for Singapore. As a major player in the networking industry, Cisco seeks to engage in a dialogue with building owners, developers and intelligent building stakeholders to establish leadership in the development of this groundbreaking solution worldwide. Cisco is committed to supporting the global real estate industry in the transformation of how we build, own, operate, and use real estate. Cisco views building automation as one of the essential enablers for this transformation. Consequently, Cisco is reaching out to expand its role in this exciting opportunity.
The first Asia-Pacific Connectivity Week 14-16 November, 2006 Suntec Singapore is the home of BuilConn, M2M Expo, Wi-tivity, ibX Forum, LonMark Connection and GridWise. More Information www.ConnectivityWeek.com
Complete program http://clasma.net/2006/downloads/AP-CW-Sheet.pdf
---


[Click Banner To Learn More]
[Home Page] [The Automator] [About] [Subscribe ] [Contact Us]