---


INTERVIEW – Pook-Ping Yao and Monica McMahen,
Pook-Ping Yao, CEO, Optigo Networks,

and Monica McMahen, Director of Marketing, Optigo Networks

---
The Future of BACnet

The BAS industry is at a turning point, with IP connectivity shifting the way we see our brick and mortar buildings.

At Optigo, we live and breathe BACnet. Our Visual BACnet diagnostics and monitoring platform has us chatting with experts from companies all over the industry, and technicians who use BACnet day in and day out.

One of the biggest questions on our minds this past year was: where's BACnet going? The BAS industry is at a turning point, with IP connectivity shifting the way we see our brick and mortar buildings. BACnet is the foundation for over 60% of buildings worldwide, according to BSRIA. How is it adapting for this new future?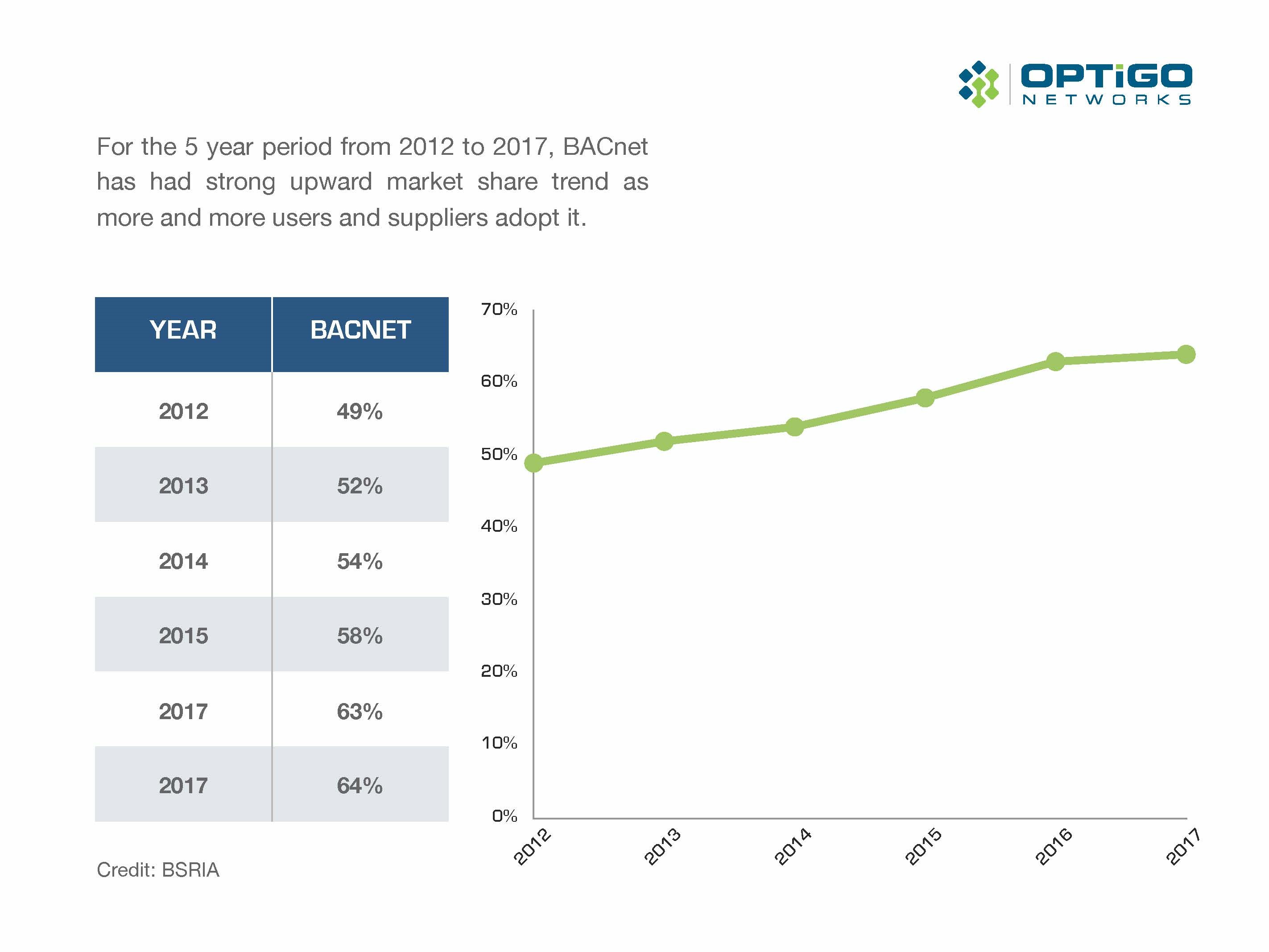 We recently hosted a webinar on the Future of BACnet, featuring heavy-hitters in the industry like Andy McMillan of BACnet International, Phil Zito of Building Automation Monthly, and Adam Rinderle of bluEvolution. It was a jam-packed session with plenty of questions from the audience. (Get the panelists' answers to those questions in our Q&A post!)

I chatted with our CEO, Pook-Ping Yao, to get his thoughts on the webinar, BACnet today, and where the protocol's going.

Monica McMahen: So, what was it really like hosting a webinar on BACnet with three such knowledgeable, opinionated experts?

Pook-Ping Yao: It was fantastic! They all brought such different perspectives to the table. Andy's the expert on where the protocol's been, and where it's going. Phil knows about the on-the-ground realities of building automation. And Adam sees how IT and OT [operational technology] work together on huge networks; he knows what issues come up as systems get larger and larger.

Monica McMahen: Diving right into some questions, what do you think is the biggest driver behind the growth in BACnet adoption?

Pook-Ping Yao: That's a great question. BACnet's market share has grown a lot, especially in the last few years, and so has the size of the building automation and controls market. I think the primary reason for the growth of BACnet is its open nature. Originally, building owners — who didn't want to be locked in with a single vendor — forced the industry to offer an open solution. And that's where BACnet started. Now, BACnet is growing because it is offered by vendors both big and small, and supported by a growing pool of talented technicians. Because of that adoption, BACnet has also quickly evolved from MS/TP to support IP and even wireless.

Monica McMahen: There's been great success with IP, but we still see a lot of MS/TP being deployed in buildings. How do we change that, and should we change it?

Pook-Ping Yao: I do think that needs to change in the years to come, but I'm honestly not sure how or when it will. MS/TP is just a huge pain to work with. We see problems all the time that are caused by simple wiring issues and lack of performance to support newer applications such as analytics. That's a big problem, especially as our networks continue to grow.

But we're in an industry with an "If it ain't broke, don't fix it" mentality — even if MS/TP is, in my opinion, a broken system. Our industry wants to save money. They don't want to make big changes, or leap to a new solution too quickly. And I understand that, but I don't think clunky MS/TP wiring is a sustainable solution anymore. There might still be some practical applications for it now, but those are getting to be few and far between.

Monica McMahen: As you know, cybersecurity is a huge topic at Optigo. What does that look like in BACnet?

Pook-Ping Yao: Well, I'm very excited by the new updates coming out with BACnet Secure Connect. It's going to address issues of authentication and encryption, and it's going to better align with IT security standards. I think this will help make BACnet devices more secure, but it will also make it a lot easier for IT and OT teams to work together. Suddenly there's common ground, a common vocabulary that we can come together on. I think there's still a lot of progress that can be made in BACnet, and especially in educating the community, but this is a big step for the protocol.

Monica McMahen: One of the most significant challenges we hear about is finding and hiring good people. There's a knowledge gap, and we're all concerned what this industry will look like as more and more of our top people retire. What's the solution to this? How do we push this industry forward for the next 10–20 years?

Pook-Ping Yao: There are options out there for learning and getting started in BACnet. BACnet International has a lot of learning resources with the BACnet Institute, and it's a great way to get started in the industry. I have so much respect for what Phil Zito is doing with Building Automation Monthly training. I think he's become a real influence in the industry, and is helping so many new technicians learn the ins and outs. Tools like our own Visual BACnet make it much easier to understand BACnet networks, so you can monitor and manage your systems without being a Wireshark expert.

But I'd love to see more of this exchange of knowledge and innovation. I think we need to reduce the barrier to entry and make it even easier for people to get in and start learning about the industry. I'd love to see mentorship programs, so our current BACnet Whisperers can pass the baton to the next generation. That sort of sharing of ideas would be a game changer.

Monica McMahen: Fantastic suggestions. Thank you for sharing these, Ping!


---


[Click Banner To Learn More]
[Home Page] [The Automator] [About] [Subscribe ] [Contact Us]