---

In today's network world, the controller is the server

David Lamarche
Director of Communications
CAN2GO™

We live in a world of networks. Your car's navigation system, your smartphone, your baby monitor, your PCs and router, and so on, are all part of networks. We forget about it, we function within those networks, as it should be.















Surprisingly, even though building automation is a landmark networking industry, and despite the constant emergence of new communication and processor technologies, the BAS industry's technological portfolio has progressed at a snail's pace.

Over that last three decades, we went from rotary phones to omnipotent satellite-linked devices combining phone, camera and computer functionalities with web browsing and augmented reality capabilities. Over the same period of time, the building automation industry has barely been able to gather around a limited number of standards, sticking with the same basic hardware and software models. That is changing.

Web based building automation: the future of the industry
The emergence of wireless devices isn't the only recent major change in the building automation industry. The growing movement towards IP solutions is also expanding the possibilities of contractors and end-users.

The advantages of IP
Web-based solutions provide the obvious advantage of remote access from a plethora of locations and tools. Depending on the case, desktop computers, laptops and smart phones can be used by end-users to manage the desired applications. This provides freedom for building managers, who can execute their daily tasks with more flexibility. They can also answer the call more easily if an emergency arises, from basically anywhere.

Even at the floor level, IP networking offers more than MSTP. More bandwidth, more distance without repeaters and more network configuration options. And in most office and institutional buildings, LANs are ubiquitous, making setup for IP solutions much easier than MSTP alternatives.

IP is also advantageous because it allows the integration of parallel applications. Building automation systems, in charge of lighting and HVAC, will grow to include other systems. Some security systems are already being integrated with building automation through IP solutions. Entertainment and other such systems could be as well.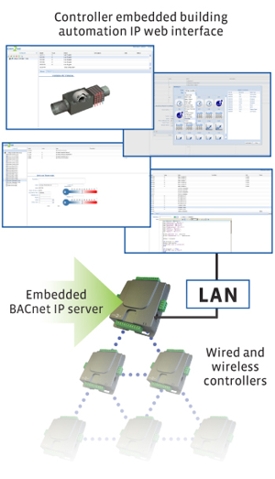 Server cost, rental cost and server location
Of course, any internet protocol solution requires a server; meaning additional costs, fixed or recurrent. This server needs a location and backups so that one PC going down won't result in an entire building being unmanageable. Accordingly, that all adds up to significant spending and logistical concerns. Fortunately, there is an alternative.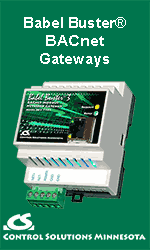 The controller is the server
Servers are essentially computers built to tackle a specific core application. Over the years, computers have decreased in size and increased in capacity/power. Today, you can easily find powerful notebooks or netbooks that are basically the size... of a controller. There weren't any controller/server hybrids in building automation... until today.

CAN2GO™ boasts a complete line of wired and wireless building automation controllers that are also BACnet/IP (and BACnet/Ethernet) compliant web servers. Each unit (controller) is an autonomous server, hosting the complete system. When connected to the same network, they "merge" to provide the end-user with one centralized interface from which everything can be managed. The interface is made available on the World Wide Web through a secure channel by connecting one or several units to the building's LAN.

Because each controller is a server, every system rests on a large number of backups. As well, every controller connected to the LAN (through each unit's Ethernet port), creates another entry point for the network.

Regarding costs, the web interface is included with the controllers, so the end-user doesn't have to pay for any software, license, server, or backup services. End-users therefore save money while gaining flexibility and dependability.

To put it succinctly, the controller/web server hybrid means that buildings can now be managed from any machine, anywhere, without any OS or software compatibility issues... ever. You only need a web browser. That is the power of IP building automation.

Opening new markets
Small and medium buildings of 100,000 square feet or less represent 98% of all buildings and 65% of building space; but are 41% less retrofitted than larger buildings. They are seldom equipped with building automation systems, namely because of high relative cost and lower return on investment. Up front, fixed costs, such as software and server, are proportionally more burdensome for small buildings. Why pay several thousands for a server or software when there are only a few dozen controllers in the building?

Because the CAN2GO™ IP web interface comes with the controllers, the software or server cost is zero; therefore opening the small and medium buildings' market. This allows integrators to offer better pricing for smaller projects, while end-users can expect a faster payback. End-users who were sitting on the fence about building automation are now offered the same return on investment that larger buildings have been getting.

For more information about the CAN2GO™ technology, visit www.can2go.com

---


[Click Banner To Learn More]
[Home Page] [The Automator] [About] [Subscribe ] [Contact Us]