---

EMAIL INTERVIEW - Danny Yu & Ken Sinclair
Danny Yu, CEO of Daintree Networks
Danny brings 20 years of leadership and growth company experience in lighting, communications, enterprise infrastructure, and semiconductors. Prior to Daintree, Danny was Vice President of Segment and Strategic Marketing at Philips Lumileds where he led global marketing, business development, and product definition for Solid State Lighting segments. He originally joined Lumileds prior to its acquisition by Philips as Vice President of Global Major Account Sales and Business Development. During his tenure at Lumileds, Danny led multiple lighting businesses from start-up to $70–$100M in revenues and market-leading positions.
---
The lighting industry and lighting controls today
Our ControlScope platform is a software-based system that we provide to leading manufacturers in lighting and building controls, which allows them to easily bring to market complete wireless control systems that are open-standards, easy to use, and incredibly robust.















Sinclair: What is the state of the lighting industry and lighting controls today?
Yu: Lighting is going through a massive industry change, both in technology and in the way the industry itself works. There's a "perfect storm" of regulatory pressure, desire from utilities, ESCOs and others, the support for green buildings, and of course new technology. This rapid change is really emerging in two key areas – first, the drive for energy efficiency in lighting sources (such as LEDs); and second, the drive for energy efficiency and management through better control. This is where Daintree focuses – making buildings more energy-smart by providing better control of when and how lights are used.

The lighting control industry certainly isn't new – some of the core concepts behind occupancy sensing, scheduling and daylighting have been around for decades, and it's been proven that these control strategies can reduce lighting energy usage by up to about 70%. Unfortunately, only about 7% of the commercial buildings in the US have real lighting control systems today.

This is generally due to the technology behind those systems – they're hard-wired, which makes them expensive, complicated to install and maintain, and also they're proprietary to each vendor. And these problems are magnified when you look at retrofit environments, where adding large-scale control systems is often an impossibility.
Sinclair: How does wireless fit into the equation?
Yu: Wireless networking provides a convenient answer to these issues. By removing the dedicated wiring required for large-scale lighting control systems, the cost goes down drastically and the complexity of installation and commissioning is reduced. Intelligent lighting control systems suddenly become a very real and viable option for retrofit environments, high-bay areas such as warehouses, and other areas where controls weren't previously considered.

Wireless also makes it easier to turn room-based lighting control into a real lighting network. Most of the lighting controls installed today are "closed-loop", covering a room or small area. By removing the tether, so to speak, lighting control becomes flexible enough to cover as large and diverse an area as you would like. And if an end point (such as a ballast or sensor) needs to be changed or added, it can be done easily without disrupting other elements of the system.
Sinclair: What does Daintree Networks do, and how is it different from some of the other lighting controls on the market?
Yu: Daintree provides an intelligent wireless platform for lighting control. Our ControlScope platform is a software-based system that we provide to leading manufacturers in lighting and building controls, which allows them to easily bring to market complete wireless control systems that are open-standards, easy to use, and incredibly robust. We help manufacturers make their products and lighting systems wireless, and we provide them with the networking and controls intelligence that makes these systems scalable, reliable, and valuable to their customers.

At the end of the day, what building owners and facility managers get is a full-featured, Web-based system they can use to control all of their lighting, view and manage energy usage, apply a wide range of control strategies, and tie directly into Demand Response programs from their utility. And because we offer the industry's first truly interoperable wireless lighting control systems, these customers get a much broader (and ultimately lower cost) choice of solutions.
Sinclair: Why are open standards and interoperability important in lighting control?
Yu: The lighting market today is very fragmented – a retrofit might include switches and sensors from one company, ballasts from another, and a mix of fluorescent and LED luminaires. No single control system today can manage all of these elements. Most of the companies offering complete control systems have developed their own proprietary technologies and products, often making them unnecessarily expensive and limited to very specific types of customers.

By using the widely-adopted ZigBee wireless mesh standard, Daintree changes this equation. We're helping a wide set of suppliers create standards-based products that can all work together, and can be controlled over the same network. This keeps costs low (because the components are standard), and gives customers choice, but also gives the manufacturers access to new types of customers.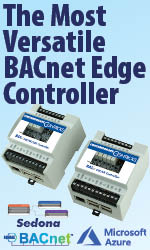 Sinclair: How does a Daintree-based system work?
Yu: The core of our system is the ControlScope software platform, which defines the lighting strategies and manages communications between all the devices in the system. We use a Wireless Area Controller to provide this intelligence to a distributed area (such as a building floor or wing) of lighting devices - wireless ballasts, LED drivers, sensors and switches, all of which are networked together wirelessly with a ZigBee mesh network. Multiple Wireless Area Controllers are connected via Ethernet, and controlled centrally from any location via the Web-based ControlScope Manager software interface.
Sinclair: What is Daintree Networks' history in this area?
Yu: We come at this market from a unique perspective. We got our start in the wireless networking field, and since 2003 the company has been an innovator and leader in building reliable, large-scale ZigBee networks. We've now applied that knowledge and expertise to the lighting control market. Of course, our team also includes experts in the lighting and building industry as well.
Sinclair: Does intelligent lighting tie into the smart grid?
Yu: Absolutely. Once a building has installed a controllable lighting network, that network can easily connect with other existing control systems within the building as well as share commands and data from the grid. This is especially true since many of the smart grid / smart meter providers use ZigBee as their communications network. And because the network communicates bi-directionally, the system is constantly collecting data about energy usage and activity, so the facility manager can make more intelligent energy decisions.

One area where we believe lighting will become increasingly relevant is Demand Response / Demand Management, which has traditionally been limited to HVAC and primarily manual systems. Our ControlScope platform is designed to receive external commands that can trigger a DR event, and automatically tune down lighting according to the facility's approved configuration.
---


[Click Banner To Learn More]
[Home Page] [The Automator] [About] [Subscribe ] [Contact Us]