---

EMAIL INTERVIEW – John Petze and Ken Sinclair
John Petze, Principal, SkyFoundry
John Petze, C.E.M., is a partner in SkyFoundry, the developers of SkySpark™, an analytics platform for building, energy and equipment data. John has over 30 years of experience in building automation, energy management, and M2M, having served in senior-level positions for manufacturers of hardware and software products including Tridium, Andover Controls, and Cisco Systems. At SkyFoundry he is working to bring the next generation of information analytics to the "Internet of Things".

More information on SkySpark® analytics is available at www.skyfoundry.com
---
View Builder

View Builder provides a simple "point and click" environment to assemble custom views – you don't have to be a software developer to create actual live, interactive Apps.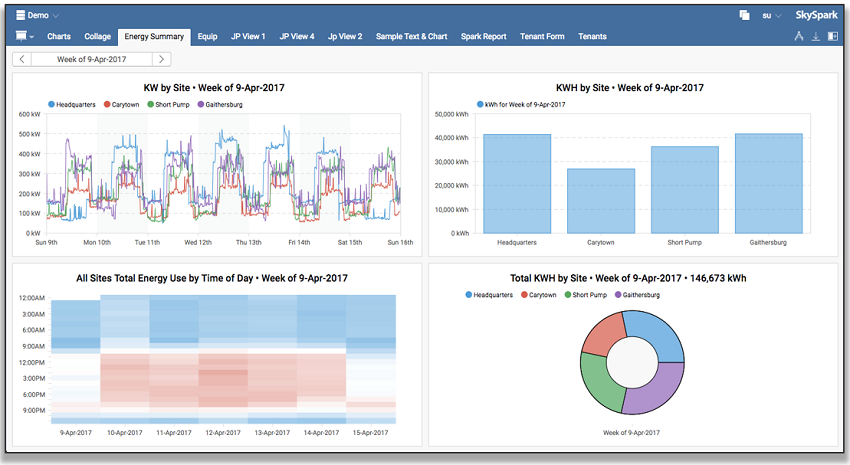 Sinclair: John, you recently made a major announcement about a new SkySpark feature called View Builder. Can you tell us more about it?

Petze: As you know, our focus is on turning the data from devices and equipment systems into value using analytics. A critical step in the process is delivering results to operators in a way that makes analytic findings easy to understand and act on. That step is often referred to as the User eXperience.

Analytics results are only valuable if they drive a process to address issues to improve efficiency and reduce cost. If the process required to create those visualizations results in significant costs and extra effort the value of the analytics is diminished, and the potential savings will not be realized.

One of the main features that has made SkySpark so successful is that it automatically creates rich visualizations of analytic results and operational data without requiring engineering effort to build displays. This capability was a break-through when first introduced in 2011. It has eliminated countless hours of labor typically associated with creating graphical displays of equipment data, operational conditions, and analytic findings.

While our users love the efficiency the automated apps provide, there is often a desire to create customized presentations of operating data and analytic findings. SkySpark's new View Builder technology takes the next step in data visualization by enabling users to create their own visualizations, reports and fully interactive Apps without needing software development skills. View Builder provides an extensive library of display widgets and a simple point and click tool for creating views.

Sinclair: So would you consider View Builder a reporting tool?

Petze: View Builder is about more than assembling reports with charts and graphs – it enables users to create customized actual live applications that combine graphs, tables, text, selection boxes, data entry fields, images and more. We refer to it as "Compose-able" Applications. And, once created, views are easily reused to streamline further project work.

Reports are an important tool for sharing analytic findings though. Many team members responsible for operating building systems may not actually work with an analytics software application directly. So View Builder is a reporting tool as well. Any view created with View Builder can be exported easily as a report in a range of standard formats. This can be done manually with a couple of clicks, or SkySpark can be set up to generate and email reports as attachments or hyperlinks automatically.

Different users often have different needs and want to see their data and analytics results in different ways. Historically you would have to resort to tools that require a high level of software development expertise to create these type of views and Apps. View Builder provides a simple "point and click" environment to assemble custom views – you don't have to be a software developer to create actual live, interactive Apps.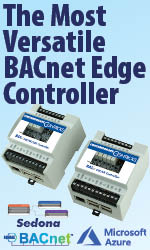 We think that combining the benefits of automatically generated Apps, with the ability for users to create their own customized views quickly and easily, provides the best of both worlds and creates a revolutionary new take on web-based UI's for smart device, data-rich applications.

Sinclair: Where can people learn more?

Petze: To really grasp the full power of this new User eXperience technology you will want to see a live demonstration. Contact us at info@skyfoundry.com to learn more.

Sinclair: Anything else you would like to share with our readers?

Petze: YES! We are excited to announce our very first "SkyPosium" Community Event for all SkyFoundry partners and end users. The SkyPosium event is designed for the entire community of SkySpark users—our reseller partners, end users, engineering consultants, and SaaS providers—everyone that uses or applies SkySpark. The dates are Nov 14-15, and you can find full details here: https://skyfoundryevents.com/

And one final point – did you know SkySpark can now tweet analytic findings?

---

[Click Banner To Learn More]
[Home Page] [The Automator] [About] [Subscribe ] [Contact Us]