---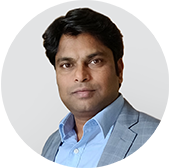 EMAIL INTERVIEW – Ken Sinclair and Umesh Suryawanshi
Umesh Suryawanshi, Director Technology at Softdel
(LinkedIn profile - https://www.linkedin.com/in/umesh-suryawanshi-3945586/)

Umesh is a technologist and has over 19 years of experience in developing smart and connected products. Umesh's inimitable style of leadership, combined with his sharp focus on technology realization and customer experience has helped Softdel emerge as a leading global Industrial IoT solution provider with a focus in the Smart Lighting, Smart Building, Industrial Automation and Retail Automation segments. His experience cuts across large and complex customers with mature product lines as well as early stage companies where product roadmaps are not fully defined.

Prior to joining Softdel, Umesh worked with Tech Mahindra, Tata Elxsi, Tata Consulting Services and Automotive Research Association of India. Umesh holds a bachelor's degree in Electronics from Walchand College of Engineering, Shivaji University, India.

---

"Beyond just light, we have BRIGHT future!"

Lighting has powered our planet since the dawn of existence. As homo sapiens began to 'think' and 'invent' lighting found its way in the gallows of darkness, illuminating not just the night but humanity's future. Through the century long journey, lighting has evolved from just standalone lights to connected lighting to human-centric lighting.


Sinclair: Could you define smart lighting and briefly outline the key features of smart lighting?

Suryawanshi: Traditionally, lights are simple devices, illuminating the world with bare minimum functionalities such as an on/off or dimming switch. However, Smart Lighting brings more energy efficiency, better operational convenience, better comfort as well as more business value using various sensors and connectivity technologies.

Lighting is one of the most important considerations when it comes to energy consumption. It accounts for approximately 15% of the world's electricity consumption. This calls for the need of Smart lighting, which has a great potential to reduce energy consumption. Let's look at some examples, Los Angeles with its 140,000 LED streetlights reduced energy usage by 63% and saved the city $9.5 million annually. Walmart saves $200 million by switching to LED lights in its parking lots.

By just switching to energy-efficient lighting technologies such as LED can save up to 40-50% of energy. occupancy sensor and daylight-based lighting control can save additional up to 35%.

Daylight harvesting uses natural daylight to balance the lighting needed to light a space, in order to bring energy efficiency. Smart lighting provides multiple features such as scheduling, Auto On/Off and with advanced models, you can even control the brightness, the color of the light, provide zone and wireless control, perform remote firmware upgrade, monitor power etc. One of the most exciting features of the Smart Lighting is the ability to change color of the light which brings a whole new dimension of mood or productivity enriching human-centric lighting.

Sinclair: How do you see the evolution of Lighting?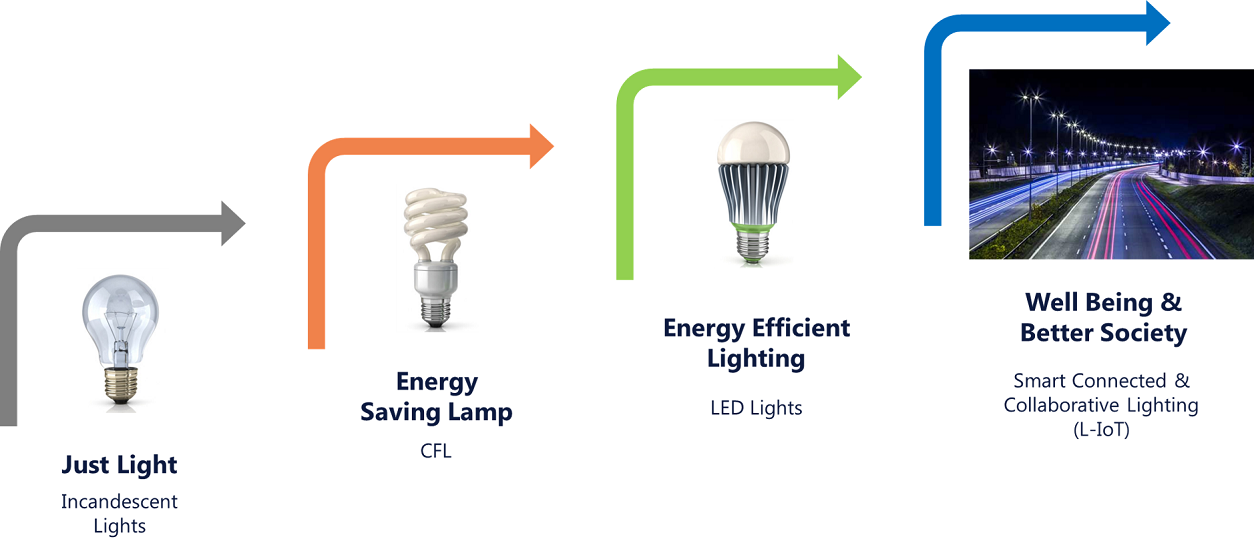 Suryawanshi: Through the century long journey, lighting has evolved from just standalone lights to connected lighting to human-centric lighting. Earlier generations only had to choose from incandescent bulbs and those choices rarely had anything to do with efficiency. Fluorescent lighting came in the market in 1930sand have become the most commonly used alternative to incandescent bulbs. High intensity discharge lights (HIDs) first hit the market in the 1990s.

Over the last decade, LEDs have increasingly become the lighting products of choice for governments, contractors and homeowners looking for energy efficient solutions. Today, global lighting companies are focusing on developing solutions that can bring "intelligent & connected lighting" as well as "well-being & productivity".

Sinclair: What are the key growth drivers of Smart Lighting?

Suryawanshi: According to research by Markets and Markets, Smart lighting market would be worth $28 billion by 2025 with a CAGR of 19.1%. t Smart Lighting has penetrated a diverse set of industry segments which includes commercial, industrial, outdoor, residential, retail, agriculture, architectural, consumer, portable entertainment, off-grid etc.

The key drivers of smart lighting growth include growing awareness & need for energy-efficient lighting systems, modernization of infrastructure to transform cities into smart cities, adoption of IoT and emergence of new communication technologies, increasing adoption of LEDs, demand response compliance, focus on workforce productivity, and so on.

Government regulation is also one of the key drivers in adopting smart lighting especially in the commercial building segment. California Building Standards Commission has created Title 24 to ensure that building construction, system design & installation achieves higher energy efficiency. If the building is larger than 10,000 square feet, it will need demand responsive lighting controls that can reduce the lighting load by at least 15% upon receiving a signal from the utility company

Increasing consumer awareness about energy efficiency has been one of the main drivers for the growth of LED lighting products used in smart home and commercial buildings. LED lighting is also getting adopted in the areas such as warehouses, manufacturing floors and various hazardous work areas across industries.

Increasing environment awareness is also key factor for growth of LED lights. Over 95% of the energy in LEDs is converted into light and only 5% is wasted as heat. LED lights draw very less power than traditional lighting; a 36-watt LED can give the same level of light as that of an 84-watt fluorescent. Less energy use reduces the demand from power plants and decreases greenhouse gas emissions. LED bulbs reduced 570 million tons of carbon emissions in 2017.

Sinclair: What are key technology trends in smart lighting?

Suryawanshi: Personalized and human-centric smart lighting has become the focus of future development. In indoor lighting development is diversified across connectivity technologies, CCT, intelligent sensors, networked lighting and integration with building management systems (BMS). There are many communication protocols available such as DALI, DMX-512, BACnet, ZigBee, Wi-Fi, and Bluetooth.

The prominent advantages of using wired control technology are stability and reliability. However, wireless technology will have more adoption in the future as it matures.

ZigBee is the most common protocol for wireless communication in networked lighting. Developments in ZigBee play a vital role in its wider adoption. Another new topology, Bluetooth mesh networking has been flooring the way for smart lighting. It brings the multi-vendor interoperability, low power and low latency pedigree of BLE to the world of commercial lighting.

In outdoor lighting, LoRa, Sigfox and NB-IoT are gaining momentum. With the rise of IoT, Low-Power Wide Area Network (LPWAN) has garnered great acceptance for developing IoT applications with low power consumption, low bandwidth, spread long distances while supporting huge number of connections. Lighting players are looking at street lighting as the solution for 5G base station placement across smart cities.

The future of IoT will place significant demands on reliability, data rates and latency of wireless connections. The Li-Fi (light fidelity) technology which uses light wave in place of radio wave, has a great potential. Li-Fi comparable to Wi-Fi promises high data rates and reliability at very short latencies. It offers implicit security within confined space as it works only within line of sight. However, it has not yet generated a broad application base and we need to see how well it would be adopted within commercial deployments.

Sinclair: What use cases do you see as an application for IoT in Smart Lighting?

Suryawanshi: IoT in lighting space has already proven its adaptability with deployments going live in various areas, showing off lots of different use cases across industries. It's imperative to note that IoT use cases will continue to expand in the coming years. I would like to cover some of the key use cases.

In smart home, you can control the light through your phone, you can set the mood with the color of your choice, you can have wake-up lights that simulate the sunrise. Combination of light and color can be set to have better sleep. Using connectivity features, lights can be controlled through Amazon Alexa and Google Home.

Similarly, in commercial building, some of the key IoT use cases include remote monitoring and control, space utilization, personalized lighting, promotions in retail store and so on. Facility manager can perform centralized monitoring and control, auto commissioning and grouping, real time and predictive maintenance, proactive/efficient facility management e.g. cleaning jobs based on occupancy scores, etc. We can get insights on the productivity of buildings, leading to major savings. Service engineer can remotely diagnose potential failure of lighting device based on real-time performance data.

As per the World Green Building Council, human-centric lighting or optimized lighting can boost productivity by up to 23 percent. With connected lighting, employees can also personalize their space allowing them to personalize the lighting through mobile applications. With bio-adaptive lighting you can set different levels of light intensity and color which helps to energize staff, enhance performance by aligning lighting with body's circadian rhythm. In retail store, with the help of beacon technology, retailers can track where a customer is in a store, enabling a personalized offer for nearby items to be sent to their smart phone. 61% of U.S. shoppers who have never tried in-store tracking before say that receiving discounts and coupons from a retailer would drive them to opt in.

Connected streetlight is one of the major drivers shaping the IoT-enabled Smart City. By 2020, 10% of smart cities will use streetlamps as the backbone for a smart city WAN. Some of the IoT use cases include finding parking spaces, monitor air and water quality, video analysis of traffic, audio warnings for bad weather, storms, etc.

Micro cameras embedded in streetlights detect if a parking space is unoccupied and upload the information to the cloud. Car driver can then access this data via mobile app. Sensors embedded in streetlights can monitor snow build-up and water levels, which means local bodies can prioritize responses such as snow ploughs and gritting trucks. The cities of San Diego (California) and Jacksonville (Florida) are running trials that use LED streetlight technology to collect real-time data not only to manage lighting, but also to locate and identify potholes and keep track of repairs to municipal streets.

Sinclair: Tell me a bit about Softdel and what are your offerings for smart lighting?

Suryawanshi: Below is the snapshot of our comprehensive lighting specific offerings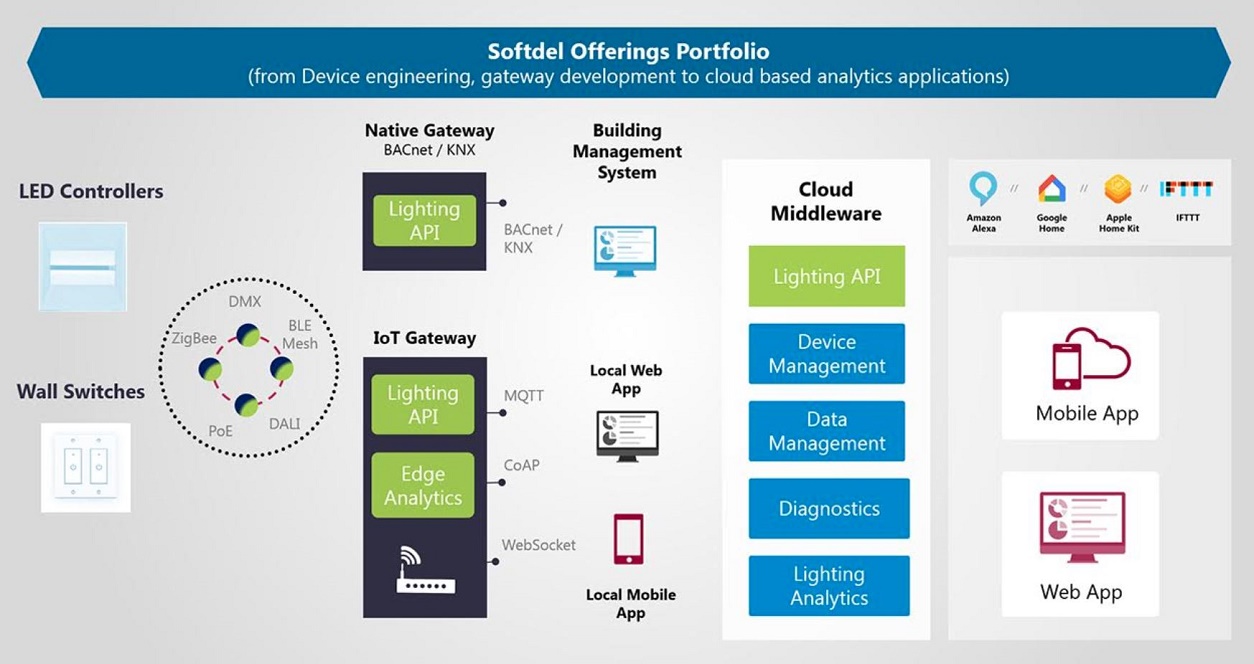 Softdel is a next gen IoT Solutions company focused on providing solutions to OEM within the smart buildings, smart lighting, and industrial automation segments (www.softdel.com).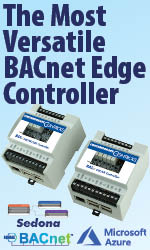 A majority of our customers have strong R & D departments with a keen focus on developing technologies and control mechanisms for their product lines. However, in order to offer more value to customers or installation technicians or service technicians, it is must to get into other companion offerings as well. Today, OEMs need lighting system designs, commissioning tools, mobile applications and other customized applications like light monitoring and control dashboards (on premise as well as on the cloud) which can be bundled with their product line. With the proliferation of IoT applications, there is an increased demand for products which can integrate with standard BMS systems, 3rd party facility management softwares, IoT Gateways and wired-wireless networking technologies. These requirements cannot be addressed solely by the R & D department as rapidly changing technologies and lack of skills pose enormous challenges.

This is where Softdel comes in.

Softdel has a deep understanding of the challenges faced by OEMs today. As an OEM partner Softdel brings value by providing specialized OEM specific solutions such as development of system designs/sizing tools, commissioning tools, local and cloud based remote monitoring solutions, configuration and control softwares, cloud based repair, service and diagnostic applications, IoT gateway development along with device engineering (including firmware and hardware development). Softdel also helps in developing mobile applications which require connectivity interfaces such as Bluetooth, NFC, Wi-Fi etc.

Based on our experience, we always suggest our customers to have a lighting APIs infrastructure whether it is at network level gateway or at the cloud hosted system. Such a modular approach gives immense levels of flexibility during integration with other building and city infrastructure systems or additional standard communication interfaces. Lighting APIs infrastructure can then be utilized by utility providers to push Demand and Response programs. At the lighting network level, such APIs allow easy integration with any BMS related protocols e.g. BACnet or KNX.

Softdel's ready stacks (BACnet, Modbus, DMX etc.), products such as 'Edifice edge' and domain intensive services are customized to address key business challenges such faster go-to-market, reduced development cycles and high cost of solution development and implementation

With over two decades of experience, Softdel is a trusted technology partner for global lighting OEMs, enabling them to create "next-gen" smart & connected lighting solutions.

Below is the snapshot of our comprehensive lighting specific offerings,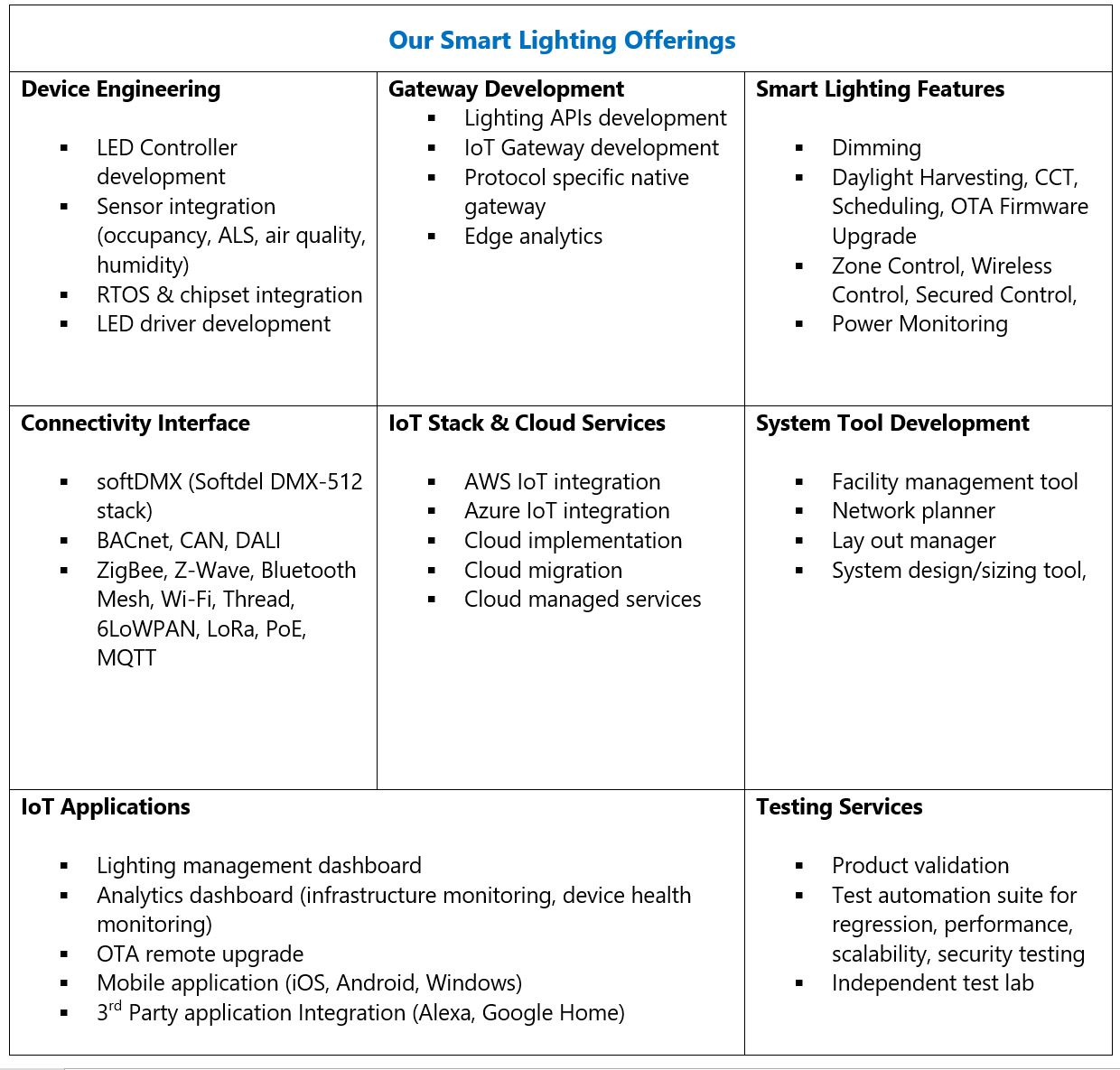 Sinclair: How can our readers get more information about Softdel's experience in smart lighting?

Suryawanshi: To know more about smart lighting capabilities, visit our website - https://www.softdel.com/smart-lighting/
OR reach out to our smart lighting expert at sales@softdel.com




---

[Click Banner To Learn More]
[Home Page] [The Automator] [About] [Subscribe ] [Contact Us]