---
Tridium's Niagara Appliance Wins Buildy Award for Best New Product at BuilConn/M2M Expo Conference
Richmond, VA — Tridium Inc., a leading provider of software technology for Internet-enabled products and device-to-enterprise applications, announced that its Niagara Appliance was the recipient of the prestigious "Buildy Award" for Best New Product at the 2005 BuilConn/M2M Expo. In addition to the win, Tridium was well represented in all categories of competition with several Tridium System Integrators named as finalists.












In addition to the Best Product Award win, several finalists had ties to Tridium:
Best Building Award:
The Best Building award is presented to the building owner or consultant with the most progressive building technology supporting the vision of whole building integration
· Whirlpool Corporation, winner of the Best Building award, used Tridium products in the renovation of their data center. Tridium Systems Integrator ControlNET, Kalamazoo, MI, worked with facility management firm Jones Lange LaSalle for this project.
· Dallas-based TD Industries, a Tridium Systems Integrator, was a finalist for the Best Building award for its work with the Container Store Headquarters and Regional Distribution Center in Coppell, TX.
Best Integration Award:
This category recognizes the ability to efficiently integrate a wide array of building systems together and successfully enable operation over a corporate IT infrastructure
· Control Solution Chicago was a finalist for the Best Integration Award for their work on the Elgin, IL Community College using Tridium products.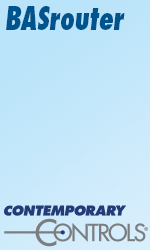 Vision Award:
The Vision award is presented to the industry professional that best demonstrates a vision of whole building integration and interoperability through advocacy, promotion, educational, and training endeavors.
· Tridium President and CEO John Petze was a finalist for the Vision Award.
About Tridium Inc.
Tridium is the inventor of the Niagara Framework™, a software framework that integrates diverse systems and devices - regardless of manufacturer, communication standard or software - into a unified platform that can be easily managed and controlled in real time over the Internet or Intranets using a standard web browser. Niagara provides many benefits across a wide variety of customer applications including: building automation, energy services, remote site management, service bureaus and maintenance management. System integrators use Niagara products to provide true open solutions without regard for specific protocols, products or technologies. Manufacturers adopt the Niagara Framework technology to move their products to the web, reduce development time, migrate legacy systems, develop new service offerings and open up new markets.
Tridium is a privately held software company headquartered in Richmond, Va., with subsidiaries based in London and Singapore. Tridium markets its products to value-added resellers, original equipment manufacturers and a network of Tridium Systems Integrators. Additional information about Tridium is available at www.tridium.com.
---


[Click Banner To Learn More]
[Home Page] [The Automator] [About] [Subscribe ] [Contact Us]